The Harbaugh family display a professional look for their trucks that mirror the energy and effort put into each geothermal and radiant design.
Time And Effort Pays Off
Before family-run Harbaugh's HVAC/Refrigeration Inc. installs a radiant floor system or geothermal heat pump for a customer, a great deal of time is spent on the design phase of each job.

Therefore, it was especially important to owner Ray Harbaugh and office manager Kim Harbaugh to display a professional look for their latest truck that mirrors the energy and effort put into each design.
"If you take pride in your vehicle, it relates to the customer what kind of professionalism and workmanship they can expect from the company," says Kim.
The Harbaugh's 2006 Ford E-450 with Rockport Workport utility body was wrapped by C-Ely Signs & Graphics in Waynesboro, Pa., where they worked closely with the owner to design the artwork.

The sides of the truck feature the custom-designed company logo, while the back shows an actual picture of a radiant floor installation in a customer's basement before the concrete pour.
Ray is a Certified Geoexchange Designer (an accreditation earned from the International Ground Source Heat Pump Association, the Association of Energy Engineers, and the Geothermal Heat Pump Consortium). The company specializes in designing and installing geothermal heat pump systems and radiant floor systems, as well as conventional heating/cooling systems.
As for the truck interior, brother Rodney Harbaugh (Kim's husband) and co-worker Vince Scott organized and installed bins to haul all the different parts and tools required for the wide range of installation and service work Harbaughs completes.
The utility body is spacious and open to accommodate the large geothermal equipment. And, thanks to a clear ceiling, natural light allows technicians to find what they need fast. The guys even have a microwave to heat up lunch on cold days when they're outside installing geothermal loop piping, which Kim says is 97 percent of their business these days.
One important addition to the truck wrap design was the company's Web site information, in order to relate to the public exactly what the company specializes in.
"Our Web site is a great source of information for our potential customers," Kim says.
The company has received many compliments on the new truck, and the Harbaughs believe Web site visits have increased since it has been incorporated into the truck display.
"There are so many businesses out there in the heating and air conditioning trade, but we needed something to set us apart," Kim explains. "I think this new truck definitely does that."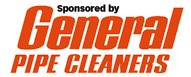 Show Us What You're Driving
Think you have a vehicle worthy of PM's Truck Of The Month? Let us hear about it! Send us photos of your service fleet electronically by e-mailing us (Editor@PMmag.com), or mail us your prints to:
PM - Truck Of The Month
1050 IL route 83, suite 200
Bensenville, IL 60106
PM's Truck Of The Month is sponsored by General Pipe Cleaners.
Links