John Wallace, owner of Atlanta-based JM Wallace Plumbing, has been offering leak detection solutions since 2007, but it's only recently during the last few years where he's really seen the technology take off.
"We do a lot of high-end work in the Buckhead-Atlanta area in a lot of larger, custom homes," Wallace says. "The insurance companies down here are basically requiring homeowners to have some type of leak detection technology installed in their homes, so they're driving a lot of adoption. Basically, when you start getting into sheet rock trim, hardwood floors and all the really high-end materials and whatnot, the insurance companies really start pushing these homeowners — not the builders."
After starting his own company in 2000, Wallace immediately recognized the benefits of offering leak detection solutions to customers.
"The work we do, everything is high-end, and with all these finishes, why not give the homeowner the option to be able to shut their water off when they go out of town? I've built up relationships with my customers based on trust. Why not offer them this peace of mind? A lot of homeowners don't even think about what happens if a pipe bursts or a washing machine or water heater breaks and floods the home unless they've already experienced a similar situation. It saves them from having to go through tragic times dealing with flooding and the insurance companies. Though all of it is terrible and bad, water damage to me is a lot worse than even a fire."
JM Wallace installs leak detection products in both new construction and retrofit applications. Wallace actually receives a lot of leads through FloLogic.
"FloLogic was one of the first ones on the market with this technology — they kind of spearheaded the way for other companies," Wallace explains. "And I'm a big believer in small business — I'm a small company. If there is an issue, they are a phone call away, and they always answer the phone. They send product, no questions asked and stand behind their warranty work. FloLogic is just a great company to partner up with. There's a lot of great products out there, and I've installed a lot of different ones, but FloLogic is my go-to product."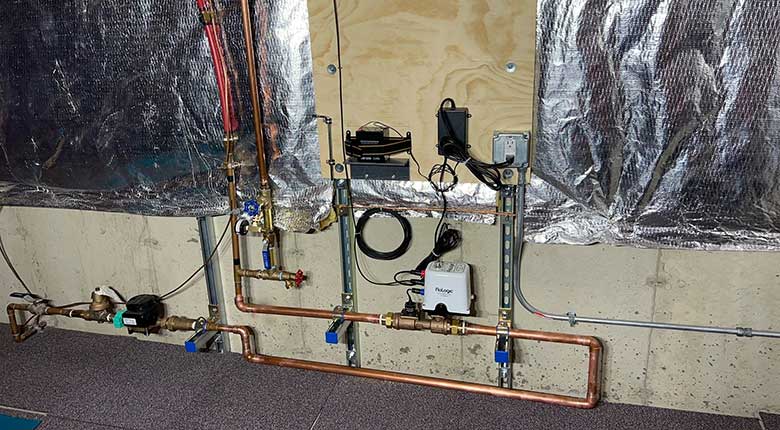 Wallace prefers FloLogic's leak detection system because installation is very user-friendly.
"Every installation is different depending on the house — if you're going back in and retrofitting it in, sometimes you have to rework a few little things here and there to make everything fit together just right as opposed to a new construction process where you just work it into the design. At the end of the day, everything is plug-and-play and self-explanatory
"The other thing I like is the whole makeup of the valve itself is all brass," he adds. "FloLogic also comes with a battery backup. The other beauty about it is say someone forgets to shut the water off when they leave on a vacation — FloLogic automatically defaults to away mode after 18 hours of no water usage. There are still water functions, but it's very limited. It's really awesome technology in my opinion."
On the other side of the country, Los Angeles-based Beagle Services has been offering leak detection solutions since its inception over two years ago.
"Our mission is to prevent water damage and water loss at scale," notes Paul Vacquier, CEO, Beagle Services. "We are helping clients prevent water damage, which is the number one cause of preventable insurance claims. We also help conserve water loss due to leaks and updating plumbing systems."
LEAK DETECTION PRODUCTS
FloLogic Water Leak Alarm System
Product description: For two decades, FloLogic has pioneered flow-based leak detection technology, the company says. Today's fifth-generation FloLogic is a U.S.-made, cast bronze, commercial-grade system available in valve sizes up to 2". FloLogic exclusively stops leaks in real-time as small as a pinhole, provides low-temp auto shutoffs and its app allows remote notifications, plumbing oversight and control. Sizeable trade pro discounts increase the profitability of installations when contractors both sell and install the FloLogic System, the company adds.
---
Phyn Plus
Product description: Phyn Plus measures tiny changes in water pressure 240 times a second to alert homeowners the moment a leak is detected to mitigate costly damage by automatically shutting off the water. Phyn Plus gives detailed insights on how, and where, a household uses water. Daily Plumbing Checks diagnose tiny drips and pinhole leaks so homeowners can proactively maintain their plumbing system. This single device, installed on the main water line, lets homeowners manage their water throughout the entire home, even when they're away.
---
Resideo L Series: L1 + L5
Product description: This smart water leak damage defense system responds to water alerts with an automatic shutoff response for simple water damage prevention. Professional installers can easily link the Resideo Braukmann L5 Wi-Fi Water Leak Shutoff Valve with multiple Resideo L1 Wi-Fi Water Leak and Freeze Detectors for whole home coverage. The L5 connects to the main water supply and can automatically turn off the supply if a water leak is detected by a sensor cable or a paired L1.
---
With that in mind, Beagle Services partnered with Phyn because of the company's strong presence around the United States and shared vision surrounding partnership-driven growth. The company is purely business partner channel driven, and has sold and installed thousands of leak detection products to consumers.
"The installation is very easy for a professional company like ours," Vacquier says. "We even help the homeowner with the IoT application technology in addition to the traditional plumbing work."
Offering leak detection products also gives peace of mind to the consumer, as nothing lasts forever, according to Billy Williams, director of estimating and product at The Brewer Companies in Phoenix, Arizona.
"Water leak detection is a must-have for all property owners," he says. "It's not a matter of if, but when, plumbing will fail. In an open market of products available, where quality and price are important, Resideo has us covered, with the added benefit of simply, simpler."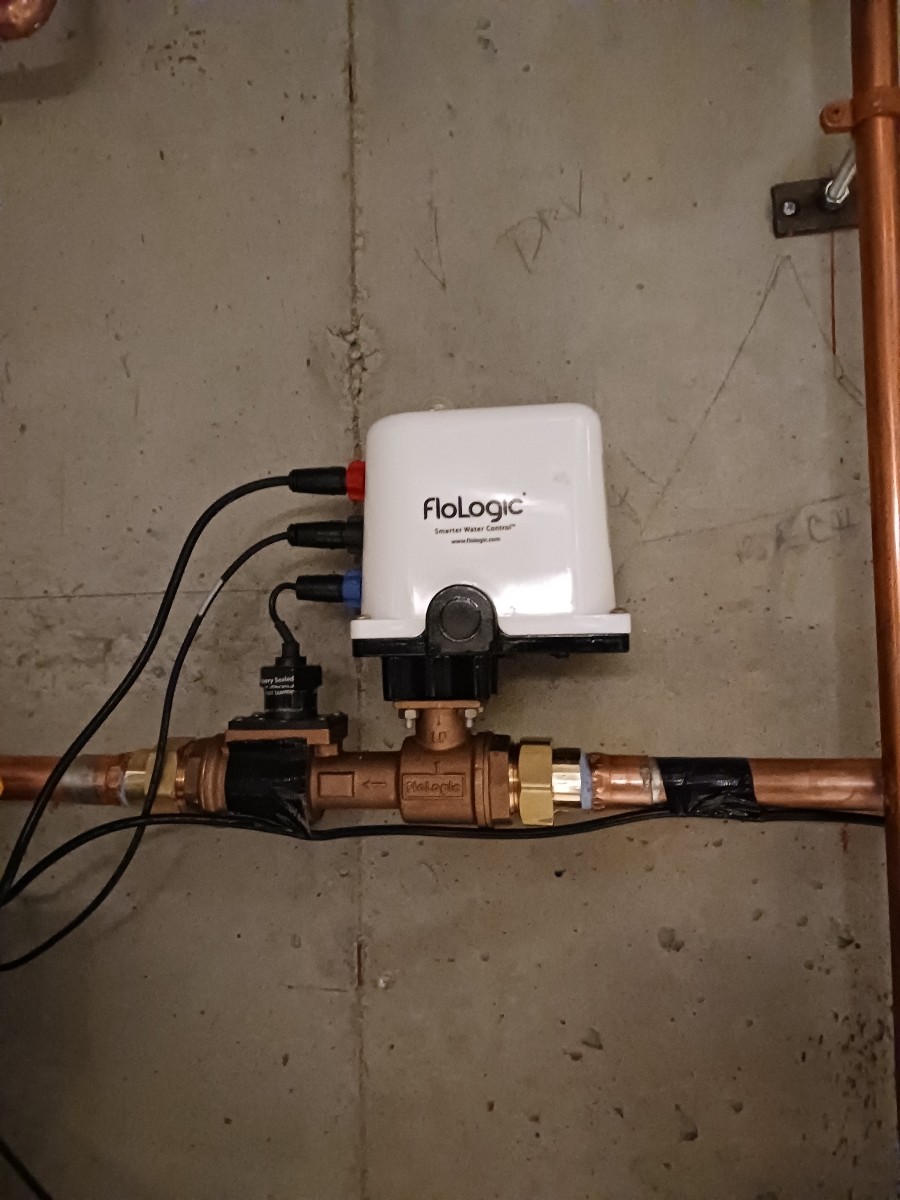 Leak detection category grows
According to Chuck DeSmet, founder and president of FloLogic, the company recognized the leak detection opportunity nearly 25 years ago, well before the market was aware and ahead of the boom in smart home technology.
"Today, driven by insurer incentives and consumers who value peace of mind delivered through connected home security and control products, the leak detection category is inching toward critical mass and is worthy of every plumber's attention," he says.
Phyn CEO Ryan Kim notes that during this time of economic uncertainty, everyone is looking for ways to save money, drive value and be more competitive.
Insurance companies are recognizing the data-driven benefits and are now offering larger rebates and discounts on annual premiums, which allows them to be more competitive while saving money for consumers. – RYAN KIM
"This includes consumers as well as industries such as insurance, builders and other product and service organizations," he says. "As such, we're seeing a big uptick in demand where Phyn is helping to check all of those boxes. Insurance companies are recognizing the data-driven benefits and are now offering larger rebates and discounts on annual premiums, which allows them to be more competitive while saving money for consumers.
"It's a win-win-win solution," Kim adds. "Insurance companies measurably lower their claims liability (saving money) while increasing their growth. Consumers save money by reducing premiums and minimizing their out-of-pocket costs and headaches of water catastrophes. And most importantly, the environment wins by conserving water, our most precious natural resource."
Jason Abajian, water sales manager at Resideo, notes that Resideo helps protect the homes of 12 million connected customers, and the company recently expanded its offering to include a connected water shutoff system.
"We've seen new market trends emerge — as more people telecommute and travel for work and invest in secondary properties for rental income, the need and awareness of connected leak detection solutions to protect these unoccupied homes has grown," he says. "Water damage for both homeowners and builders is the most common and costly insurance claim and our cost-effective solution can help mitigate this risk and help provide added peace of mind."