With increasing awareness on energy efficiency, natural gas bans, decarbonization and indoor air quality, the world has been undoubtedly changed, and the plumbing and HVACR industries continue to be on the frontlines of these challenges. The AHR Expo, dubbed HVACR's largest event of the year, returns to Atlanta Feb. 6-8, with expanded educational opportunities addressing the largest issues facing the plumbing and HVACR industries today.
After a slightly decreased attendance during last year's event following the COVID-19 pandemic compared to the previous in-person show in 2020, AHR management is gearing up for a good turnout in Atlanta.
"Last year, we, along with everyone else in the industry, were dealing with so much we weren't sure what the year would look like, but we were determined to host the show and provide the opportunity to regather as a full industry," says AHR Expo Show Manager Mark Stevens. "We all felt the loss of missing the prior year and we [the show] know the unmatched value in having the exhibitor floor, networking opportunities and in-person touchpoints. We were so energized by the turnout in Vegas. Of course, there were a lot of last-minute shifts beyond anyone's control — testing disruptions for those required by their travel arrangements, travel delays with a disrupted airline industry, internal company schedule changes and of course our business practices in general still recalibrating. But everyone we talked with following the show walked away with a quality experience — meaning tangible benefits in business relationships, industry knowledge, etc.— that set the tone for a segue back into a 'before' mode. Based on projections and conversations at this point, we're gearing up for a good turnout of professionals who are there to conduct business. We're excited to open the doors in Atlanta."
Stevens also notes that Atlanta has sold out of exhibitor space for the 2023 show, with just under 1,800 exhibitors, which is on par with AHR Expo's pre-Vegas events.
Additionally, COVID-19 safety requirements have eased somewhat, Stevens explains. "We are mindful of the comfort levels, and we expect to see some visitors taking precautions. And we welcome that of course, however, we do not have mask requirements by the state of Georgia as we did in Vegas. This industry understands ventilation and indoor air and the convention halls have been great about making necessary updates. We are ready to move forward."
Expanded educational opportunities
This year's AHR Expo program will feature more than 200 free seminars, including a robust panel series, new product and technology presentations, professional certifications and continuing education courses. Additionally, in response to the industry's call for more training via shared knowledge and opportunities for open discussion, the program has been extended to include Wednesday sessions.
"The Education Program has grown tremendously in recent years," Stevens says. "The HVACR industry is changing and growing quickly and in ways that are new to us all. We're talking about training a new workforce to replenish a wave of retirement while simultaneously taking on initiatives relating to environmental efficiency, indoor air quality, automation, cybersecurity, supply chain disruptions, new business practices, etc. — there is no shortage of necessary discussions."
This year's panel series will include discussions on the 2023 State of the Industry — back by popular demand — as well as Decarbonization, Communication across the supply chain: Mapping the channel and flow of information, Basics of Refrigerant Changeover and HVAC & Social Media:
"HVACR is changing and the communication flow is changing with it," says Kimberly Pires, AHR Expo Education Program Coordinator. "In working with our associations to put forth a program that is both educational and practical for every job role, we have discovered that while the disciplines may be different, the overarching opportunities and issues ahead for the industry are the same. Our sessions aim to provide diverse perspectives from all the voices that work and serve HVACR. This kind of insight supports cooperation within the community and progress in an individual's professional growth, proving itself immensely valuable for the advancement of the industry as a whole."
"As far as programming goes, we're continuing to grow our Podcast Pavilions to serve industry demand for podcaster and publication news and information; building out a panel series to tackle some of the 'hottest' topics being tossed around in the industry and to answer some of the lingering questions that aren't necessarily being formally addressed anywhere else; and expanding our education programming to provide more time for niche discussions," Stevens adds. "For the first time in some years, we'll have education programming happening on Wednesday. And while this allows for more sessions overall, it also allows for more time spent on the show floor each day since sessions are spread over all three days."
Nurturing the next generation
Last year, the AHR Expo introduced a workforce development initiative to expose potential industry professionals to the world HVACR. In its inaugural year, AHR Expo invited Western High School, a local area high school with a dual academic program that graduates students certified and ready for hire as technicians in HVAC. The soon-to-graduate class was invited for a special field trip at the 2022 AHR Expo. Students were guided around the trade show floor for booth visits, Q&A sessions and a scavenger hunt/trivia of HVACR knowledge. The program was deemed a success and will be repeated during the 2023 AHR Expo.
"This is also an area of growth for the show as we will be hosting two student groups this year — a group of engineering students from our co-sponsor ASHRAE on Monday, and a group of high school students from local Atlanta Career and College Academy (ACCA) on Wednesday," Stevens says. "Viega will support us in welcoming the students for the floor tour and a couple of curated panel sessions with our industry professionals to really showcase opportunities within the industry."
Stevens notes that workforce development — at any level — is a tremendous benefit to the industry.
"We are up against an aging workforce and we need to replenish a trained workforce to maintain the demands of the industry," he explains. "Giving back via a monetary donation from our Innovation Awards programming to the communities and hosting cities we visit is something we've done for years, so it was a natural progression to roll this into supporting a growing workforce in the local area. The AHR Expo is the place to see the industry in all its glory and being able to bring students in with no prior exposure to the industry outside of their classroom experiences to show them the opportunities available to them is exceptional.
"As an industry, we need to showcase how successful one can be in building a lifelong career in HVACR," Stevens adds. "Just gaining visibility about programs like this is helpful to the industry and hopefully inspires others to deepen their involvement as well. In Atlanta, for example, we have some local media coverage of the program and the opportunity to let the Atlanta community know that this type of dual training is available and that HVACR is an area of growth and job demand."
Networking is key
The AHR Expo presents a prime opportunity for exhibiting manufacturers to get their new products and services in front of contractors, MEP engineers and manufacturers reps. Networking face-to-face with clients is a big part of what makes this show special.
"AHR Expo is the industry's largest show that brings together a great cross section of end users, specifiers, customers and suppliers from across the globe," says Ashley Martin, executive vice president of NIBCO. "Especially after the challenges we've experienced in recent years with in-person events, it's a unique opportunity to meet people in person and to have a personal touchpoint to build new relationships and strengthen existing ones. Finally, AHR Expo is an exciting time to launch new products and to offer hands-on demonstrations of our products' features and benefits, which is invaluable."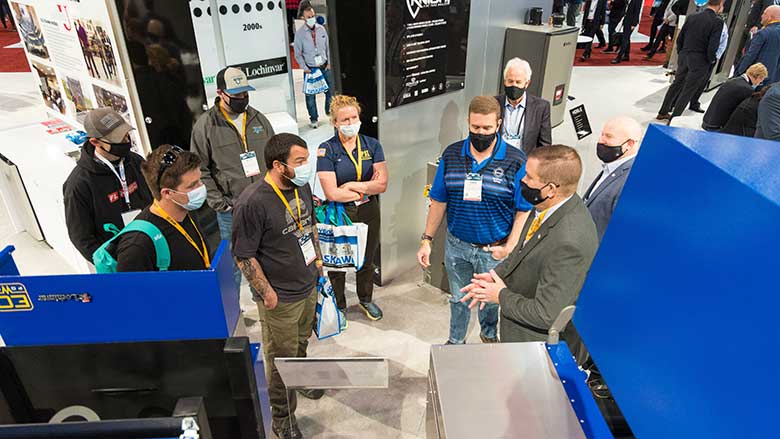 Martin notes the AHR Expo is also a great way to get "a pulse" on what's happening in the ever-changing industry and gain customer insights that allow the company to continue to "improve, invent and create."
Nicola Schannath, CEO of Oventrop-US, says attending the expo helps build brand awareness, which is important as the 171-year-old European manufacturer entered the U.S. market last year with the grand opening of its new facility in East Granby, Connecticut.
"The AHR Expo is the most important trade show in our industry in North America," she says. "Oventrop's presence helps to build brand awareness and allows us to meet with our customers and with HVACR professionals from North and South America. Being an exhibitor also gives us the opportunity to introduce new products and to stay on top of market trends, as the AHR Expo showcases the future of HVACR technology. With the trade show industry back to normal, we are looking forward to meeting with our customers who were not able to attend last year's event due to travel restrictions, etc. It will be wonderful to see our friends and colleagues."
Many manufacturers also launch new products from the AHR Expo, as is the case this year with Intellihot.
"We're using the AHR Expo as the launching pad for an important new product introduction, the Electron," says Amy Turner, director of marketing for Intellihot. "This is a product the industry has never seen before — a tankless commercial heat pump water heater. This product is 'fossil fuel ban compliant,' and will pair the benefits of a safe tankless system with the efficiency of a heat pump.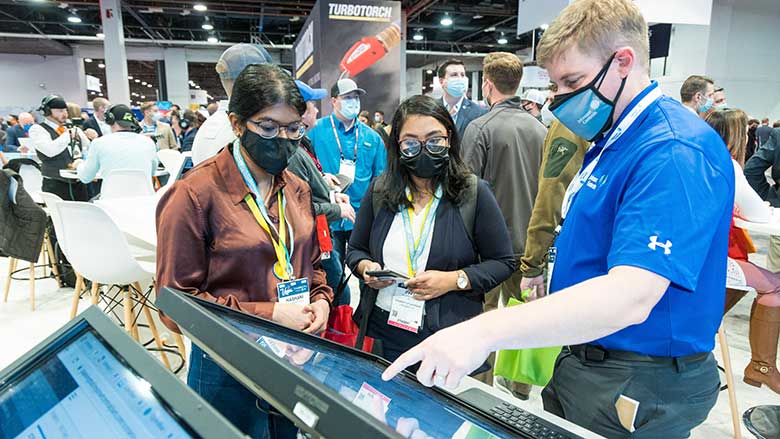 "The Expo will be the first time the product will be seen publicly, and we're excited to explain to engineers and contractors how it works, and why it's important to the industry," she continues. "Engineers will be interested to see how we're using CO2 as the refrigerant, how we're using a thermal battery to instantly heat water to a max of 170° F, and the various sizing capacities we offer. Contractors will be interested to see how easy the units are to install, and the flexibility of installation approaches. Building owners will love how the heaters communicate with the grid, use AI to learn usage patterns to maximize efficiency; and how we monitor performance 24/7 at our factory.
Turner adds she is excited for the meetings with key distributors and contractors to stop by the Intellihot booth. "We're also very excited to see all of our industry friends and to discuss the features, benefits and competitive advantages of our full line of commercial tankless water heaters."
Trends to watch for at the show
The AHR Expo offers trade pros the opportunity to stay up-to-date on the latest industry trends and new products. Here's a sneak peek at what to expect from the 2023 trade show floor.
"Currently, we are seeing several trends in the PVF market, including system designs which offer energy efficiency and sustainability, products which incorporate multiple features into a single solution and continued adoption and growth of press and push connection technologies in fittings and valves being used across multiple applications. NIBCO has responded to these trends with product solutions and continues to make investments in developing new and additional solutions based on our customers' feedback."
Martin explains NIBCO will be featuring "The Big Five," which is the manufacturer's collection of patented or patent-pending products which save contractors' businesses time and money. "These products include: PressACR, BenchPress and BenchPressG, PressG, Wrot Racer push fittings and 585HP high-performance ball valves," she says. "We will also be featuring our new LD3000 and LD7000 high-performance butterfly valves, and Webstone large diameter press XLC fittings, Pro-Pal Multi-Port Transition Tees and Pro-Pal Add-A-Drain."
According to Schannath, the biggest trends and challenges facing the industry are digitization and providing solutions that help in the fight against climate change.
"Digitization changes the whole industry and requires new skills from manufacturers and contractors," she says. "We at Oventrop offer a wide range of solutions when it comes to increasing energy efficiency in new and existing homes and buildings.
"We are so proud to announce our new Flypass Multifunctional Connection Set at this year's AHR," Schannath adds. "With quick installation, easy drain and fill for terminal unit maintenance, less connections and less leakage risk, the Flypass Set is a versatile and variable alternative to the standard fan coil kit."
Turner notes that everyone in the industry is talking about efficiency and electrification.
We want attendees to find real solutions that help them reach their goals in tangible ways. Be that a product, service, application, education or person. The benefit of the show is that there is something for everyone and it applies immediately to your day job. There's plenty to discover so we hope to see lots of familiar faces and lots of new faces that will become familiar faces. – MARK STEVENS
"With some states and many cities beginning to phase out gas appliances, we saw the importance of getting ahead of this growing trend, thus the introduction of our new Electron Series," she says. "The products that Intellihot brings to market are always smart, efficient, healthy and sustainable — and we want to show that efficiency and sustainability can coexist in smart products that are well engineered and domestically built."
"We're looking forward to seeing the many new products on the floor," Stevens adds. "As we've heard and seen demonstrated in our innovation awards entries and New Product & Technology theaters, we are expecting a lot of new. And of course it's always nice to catch up in person with everyone after a busy year. We want attendees to find real solutions that help them reach their goals in tangible ways. Be that a product, service, application, education or person. The benefit of the show is that there is something for everyone and it applies immediately to your day job. There's plenty to discover so we hope to see lots of familiar faces and lots of new faces that will become familiar faces."
For more information on the AHR Expo, visit www.ahrexpo.com.