It's quite an understatement to say that managers of Ironshield Brewing near Atlanta, take customer satisfaction seriously. Or, that brewing is a passion there.
"Brewing is as much an art form as it is a science," says Ironshield co-owner and Brewmaster Glen Sprouse, a nationally-recognized brewer and brewery designer. "And, of course, there's passion, but there's a need for all of it — fine art, hard science and obsessive enthusiasm — if the beer is to acquire a following, and favor, in today's very crowded marketplace."
The brewing industry is currently one of the fastest-growing industries in America. According to USA Today, craft beer sales continue growth, now reaching about 25% of the total $114-billion U.S. beer market. The trend is moving upward, and breweries like Ironshield are in good position to earn and maintain market share.
"At Ironshield, we fully intend to be here for long-term business growth and to make our mark," Sprouse adds.
As one looks behind the scenes at Ironshield, based in Lawrenceville, Georgia, everything about its operation points to an exceptional level of professionalism and dedication to craft. Among "microbrews," Ironshield is a very large brewery. In fact, brewery managers are striving to soon be the state's fifth largest brewery, and with an anticipated staff of more than 50 people.
Authentic classics
At 60,000-plus square feet, Ironshield is the 18th brewery that Sprouse has commissioned. His many years of industry involvement, including hands-on work at many breweries, position him well to turn that knowledge and experience into an optimized plant, and production, at Ironshield.
"Our sole focus here at Ironshield is to make authentic classics with the finest, old recipes – German lagers and Belgian ales," he explains. "These aren't our interpretation of the recipes, but rather a finely-detailed replication of the world's greatest beers with no compromise."
The road to Ironshield's brewing perfection is one with several twists and turns, a few pleasant surprises, and with three driven, self-directed guys at the helm. The genesis of the effort began with a friendship between Brewmaster Glen Sprouse and CEO David Rice.
Marathon effort
An important next step was to find just the right professional to head-up their day-to-day brewing operations. After a long search to fill the lead brewer position, they found Jason Carroll, whose resume is an impressive, perfect fit to the eclectic, nimble, entrepreneurial, all-about-brewing team. Carroll, as brewing supervisor, began his brewing career 15 years earlier at the Franciscan Well Brewery, Cork, Ireland. While there, he studied and worked under the tutelage of Peter Lyall, one of Ireland's longest-standing head brewers.
Rice, Sprouse and Carroll then began a marathon to get the facility operating, and optimized, by the spring of 2020.
First to open was Ironshield's brewing operation — for wholesale beer sales. Several weeks later, they opened the taproom there. "Opening the taproom for customers, just as we emerged from the COVID-19 pandemic [and after a long delay due to the national health crisis], is what we've waited a long time for," Sprouse says. "It feels like a great weight being lifted from us, gradually."
Drainage — a brewery's foundation
Back in 2017, and only after many months of planning, strategizing and development work, Sprouse and Rice purchased a 50-year-old newspaper printing facility 35 miles northeast of Atlanta. They describe the facility's renovation as "wholesale; very close to breaking ground on a new plant — though more challenging in many ways." Their multimillion-dollar remodeling investment led to a transformation of the facility by late 2019. The building wouldn't be recognized as the facility it once was.
Sprouse was especially concerned about one particular need: Proper drainage. "It's a critical, one-time investment upon which the rest of the operation rests, quite literally.
"Brewers have nightmares about three things: Process heating systems, chilled water cooling systems and drainage," he adds. "The most vexing of these is drainage. If the drainage isn't up to task — meaning it can't deal with the volume, high viscosity, chemicals or heat — it's a huge challenge. After all, if the drains aren't up to task, you're stuck with them. They're in the floor on which the entire operations rests."
Sprouse states that, "I've known about BLÜCHER drains beforehand, but this was my first experience at specifying them and working closely with their professionals. We found in BLÜCHER HygienicPro the finest drainage solution available, with engineering plans and specifications for the brewing industry. And unlike large drainage/piping firms with little or no value-added service, the assistance I received from BLÜCHER's sales and design was invaluable.
"Sadly, the level of ignorance among owners of microbreweries under construction is staggering," Sprouse adds. "When it comes to floors and drains, their sub[contractors] are often unqualified. I've seen and learned about swimming pool drains being used for breweries, or public bathroom drains."
According to BLÜCHER Regional Sales Manager Sam Bolt, brewery drains must be built to withstand the worst punishment a drainage system can tolerate. "At a brewery, there are periods of super high volume, thick, [high viscosity] acidic sludge with lots of particulates that fight every effort to get rid of it. And, super-high heat used for cleaning and flushing of the equipment and drains. There's no tougher drainage job," he says. Iron and plastic materials are poorly matched to the rigors of brewery drainage.
Sprouse states that the stainless steel BLÜCHER drains they purchased for Ironshield's facility have drain edges designed specifically to overhang and interlock with the poured floor, helping to establish and keep an ideal slope for the drainage. "By design, the second coat's thick, epoxy overpour runs flush with the end of the drain so that the surfaces interlock, providing the idea barrier to moisture infiltration and, ultimately, separation and bacterial contamination," he explains.
Sprouse adds that: "The drains are incredibly well designed; their edges interlock with the flooring surface like no other product we've found. It's a long-term win for the brewery, as well as for clients [brewery owners, managers] who bring us on for design and specification consulting."
A final advantage to the drainage they chose is that very little water is used to flush the waste. The smooth, V-shaped stainless steel drain is designed to concentrate the moving water to rush wastes into stainless steel P-traps. According to Bolt, "The drains 'scavenge' well and rinse easily."
"It's unfortunate that so many breweries – and I've seen a lot of this – are built on cracking floors with poor drainage. Eventually, the unsanitary conditions will shut them down," Sprouse warns. "There's no better example than a brewery to show the importance of the floor, and drains, as a system. They must be done right, from the beginning, for long-term operation. Otherwise, money – and lots of it – is just wasted.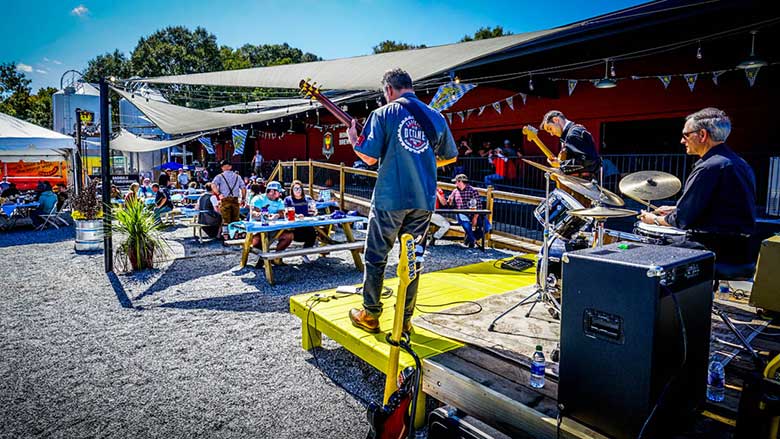 "We were under a lot of pressure during the period of renovation," Sprouse continues. "It would've been easy to choose a lesser, quicker solution to drainage and flooring. But the BLÜCHER's sales pros – and Sam Bolt specifically – overcame obstacles and solved problems for me. It was a service worth its weight in gold. The drainage product quality, sales and service expertise gave us exactly what we were looking for, and were beyond expectation."
Ironshield is now up and running, hitting its stride. Sprouse and his team are now shipping beer to wholesalers across the country, and the taproom has opened the door to close contact with a broad range of adoring clientele. The brewery's facility is running optimally – from its many kettles and taps to the floor drains that effortlessly take the punishment of high temp and high volume washing to maintain fast, efficient cleanliness throughout.
The dream team
Sprouse, a Georgia Tech-educated mechanical engineer, has offshore oil field, and plant automation and management experience with Siemens. After a stint with Miller Brewing, he earned his master brewer's certification at the Intensive Brewing Science and Engineering program then offered at California-Davis, later to become the American Brewers Guild. Sprouse then helped write and pass Georgia's brewpub legislation and funded, designed, built and operated a successful craft brewing business in a 350-seat brewpub in Atlanta.
Sprouse's brewing ventures have earned him numerous regional awards for his European-style lagers and Belgian style ales including a world-wide rating of seventh for his Seven Sisters Münchner lager, ninth for his Bavarian Hefeweizen and eighth for his Me262 Maibock.
"At a brewery, there are periods of super high volume, thick, [high viscosity] acidic sludge with lots of particulates that fight every effort to get rid of it. And, super-high heat used for cleaning and flushing of the equipment and drains. There's no tougher drainage job." — SAM BOLT
CEO David Rice has 28 years of beverage and consumer goods industry experience focused in manufacturing, supply chain and business management — including 13 years with Coca-Cola and five years with Microsoft. He also has more than five years' experience as an award-winning home brewer.
Carroll was part of the original team that worked with the famed Jameson distillery to create the global product, Caskmates. After winning numerous international awards, he was recruited by Guinness as head brewer for their Open Gate Brewery. It was later, at Ireland's Wicklow Brewery that Carroll won recognition for his brewing of the World's Best Ale under 5% at the International Beer Awards 2016. In 2017, he moved to Georgia as head brewer for Line Creek Brewing. Just last year, Carroll won recognition for brewing America's best flavored sour at the World Beer Awards.
Sky's the limit
Today, as the Atlanta area grows, Ironshield is poised to serve some of the finest brews available to the region's many beerologists, libationist, beer devotees and wert gurus. New recipes are always being considered but, even more importantly, the brewery's tried n' true favorites are brewed to perfection, each and every time. The future looks fine at Ironshield: The sky's the limit.