Heating experts have long touted hydronics as the far superior comfort technology over forced air due to better operational efficiencies and improved comfort. According to Research and Markets, the global hydronic systems market is poised to grow $1.3 billion from 2021-2025, driven by the growing need for energy-efficient cooling and heating systems and increase in construction activities worldwide.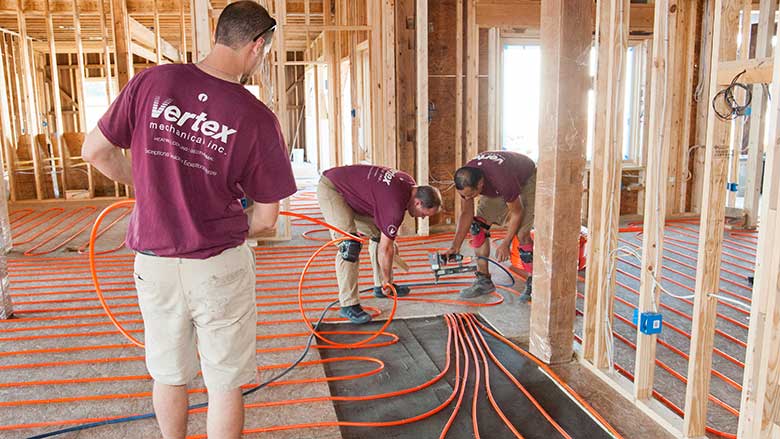 "Most of the U.S. hydronic market is in the northern region where winters tend to be longer and colder," notes Kolyn Marshall, systems engineering manager for Watts Water Technologies. "There is still a niche market in older home renovations regardless of region. This older home market allows for an increase in efficiency and comfort without impacting general aesthetics. A Victorian-era home can remain a Victorian-era home visually while enjoying the comforts of a modern heating system. In some regions, the custom home market also favors hydronics because of the popularity of radiant heat. And, if the builder, architect or installer are doing their best to offer superior comfort and efficiency, the great flexibility of hydronics may have shine — with offerings of in-floor or under-floor radiant, radiant panels, towel warmers, hydro-air, or higher-temp baseboard or custom radiators, and more. Outside, sidewalk and driveway snow-melting may be of interest, too."
Marshall explains that hydronic market growth will always be regionally-based. "All markets ebb and flow, and this is true with hydronic heating. Some markets have seen an incredible increase while others have seemed to flatten for the moment. In general, these trends tend to follow overall housing starts. Hydronics is always a preferred option when comfort and efficiency is the driving desire. For most people, once they've experienced a warm floor no other heating system will do."
Caleffi North America Product Manager Cody Mack says the hydronics market is definitely growing.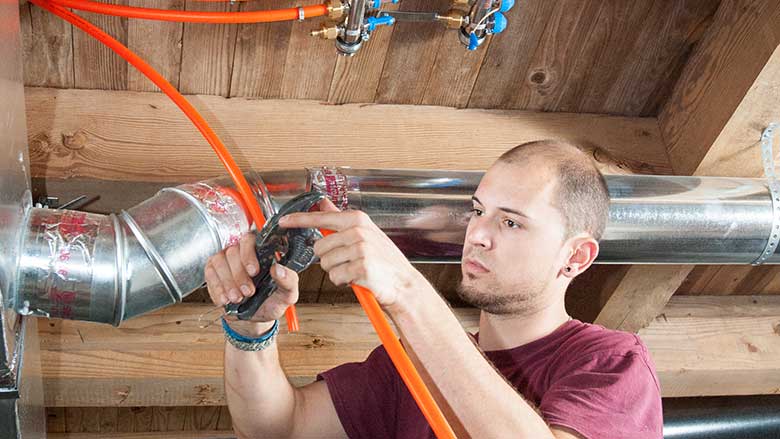 "More than ever, people understand the comfort, efficiency and versatility that hydronics can bring to the table," he says. "Options are what make hydronic heating a growth category. It's incredible how many different ways you can heat and cool homes along with the ability to produce domestic hot water."
However, according to Jason Abajian, North America water sales manager at Resideo, the U.S. hydronics market is mainly a replacement market in the Northeast and Great Lakes regions but is expanding in the custom home markets in the coastal and Rocky Mountain regions due to the comfort it provides coupled with a minimalist footprint in living spaces.
"Consumers looking to build a net-zero home can find a variety of options with hydronics," Abajian explains. "Consumers want to be comfortable in their home, and radiant heat directly warms from their feet up. Hydronic heat provides an even temperature throughout one's home with better humidity levels than a gas-fired furnace or mini-split installation. Coupled with the integration of solar and geothermal technologies, environmentally conscious homeowners can reduce their reliance on traditional energy sources, such as propane, oil or natural gas."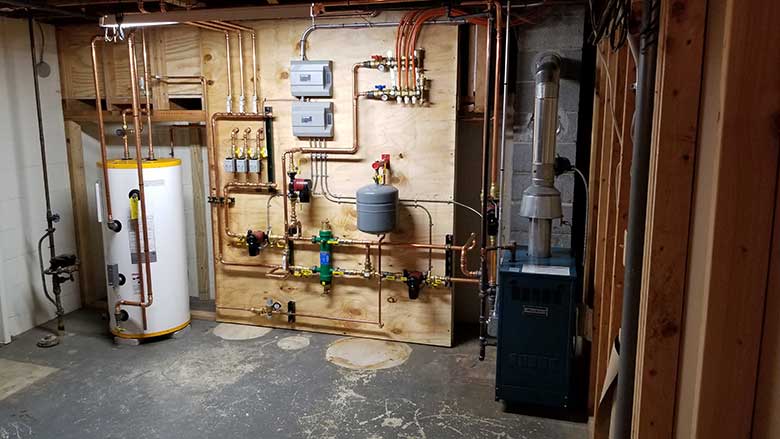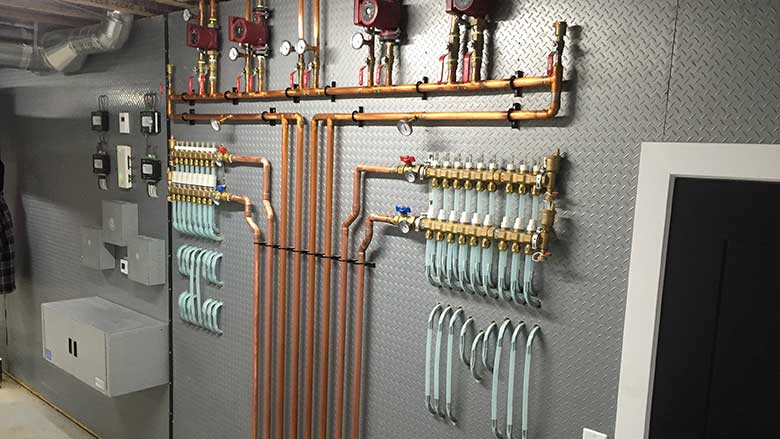 Josh Garrett, director of engineering for Triangle Tube, agrees, saying most residential boilers are sold as replacement products. "A small percentage of residential boilers are sold into upscale homes. A high percentage of all commercial replacements are high-efficiency condensing boilers now versus non-condensing lower-efficiency boilers."
Oventrop Corp. CEO Nicola Schannath notes that the current rise in energy prices as well as increasing energy efficiency standards are driving demand for mechanical and electrical upgrades and cost-effective heating solutions — and hydronic heating systems provide a high level of comfort in consumer's homes.
"There are projections of a 7% to 8% growth for hydronic heating in the North American region over the next five years," says Robert Westley, regional technical sales manager, Oventrop Corp. "Given the fears of the economic recession and the impact on new construction, especially of smart homes, it is uncertain if there will continue to be growth in this market segment until the short-term economic issues are addressed."
Hydronics in the U.S.
According to Marshall, most hydronic systems in the U.S. get their warmth from a boiler; however, geothermal systems can be a good fit with hydronics — but only under certain conditions.
"In that category, the technology that's really getting attention these days are air-to-water heat pumps, such as those offered by Lochinvar and Taco Comfort Systems," he says. "While it's true new housing construction is the ideal environment to install a hydronic radiant system remodels still hold a respectable percentage of the market. There will always be a market for retrofit applications. Generally, the most common retrofit application is an underfloor application where tubing is installed between the joists bays."
Marshall adds that in addition to the continued use of hydronic heating for interior applications, Watts has also seen an incredible increase in hydronic snow-melt applications for both residential and commercial use in recent years.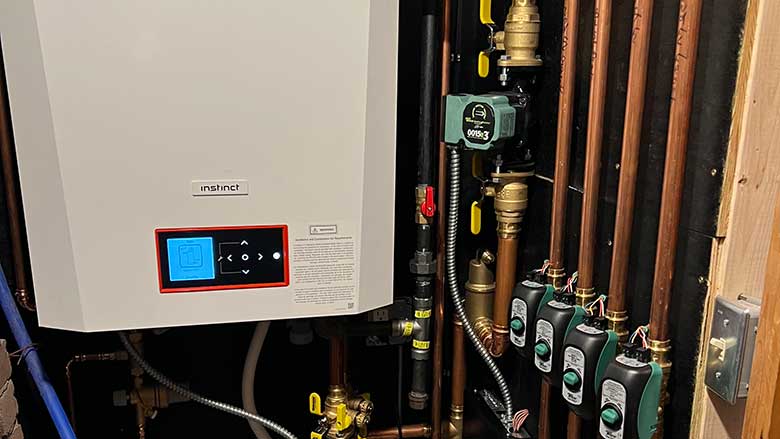 Garrett notes that hydronic systems are quite popular for additions.
"We see a lot of radiant floor heating applications in additions," he explains. "Otherwise, fin-tube radiation is the most common type of hydronic heating system in use."
According to Mack, in a popularity contest, radiant floor heating would win, without question.
"In the case of retrofit, the ability to install without destruction or disruption of the home is key," he says. "A manifold with home runs to panel radiators lends itself very well to these requirements.  Another option that is popular is staple-up underfloor heating. Staple-up systems are very common to achieve the warm floors everyone loves. There are a few things everyone should keep in mind with these applications, and the first is accessibility because it's not an easy application if the bottom side is covered in drywall. After that, you need to look into heat transfer panels to keep your supply water temperatures low, and insulation to make sure the heat is going the direction that you want it to go."
Abajian notes that while a traditional cast iron or oil-fired boiler serves a large portion of the Northeastern U.S., more energy-efficient technologies in the market are expanding with modulating condensing boilers, air-water heat pumps and geothermal.
"Regional fuel codes and mandates are changing what types of systems are available to provide consumers," he says. "As mod-con boilers have grown to become the industry standard in the Western U.S. retrofit applications; this too is going to have to change in markets moving away from natural gas."
Schannath notes that there is a demand for retrofitting and refurbishing existing hot water heating systems — especially in the Northeastern part of the U.S., as well as in the Pacific Northwest.
"Installing thermostatic radiator valves and thermostatic operators in every room allows the temperature of each room to be set individually, thus increasing energy efficiency and the level of comfort for the consumer," she says. "Wireless programmable thermostats, smart thermostats and thermostats with Bluetooth interface that can be controlled via an app by a mobile device are becoming increasingly popular."
Westley adds that Oventrop also sees hydronic radiant floor heating systems gaining popularity. "For some time now, over 20 years, the majority of installed radiant floor hydronic heating systems take place in very large residential homes with a value of more than $1 million. Most of these homes are located in the northern half of the U.S.  Given the size of these homes, radiant snow melting is part of the package."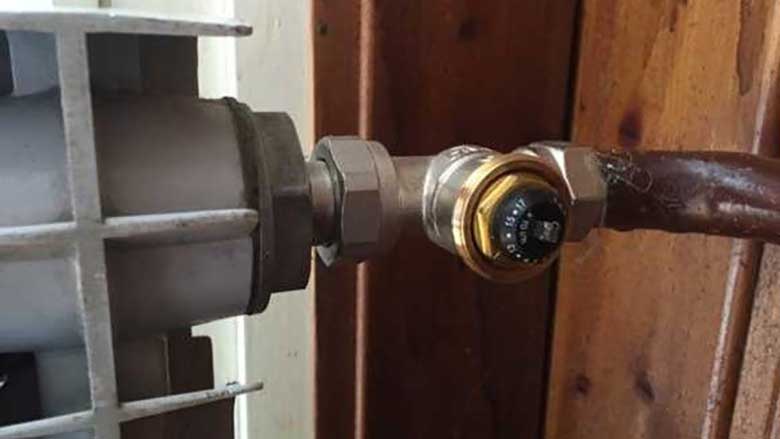 Overcoming obstacles
Hydronics pros know that there are plenty of challenges when designing and installing hydronic systems. According to Marshall, the biggest obstacle is simply complexity.
"There are a lot of components involved with a hydronic system, ranging from the heat source, tubing, circulators, controls and other components," he explains. "For the homeowner, this type of system can seem a bit overwhelming when they're used to seeing a "box"-type appliance such as a furnace. The best way to overcome this is simply training. Installers are the front line when it comes to educating homeowners about these marvelous, incredibly flexible systems. They can teach them how things work and how they interact. They can instruct them as to what they can "tweak" and what should be left to the professionals, and why. An even better option is they can offer an annual maintenance program with the install so the homeowners don't have to worry about keeping all the individual components working."
Mack notes that, in his experience, the initial price tag is the biggest obstacle.
"But this can be overcome by appealing to a customer's desire for comfort," he says. "It's also good to bring up that efficiency follows comfort, and a properly designed hydronic heating system is capable of both. Reminding them of less than ideal heating systems they've experienced in the past doesn't hurt either!"
Westley believes the number one obstacle to selling residential hydronic heating systems has always been the popularity of forced air furnaces.
"When being able to heat and air condition your home is marketed with the advantage of having to install only a single ductwork system, it is a difficult obstacle to clear," he explains. "That's why most new hydronic systems are installed in million-dollar-plus homes."
Abajian points to the ongoing labor shortage that is impeding the industry. "The demand is higher than the skilled labor available to provide comfort and energy-efficient solutions. Resideo is helping to close that gap by partnering with educators and organizations like the Building Talent Foundation (BTF), and helping students get into rewarding careers, by giving educational institutions relevant curriculum resources and cutting-edge technologies to train them, and providing a well-trained workforce for employers."
Technology and trends
Continuing the labor shortage theme, Abajian notes that the expanded use of press fittings in hydronic applications is the largest market trend at the moment.
"Labor shortages have pushed contractors to invest in press tools and fittings," he says. "The pride of sweating copper is passing away with our exiting skilled labor force. Last year, Resideo added Press PV SuperVent Air Eliminators and Press Boiler Trim Kits to allow for easy installs and application flexibility.
"What is not changing — and is only growing — is the end users' expectations that their hydronic comfort system investment should be visually appealing, deliver the energy efficiency, promise comfort and connect to their smart home," Abajian continues. "Today's homeowners who are investing in a hydronic comfort system are more aware of the smart home technologies available. Smart home solutions can link our refrigerator, garage door, light switches, security system and much more — and reacts to our voice command. People want their equipment behind the wall to connect with their smart home on the wall and in the cloud."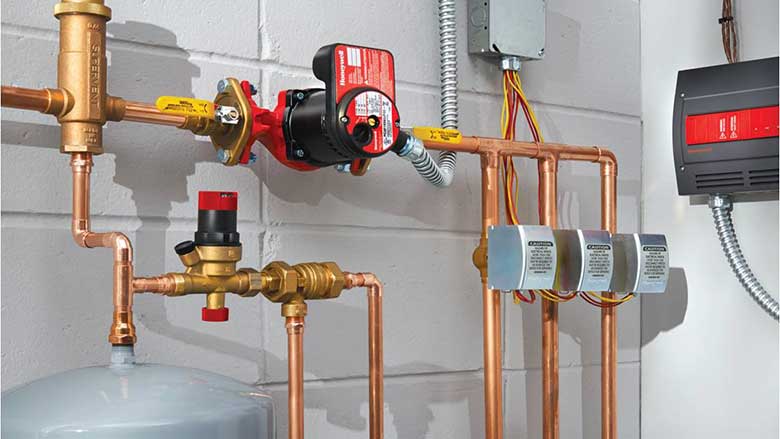 According to Garrett, gas adaptive technology is a new upcoming technology that more and more manufacturers have adopted over the last few years. "We will begin to see more boilers with gas adaptive technology, as well as boilers that can run on hydrogen and natural gas blends."
Mack notes that air-source heat pumps have made big advancements in recent years and are gaining traction in residential hydronic heating applications.
"Like a fine adult beverage and salty pretzels, air-to-water heat pumps pair well with heavily insulated and tightly sealed new homes," he explains. "They can also work with existing homes, but you have to make provisions for the lower supply water temperatures that they're capable of as older homes were designed around higher temperatures when fuel costs weren't as big of a concern. In the future, the reduction or elimination of fossil fuels for home heating will continue to be a hot topic.  Carbon-neutral homes and buildings are the future!"
Schannath explains that a technology advancement for hot water heating systems is the automatic hydronic balancing directly at the radiator.
"This is ideal for retrofitting and for the refurbishment of existing heating systems because complex calculations of preset values are not necessary," she says. "The flow range can be variably adjusted directly in gpm, and the volume flow is kept constant even if the differential pressure in the system fluctuates."
Westley adds that the area for greatest advancement will come from radiant cooling and addressing humidity control.
"To be able to use a geothermal field to heat and cool would be ideal especially lowering electricity consumption," he says. "The electrical draw from pump circulators will be far less than refrigerant compressors. Talk about hurdles — urban areas will not have the space to install the field unless it goes straight down. Properly installing a field is expensive, and drilling straight down is even more so. If and when the economic factors can be brought under control will determine the future development of this industry."
Marshall points to controls as the single fastest growing influencer in the hydronics market. "This can be from a 'smart' thermostat to integrated circulator controls. All of these elements help to improve a hydronic system's response time and efficiency. They also help mechanical contractors more effectively troubleshoot a system.
"Houses will continue to become 'smarter' with expanded integration of Wi-Fi technology," he continues. "Not only will homeowners be able to remotely log in and adjust how a system is operating, they'll be able to receive alerts when things go wrong. Leak detection will become more prevalent along with optimized fuel conservation. Smart controls are driving the majority of innovations. And, as mentioned earlier, innovative and superbly-efficient air-to-water heat pump systems are really coming on strong, and they merge well into the market's push for electrification."