Washtenaw Community College (WCC) welcomed a record United Association contingent of approximately 3,000 union plumbers and pipefitters for the UA's annual Instructor Training Program Aug. 13-19.
The week includes classroom instruction, an International Apprentice Contest, certification exams and demonstrations and a graduation ceremony in which 170 will be honored for their completion of the certificate program and an additional 45 will earn associate degrees from WCC.
UA trainers commit to a rigorous five-year training program and in turn train their members throughout the United States and Canada. Courses are taught by WCC faculty and UA members and cover an array of topics such as water quality, innovative welding techniques, plumbing code application, methods in teaching backflow prevention and water quality fire protection.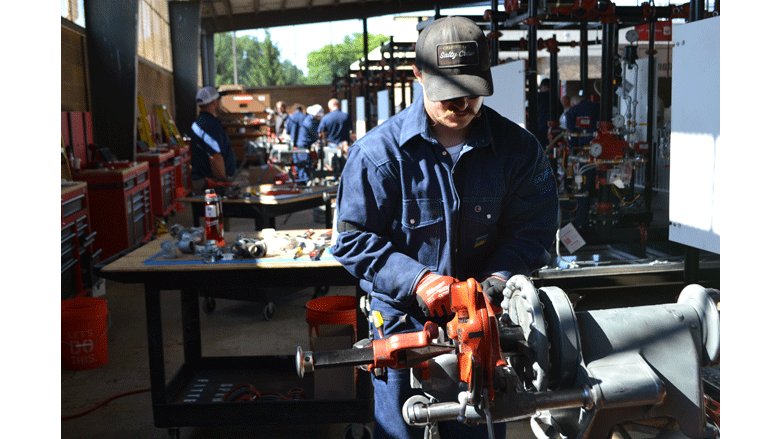 A high point of the training week is "Industry Day" when captains of industry and upwards of 500 industry partners converge on the WCC campus in addition to the nearly 2,800 UA members. Michigan Gov. Gretchen Whitmer, UA General President Mark McManus, UA Director of Education and Training Jim Pavesic, MCAA President Bob Bolton, Australia's Plumbing and Pipe Trades Employees Union Secretary Earl Setches and WCC President Dr. Rose Bellanca were just a few of the Industry Day speakers.
"Just to give you some idea of our numbers this week, total students — 1,935. First-time students — 803. Our record for first-time students was set in 2019, and it was 475, so we nearly doubled," Pavesic said as he addressed audience members during his opening remarks on Industry Day, held Aug. 17.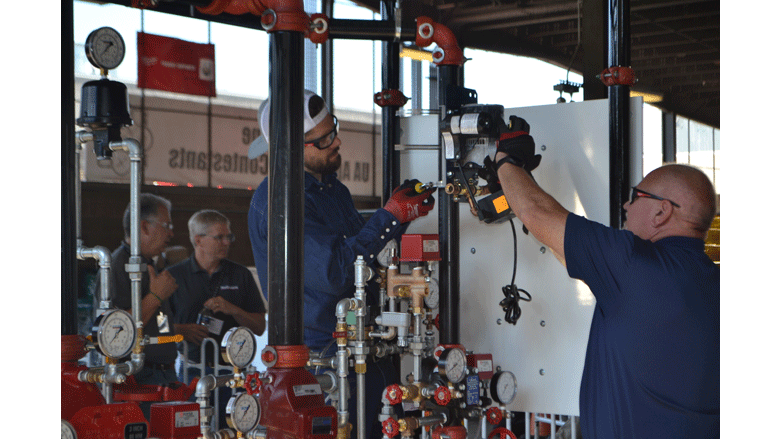 "I want to thank everyone who is involved with the UA," Gov. Whitmer said. "You're all building a stronger Michigan and a stronger United States of America. You make our businesses run, you keep our homes safe, you strengthen our infrastructure and you are critical components to our success as a nation and as a state going forward. We love having the UA Instructor Training Program here in Michigan, and truly appreciate the resources that you invest here in Washtenaw County. Your programs truly set a high benchmark for the entire industry. And every day across Michigan, we see that good teaching and skills lead to quality craftsmanship from our pipefitters, plumbers, HVAC techs, sprinkler fitters and welders.
"By ensuring the highest level of achievement in essential trades, the UA is building the workforce we need desperately to grow our economy and to empower Michiganders with the skills they need to earn a good living, raise a family and live the American dream right here in Michigan," she continued. "With no-cost apprenticeships and affordable recruitment initiatives, the UA is bringing more and more opportunities to Michiganders —veterans, women, students, people struggling to cover costs. These trainings change lives. They boost and grow the middle class and move our state forward."
McManus praised the Michigan UA leadership for their work in developing a relationship with Michigan legislators, including the governor, saying political activity leads to UA jobs.
"The UA does many things and the local chapters do many things, but nothing is better than this week — some may be as good, but nothing is better than this week," McManus said. "You know why that is? Because nothing is more important than this week. We build a lot of things, we learn how to build from being a young apprentice, but if we don't build the future, we're failing — and that's what this week is about, doubling the number of new instructors. We continue to be a growing, prospering organization. We are larger than we've been in 133 years. We are not a stagnant, shrinking, contracting organization. We're an expanding organization — be proud of that!
"There's a special place in my heart — and we all have one back home — for a teacher or coordinator who grabbed you and got you through a rocky time as a first year or second year, or some of us, all five years," he added. "You're doing God's work. You're not only teaching them a skillset for life, you're mentoring them as well. And for you to take that time, sacrificing home time, that's how UA's going to prosper."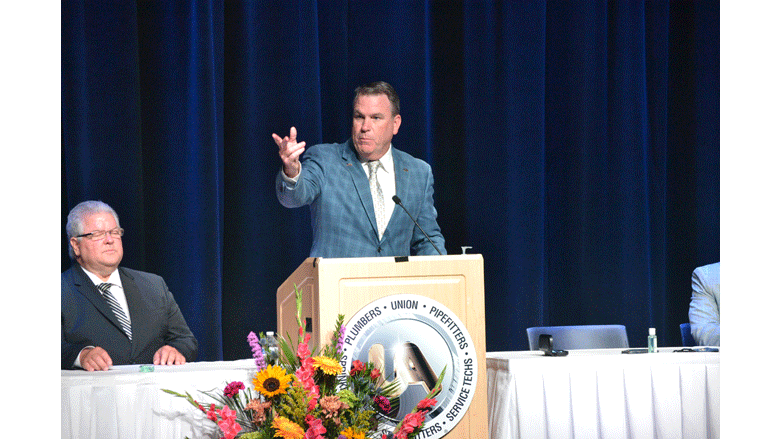 The UA and WCC have partnered for more than 30 years hold the renowned Instructor Training Program in Ann Arbor, which has become an important fabric of the community.
"This year has great significance because, due to COVID, we couldn't offer the in-person experience for several years," McManus said. "We value our continuing relationship with WCC, as we strive to offer our instructors the very best training. I think most members would agree that one of the things we do best and are indeed most proud of its our comprehensive, ongoing training. The behind-the-scenes collaboration that goes into developing these programs is equally impressive. The Instructor Training Program brings together our brightest and best training coordinators and instructors who strive to learn everything they can to train our membership."
Click here to check out more photos of the UA's 68th Instructor Training Program.