Electrification is often presented as a strategy for reducing carbon emissions, but the truth is, it's not practical to rely on electricity alone because no single energy source can solve the long-term challenges we face.
It's important to consider the infrastructure required to keep up with the electrification movement — which would take decades and cost trillions of dollars — and much of that burden falls on those who can afford it least.
Everyone deserves access to clean, reliable energy, and the more affordable that energy is, the more equitable its distribution will be. That's why it's important for builders, remodelers and construction professionals to know that there is another energy solution available: Propane.
How can propane be used in a home?
Propane is a viable home energy source that can be used to power residential appliances and systems, including space and water heating, backup power, cooking appliances, clothes dryers and various outdoor living applications. Plumbing contractors are likely most familiar with propane tankless water heaters and storage tank water heaters.
There are currently nearly 12 million U.S. households using propane for space heating, water heating or cooking. That number is continuously growing as new construction projects are selecting propane as their fuel of choice, especially with the trend of people moving away from city centers. Unlike natural gas infrastructure, which can't expand quickly, propane can provide a reliable, resilient energy solution today.
For homes running on propane, a 500-gallon tank typically holds enough propane to meet the annual energy needs of an average single-family home. Tanks can be installed above or below ground, depending on what the homeowner prefers.
How reliable is propane?
Propane helps to reduce the strain on our fragile electric grid by shedding load, and the more diverse America's energy mix is, the more reliable it is. Not only does propane reduce the strain on the electric grid, but it's also a stable, resilient, on-site energy source, helping support Americans even when the grid fails. Additionally, propane can complement solar and wind systems to reduce emissions while providing reliability — especially during challenging weather conditions.
Which energy source is more affordable: Propane or electricity?
As construction professionals know, energy consumption and cost can vary widely depending on the energy sources used to power appliances. Propane offers a cost-effective energy solution in residential construction for today and tomorrow. Plus, it doesn't require expensive infrastructure investments like electricity does when remodeling and moving from oil or wood.
According to a 2020 analysis from the Department of Energy, the energy costs of propane ($18.81 per million Btu) are less than half that of electricity ($38.28 per million Btu). Running propane-powered appliances can help customers see savings throughout a home. For plumbing contractors, this means offering propane water heating options.
Propane tankless water heaters can be up to 34% more energy-efficient than conventional storage tank water heaters in homes with moderate hot water use. Energy Star-qualified propane tankless systems can save homeowners up to 50% on their energy bills when compared with the costs of operating a standard electric storage tank water heater.
Plus, the median life expectancy of most propane-powered equipment is longer than electric equipment, offering a low total cost of ownership and strengthening its value proposition. For example, propane tankless water heaters have a life expectancy of about 20 years, which is more than double most conventional storage water heaters.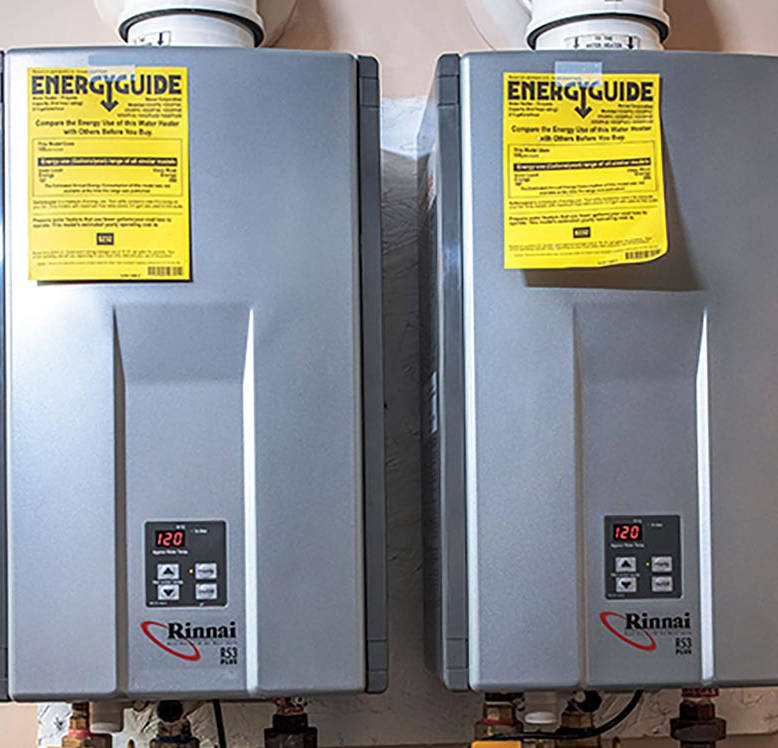 Can propane appliances decrease a home's carbon footprint?
Electrification is typically looked at as a zero-emissions solution, but when full-fuel-cycle emissions are considered, construction professionals — and their customers — will see that propane has a compelling argument.
Propane is clean, environmentally friendly and is an excellent way to reduce emissions while meeting a customer's energy needs. Propane produces significantly fewer carbon emissions compared to electricity for key residential applications, including water heating. Propane tankless models, for example, can produce up to 61% fewer greenhouse gas emissions, 47% fewer nitrogen oxide (NOx) emissions and 91% fewer sulfur oxide (SOx) emissions than electric storage tank water heaters.
Additionally, using propane produces 43% fewer greenhouse gas emissions than using an equivalent amount of electricity generated from the U.S. grid. That is because more than 60% of the energy consumed in our power plants is lost before it gets to the home — either in production, transmission or transformation losses.
To learn more about the benefits of propane for residential construction, visit Propane.com/residential-construction.