How many people can relate to this scenario? Your alarm doesn't go off and you wake up in a panic because you are now late for work. So you jump in the shower only to be hit with an icy cold blast of water sure to wake you up quick. A fair amount of you are nodding your heads, "yes." The good news is there's a solution to this problem, as smart technology has finally found its way into the bathroom.
What is a smart shower?
Though plumbing has historically been slow to enter the smart home space, there is currently no shortage of smart water products to help manage and conserve water usage. Smart showers are one such product category. So, what exactly makes a shower smart?
According to Theresa Choh-Lee, leader for the GROHE brand, a smart shower is any shower that includes innovative technology designed to make the user's life easier.
"For example, the updated GROHE Euphoria shower systems include GROHE CoolTouch technology, which ensures that the thermostat's body will never get too hot to touch, eliminating the risk of scalding. Our innovative GROHE SmartControl shower technology lets you choose the outlet, the water flow and temperature as desired. Operation is simple and easy for the whole family — simply push to start and stop, then turn to adjust the water flow.
"Another example of a smart feature is wireless connectivity, found in our Rainshower 310 SmartConnect Shower Head, which allows users to switch between two spray patterns or combine them with the touch of a remote button," she adds. "At GROHE, we focus on integrating technology that improves everyday living, not just to show off our capabilities."
Ashley Springer, product manager at KOHLER, agrees, saying "A smart shower is one that delivers an exceptional experience through the use of technology, whether that be technology the user can see and control, or technology that is embedded in the shower system to make it inherently better.
"Kohler offers smart showers such as DTV+ that provide enhanced experiences that can integrate not only water, but music, lighting and steam — all through an intuitive touchpad or through voice and app control with KOHLER KONNECT," she continues. "Other shower systems that we offer such as DTV mode, provides a more simplistic showering experience while still leveraging technology to provide enhanced control and personalization."
The U by Moen Smart Shower integrates smart technology through a digital valve and controller that replaces manual trim and valves, and connects to Wi-Fi, according to Emily Martis, senior product manager, smart kitchen and bath for Moen.
"Connecting to Wi-Fi allows homeowners to elevate their experience and increase personalization through voice activation and the corresponding smartphone app," Martis explains. "The U by Moen Smart Shower provides homeowners with the ability to create their ideal showering experience via personalized presets, which range from customizing shower temperature to setting the precise length of your shower. The U by Moen Smart Shower is compatible with Amazon Alexa, Google Assistant and Apple HomeKit voice assistants."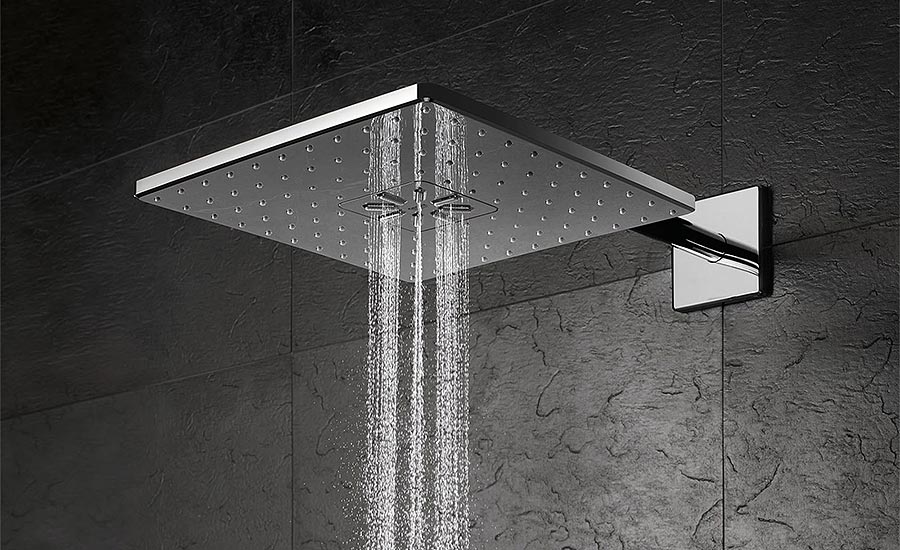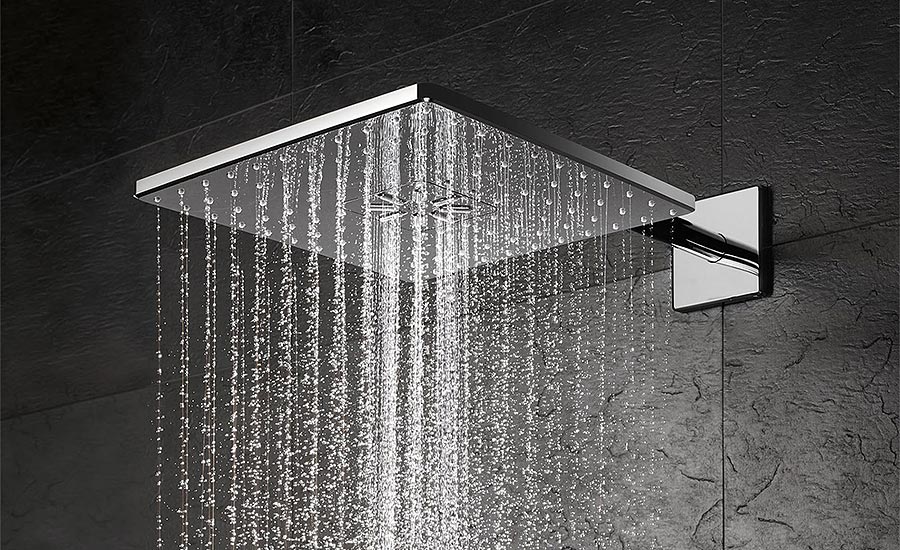 Customizable conservation
Smart showers offer consumers highly desirable and sought-after features. However, while brands work to incorporate smart technology into these bathroom products, they must also work to extend the technology into stylish and beautiful options, Choh-Lee notes.
"Our bathroom spaces are expected to provide functionality, but also be a well-designed and beautiful space," she says. "To accommodate this need, we are developing products that maximize health and wellness through smart technology, introduce simplicity and convenience and create environments that provide comfort, beauty and enjoyment. At GROHE, we don't have technology for technology sake. We have done research that proves that consumers generally see their bathrooms as a place to disconnect, so adding technology is counter intuitive unless there is a clear consumer need for it."
GROHE is seeing a demand for smart products that increase convenience in daily life, Choh-Lee adds.
"Our Rainshower 310 SmartConnect Shower Head uses a wireless remote control to eliminate the inconvenience of having to reach up high to adjust spray patterns, and allows our SmartControl diverter users to control the flow and temperature of multiple outlets with one diverter."
According to Martis, Moen considered all the features consumers wanted most when it designed the U by Moen Smart Shower, including personalization, remote activation and warmup and pause.
"Users can customize settings directly in the shower and save them with one of two preset buttons," Martis explains. "The app enables users to create up to 12 personalized presets including name, greeting, outlets, temperature, shower timer and notifications. Users can also sync their shower to their smartphones to start, stop or pause remotely. For example, you can start your shower from bed, and when it's ready, you'll receive an alert on your smartphone. Lastly, users can save water by having the shower warm up to the desired temperature and pause until they are ready."
Springer agrees the most desired feature is personalization.
"Consumers are able to customize and control so many aspects of their lives from settings in their cars to their mobile devices, the shower should be no different," she says. "Users can control water delivery, temperature and more to create an experience that meets their exact needs."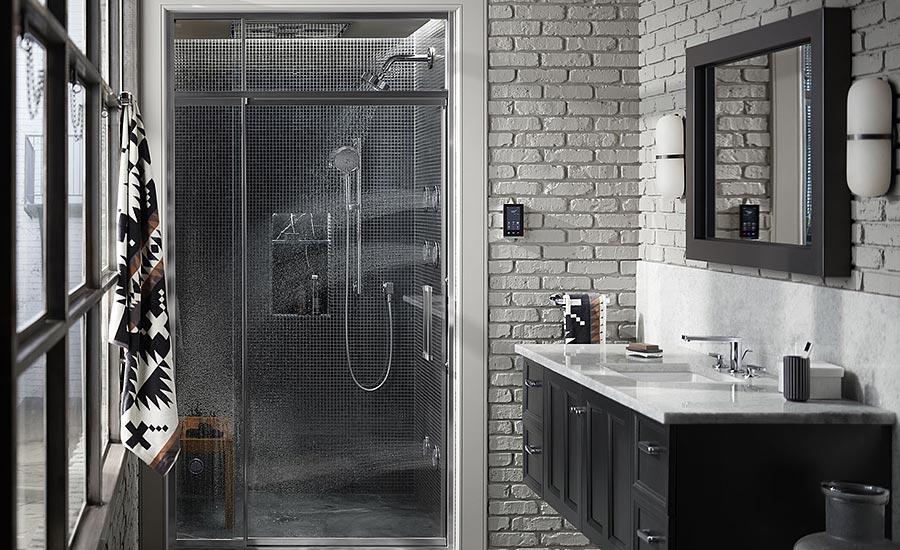 Luxurious bathrooms on the rise
This year has already seen growth in the bathroom space driven by mid- and high-end projects, as forecasted by the National Kitchen & Bath Association in its 2021 Annual Market Outlook report. The association projected annual kitchen and bath revenues to reach $158.6 billion in 2021, a 16.6% increase over an estimated $136 billion in 2020.
The desire for a more personalized experience is driving the desire to incorporate a higher tech experience in the bathroom, Springer explains.
"In the recent year, more consumers have been turning a keen eye to their self-care routines at home — driving a stronger desire for more 'me time' — the shower is no longer about just getting clean," she says. "Consumers are looking for more ways to enhance their daily routines and activities, and really make the home feel like an oasis."
Choh Lee agrees, saying the "emphasis brought on by the pandemic has accelerated the changing perception of the bathroom."
"Traditionally a functional space, the bathroom has shifted to a personal space that focuses on well-being through self-care," she adds. "More time spent at home made us more aware of the space around us and sparked a deeper look into our homes and lifestyles, causing many to rethink how to improve their 'me-space.' Beyond that, consumers seek out smart home products that provide solutions to existing problems or issues they have experienced."
Martis points to consumer excitement about new technologies as to what is leading the growing trend of luxury bathrooms.
"Consumers continue to be excited about the benefits and personalization offered by smart technology and voice-activated products, and the bathroom is no exception," she says. "We've seen smart, connected products become more popular in primary bathrooms, especially products that offer the option to customize experiences. The smart shower elevates your daily morning and evening routines by integrating into your current smart home ecosystem, allowing users to move about their home seamlessly and enjoy the ease and convenience of their connected lifestyle."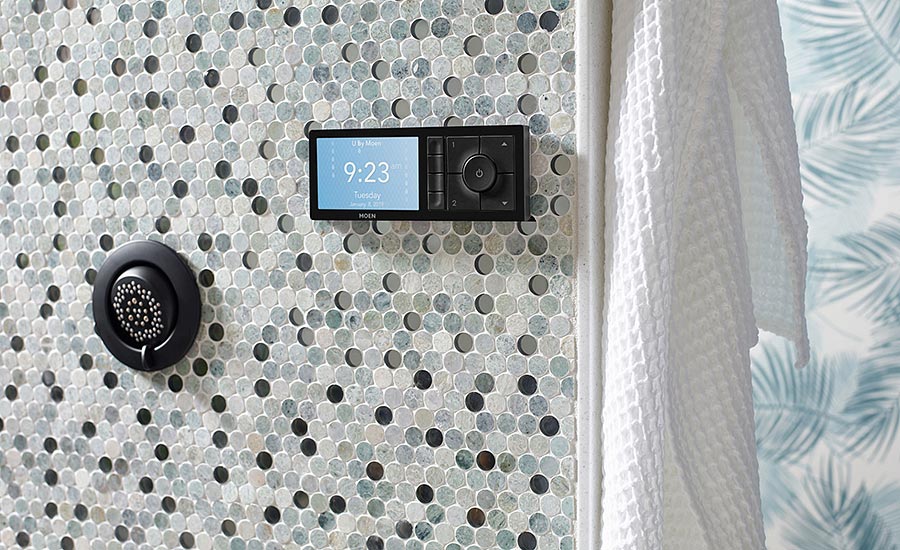 Capitalizing on the growing trend
So, how can plumbing contractors use this luxury bathroom trend to their financial advantage? Springer suggests staying educated on the various options within smart showering.
"That is key," she explains. "Homeowners are looking for the experiences a smart shower can deliver, but they are still looking for expert advice, for a trusted resource to guide them through the process. Partnering with brands like KOHLER that invest in trade partners can make it easier for plumbing contractors to have access to product information, installation assistance and product expert help.
"Making a shower smart doesn't always have to mean a full remodel," Springer adds. "Products like the KOHLER Moxie showerhead + wireless speaker can help upgrade an analog shower to a tech shower in a matter of minutes — reducing your time on the job and increasing client's satisfaction."
The perfect time for contractors to add smart technology is when they are working on a bath renovation project that would involve plumbing contractors from the beginning, Martis notes.
"Many homeowners aren't aware of smart shower technology yet, so they'll be counting on the professionals to educate them and build trust in the solution," she says. "Plumbing contractors should seek smart shower products from a well-known manufacturer that supports and designs with the professional in mind. It's important to buy from manufacturers with great customer support, quality products and good installation videos and support in case contractors have questions. This also allows the contractor to research the new product in advance of installation.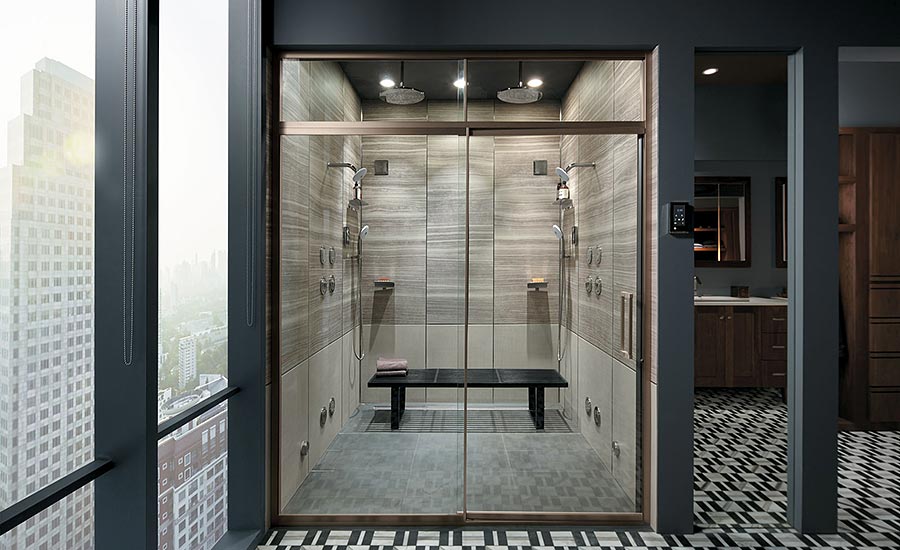 "Choosing a product with features that allow for easy installation and maintenance is crucial when selecting smart plumbing products as a contractor," Martis continues. "In this case, unlike traditional valves, the U by Moen Smart Shower digital valve doesn't have to be placed directly behind the shower wall and comes with a 30-foot data cable so that it can be put wherever is the most convenient for the plumber and the homeowner, such as a nearby closet or in the basement. The valve is slim and designed to install between two wall studs. The valve also has debris filter screens easily accessible from the front, so ongoing maintenance is a breeze."
As consumers look to upgrade their spaces, they are turning products into curated furnishings rather than just fittings and fixtures, Choh-Lee explains.
"Offering new product installations and full product suites will be essential to meeting the needs of consumers," she says. "Contractors being able to offer smart product installation and knowing to suggest fitting and future upgrades that can improve the space as a whole will help satisfy the needs of consumers."
Choh-Lee notes there is also a growing trend in the domestication of professional features, such as taking what is seen in a hotel or a spa and bringing it into the home.
"The consumer has become the creator, drawing inspiration from professional spaces, such as an open island in the kitchen inspired by a professional chef, a sleek shower system in a trending finish from a hotel bathroom or a touchless faucet you'd typically find in a commercial bathroom," she explains. "To capitalize on this demand, contractors should know to suggest luxurious designs featuring smart technology, while also being able to install them. Automation and smart home products are quickly becoming more accessible and affordable."
---
SMART SHOWER OFFERINGS
GROHE
GROHE RAINSHOWER 310 SMARTCONNECT SHOWER HEAD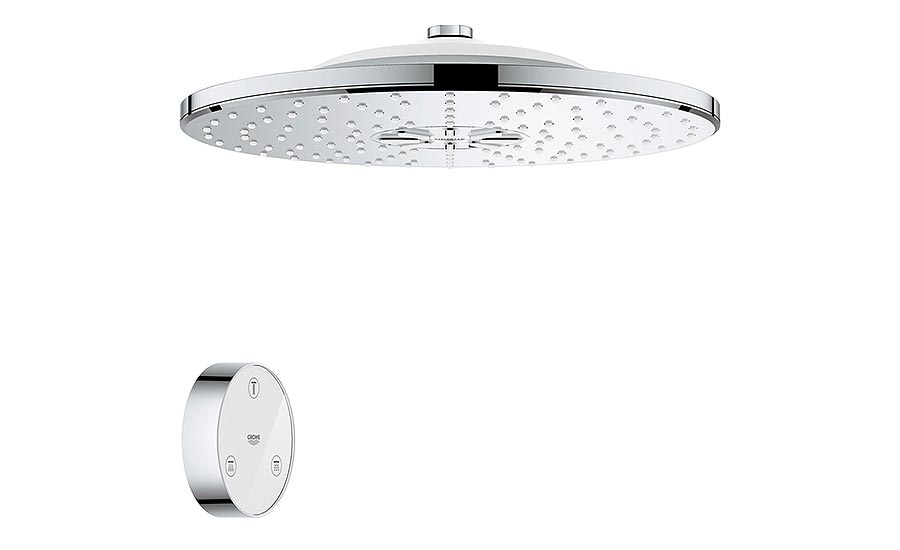 The Rainshower 310 SmartConnect showerhead features both the relaxing PureRain spray and a powerful ActiveRain spray function, offering the best of both worlds. The wireless remote enables users to switch between spray functions at the simple touch of a button, enhancing the showering experience all around.
List price: Starting at $510.00
Where to buy: www.grohe.us
---
KOHLER
KOHLER DTV+ SHOWER SYSTEM
The KOHLER DTV+ shower system provides enhanced experiences that can integrate not only water, but music, lighting and steam, all through an intuitive touchpad, or through voice and app control with KOHLER KONNECT.
List price: Customizable system starting at $5,000
Where to buy: www.kohler.com
---
MOEN
U BY MOEN SMART SHOWER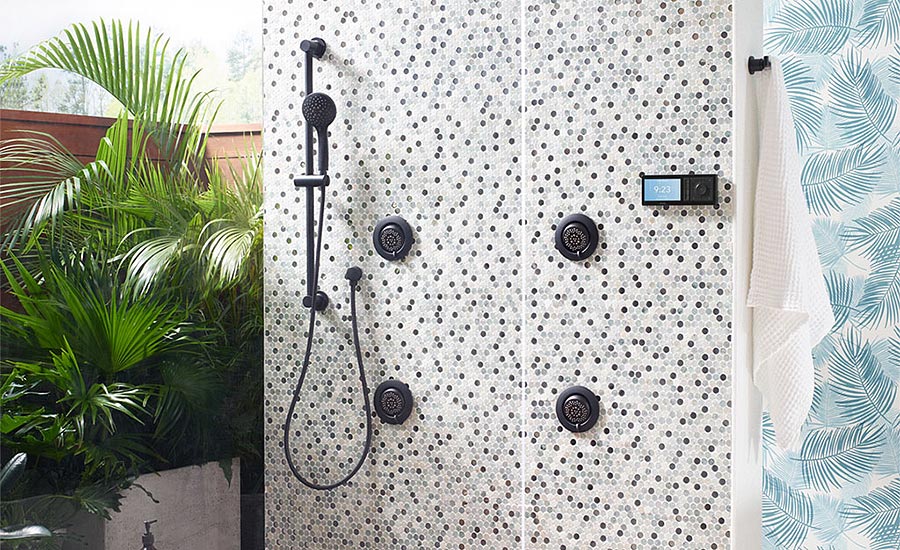 U by Moen Smart Shower is a next-generation Wi-Fi/cloud-based digital shower that offers mobile connectivity and unmatched personalization, providing homeowners countless ways to create their ideal showering experience, with three choices to control the shower: voice activation, smartphone app and an in-shower controller.
List price: Starting at $1,253
Where to buy: www.moen.com