COVID-19 had many widespread impacts to just about every product category and industry — the plumbing industry included. One of the most interesting market shifts was how the toilet paper shortage at the start of the pandemic spurred sales of bidet toilet seats in the U.S. market. 
According to Bill Strang, president of operations and eCommerce for TOTO USA, the word "bidet" became the 20th most-searched term on Amazon in mid-March. 
"Bidet was only behind face masks, hand sanitizer and toilet paper," Strang says. "Here at TOTO we call it the 'Toilet Paper Panic of 2020,' when people mobbed the stores and every place ran out. So, of course, people were looking for an alternative. What we experienced during that period of time was incredible. We actually sold out of all our inventory of electronic bidet seats in the U.S. market in about two weeks. The demand was so strong — everyone was buying it across every channel, including our retail experience, our eCommerce experience and our kitchen and bath showroom experience. It was incredible to see how many people not only became aware of it, but began to buy. And the awareness has stayed strong even after the initial pandemic shock has worn off."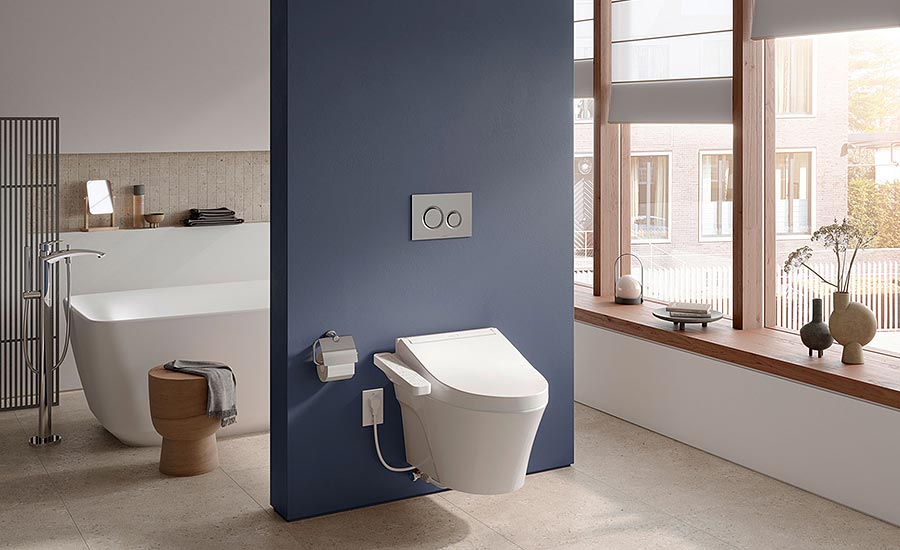 David McFarland, vice president of global marketing for Fluidmaster, notes that while the bidet market has been steadily growing year over year at a clip of about 14% to 16%, he agrees the toilet paper shortages stemming from the COVID-19 pandemic, along with hygiene hypersensitivity, has led to increased interest in the category as a whole.
"In 2019, we commissioned proprietary research upon first considering market entry," he says. "At the time, total U.S. unit sales were projected at about 250,000 units. That figure, however, was projected prior to the COVID-19 pandemic — a time when bidet sales saw a lift due to toilet paper shortages — so the actual market size is larger than what our research estimated in 2019."
James Walsh, vice president of product management, chinaware and commercial products for LIXIL Americas, notes that research firm BRG saw 3.8% growth in the bidet seat market in 2020, with sales of bidet seats outpacing 2018 growth at almost 16%. 
Walsh explains that the SpaLet pages on the American Standard website saw a 222% spike in organic traffic during spring 2020, and during that same period, American Standard saw an increase of more than 400% in sales within its SpaLet category.
"When toilet paper shortages were national news at the beginning of the COVID-19 pandemic, we saw an immediate rise in bidet interest," he says. "We believe this was due to consumers looking for more hygienic bathroom solutions. While that spike has leveled off a bit, we are still seeing strong demand in the category as consumers continue to seek a cleaner, safer bathroom in their home."
Andrew Van Gorden, product manager for intelligent products at Kohler, notes that the Wisconsin-based manufacturer has seen a 20% growth in the bidet seat category year over year for the past five years in the U.S.
"In 2020, bidet seat sales have grown significantly in every channel — our brick-and-mortar locations are noting orders double the typical, and online sales are up 4 times, with some sites experiencing growth up to 10 times. Regardless of where consumers buy product, we know research on kohler.com is an important part of the purchase process, and our Kohler bidet seat webpages have seen more than 10,000 visitors a day wanting to learn more about this experience."
Kohler conducted research with Harris Poll in December 2019 to gauge Americans' interest in bidets, and results show more than half of Americans (55%) are interested in adding technology features to bathrooms of their current homes, and about 7 in 10 (69%) would want to make tech bathroom upgrades, Van Gorden notes. The study also reports two-thirds of Americans (63%) would be interested in their home toilet having a personal cleansing feature, and this is even higher among adults ages 18-34 where 73% are interested in this feature. All in all, more than half of Americans (54%) are likely to purchase a smart toilet for their home, while nearly three out of five Americans (58%) would likely purchase a smart toilet seat for their home.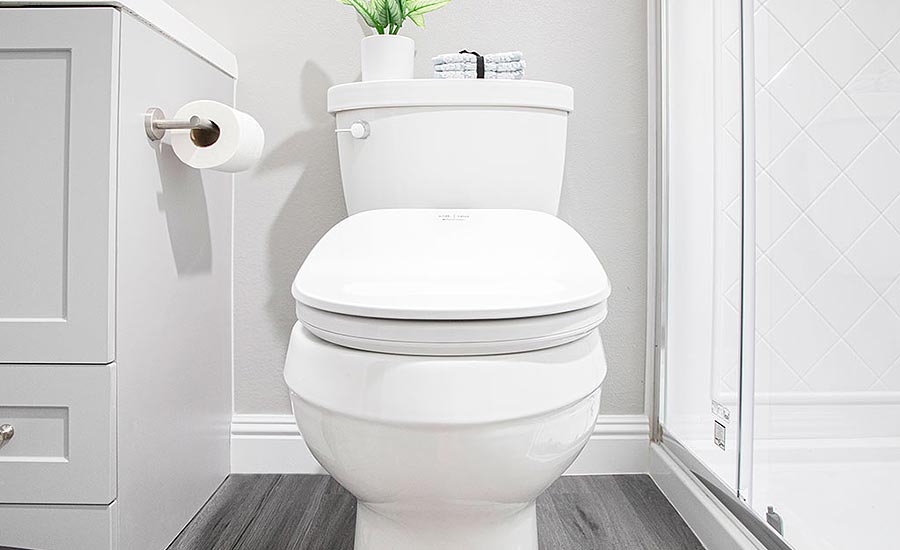 U.S. market barriers
Bidets are not necessarily new technology, having been popular in European and Asian markets for some time. The U.S, however is another story. 
"Bidets have long been associated with certain countries and cultures, predominantly in Europe and Asia," McFarland explains. "As demographic shifts have occurred in the U.S., acceptance for bidets has also grown. Additionally, the category as a whole has taken longer to catch on in the U.S. because plumbing trends tend to be more of a gradual evolution. Availability and affordability were also an obstacle that consumers had to overcome. Prior to the COVID-19 pandemic, awareness was limited to traditional bidets in an immature marketplace. Presently, the market has vastly expanded to now include bidet seats of all types. Major plumbing manufacturers, such as Fluidmaster with the launch of the Soft Spa 9500, are stepping up and expanding its current offering to meet growing demand."
Walsh agrees bidets are now beginning to increase in popularity in the American home. 
"With the conversation around toilet paper dominating headlines in March of 2020, American Standard saw a shift to an even bigger buzz around bidets as a result," he says. "We've found that one of the biggest hesitations when it comes to a bidet is trying it for that first time, but once people try it, they won't want to live without it — it's something we've heard over and over from people who have made the switch to our SpaLet products." 
Van Gorden believes "toilet taboo" has been the reason behind the slow adoption of bidets in the U.S.
"We talk with children about potty training and toilet use when they are very young, and then never really talk about toileting behavior during our adult life, which inhibits our ability to learn about new ways to improve our personal hygiene," he says. "Recently, Americans have become more willing to consider different methods of personal hygiene, enhanced in part due to the increased focus on wellbeing and overall hygiene in the home. And as they start to try bidets, many realize that they find it hard to go back to previous habits of toilet paper alone." 
Strang also notes typically European-style bidets are two-part solutions, where the toilet is one piece of porcelain, and the bidet is another piece of porcelain about 24 inches away. 
"While you're sitting on the toilet, you have to sort of maneuver over to use the bidet — it wasn't super convenient," he says. "When we launched our Washlet product years ago, we saw an incredible amount of volume being sold, especially in the Asian market. It just became very convenient to put a bidet seat onto an existing toilet.
"In the U.S., for people who have traveled overseas, especially Asia, the bidet became something they test-drove in hotels, restaurants or clubs," Strang continues. "In Japan, bidets are even in highway truck stops. They've become so much a part of the culture that it has started to migrate over here. After the pandemic, the market blew up. We have seen some very strong sales numbers even after the pandemic. And we're in a very strong position in the marketplace today."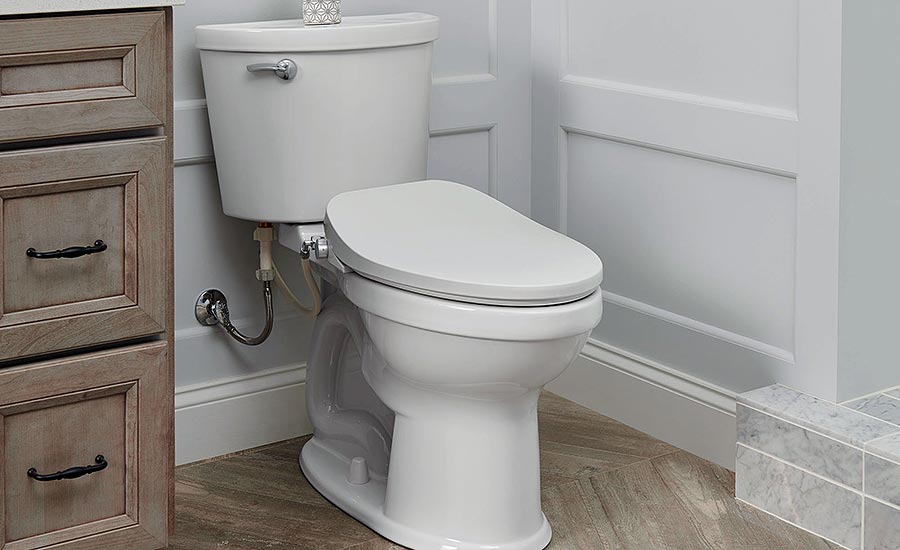 Plumbers are key
Plumbers have long been seen as trusted sources for information within home remodels and new builds, Van Gorden notes. That's why plumbers will be instrumental in helping spread awareness regarding bidet product offerings. 
"Homeowners look to their plumbers to help them not only maintain or upgrade their home's plumbing, but also to better understand the options they have in today's market," Van Gorden says. "Plumbers who carry toilet seats with integrated bidets, like Kohler's bidet seats, have the opportunity to introduce their clients to this technology, which increases the potential for upsells on the jobsite. Kohler bidet seats are easy-to-install, supported by the company's videos and instructional material to assist with installs as well as a trade-dedicated customer service team. Additionally, Kohler bidet seats fit most toilet styles, allowing homeowners to still choose the toilet design they like best and integrate bidet technology.
"Helping to educate their customers is the first step a plumber can take in the selection process for the right bidet product," he adds. "Kohler offers in-depth training for its trade partners to give them all of the necessary tools so trade professionals can feel prepared and knowledgeable about bidet technology and product offering. Kohler's website also offers resources for the homeowner and plumber alike to explore and select together the right bidet seat for the project. For example, this comparison chart outlines benefits of bidet seats to help customers choose the right solution for their home."
Strang agrees, saying plumbers still hold a very important role in the advocacy and awareness of the product. 
"As plumbers become more aware of how to install and support the product, consumers then begin to trust that plumber as the expert in the latest technologies available for overall personal hygiene and cleanliness," he says. "And, of course, the other aspect of the COVID-19 impact is this renewed strengthening of hygiene and cleanliness overall. I assure you that nothing gets you cleaner after visiting the bathroom than turning on that Washlet bidet — there are many features, and you can move it around until it hits the right spot. Some people are a little apprehensive — they don't want to get sprayed there every day, but once you start to use it, you fall in love with this product. It is absolutely transformative."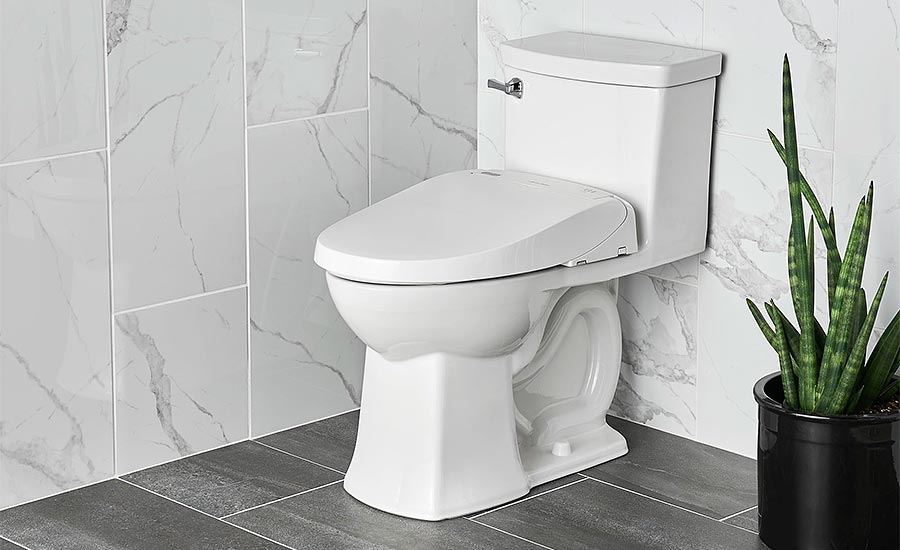 Bidets provide a more convenient, hygienic experience for the whole family, which can mean an easy and convenient upgrade to daily hygiene routines; a more luxurious experience; or increased autonomy for seniors, those dealing with different abilities or parents who are potty training toddlers, Walsh explains. Not to mention, all of the SpaLet features, including heated seats, a warm air dryer and built-in deodorizer, make an appealing sales tool for plumbing contractors for customers looking for ways to improve their lifestyles.
"Being able to offer bidets is essential to meet this growing consumer demand," he says. "It is critical to take into consideration the existing plumbing as well as the homeowner's budget and lifestyle. For example, automatic bidets and bidet seats require connection to an electricity source, which may not be possible depending on the bathroom space. For those customers, a manual bidet may be a better option. Bidets and bidet seats also range in price from about $100 to several thousand dollars, so depending on the customer's budget, it's important to find one that works for them at a price point they are comfortable with."
Bidets also have an impact from an environmental standpoint, Walsh adds. 
"The average U.S. household uses more than 250 rolls of toilet paper per year, which requires about 9,000 gallons of water and one whole tree to produce," he says. "A bidet cuts down on toilet paper usage."
"As consumer awareness grows, plumbers may uncover more opportunities to upsell their clients on bidets by reinforcing the benefits," McFarland adds. "Plumbers can help to not only demystify the technology, but assure homeowners that bidets are safe to use and provide many health and hygiene benefits as well."
Fluidmaster believes choosing a bidet is a personal choice for the homeowner, McFarland notes. However, plumbers can certainly make recommendations, such as Fluidmaster — a quality and trusted brand for more than 64 years.
Nowhere to go, but up
The historically low U.S. market penetration offers incredible opportunity for both bidet manufacturers — and the contractors who offer these products — in the near future. 
"Interest in the bidet category is strong, and over the next five years, it is poised from double-digit growth year over year in the range of 14% to 16%," McFarland says. "The rising tide of millennial homeowners brings an appetite for technology and new experiences. Fluidmaster is watching the category closely and ready to capitalize on increased adoption." 
As Walsh previously mentions, once a customer tries a bidet, they rarely go back to the traditional toilet paper method.
"Since the pandemic gave bidets the added boost they've been missing, more U.S. households have given bidets a try," he says. "When it comes down to it, bidet products such as American Standard's SpaLet also offer more comforts than the average toilet, such as heated seats, a warm air dryer and built-in deodorizer, making the transition to replacing old habits easy thanks to the upgraded experience. This leads us to believe that the market will only continue to grow over the next five years as bidets see an increase in U.S. popularity."
Van Gorden notes the interest in bidet technology is not going away anytime soon. 
"We anticipate the market to grow through new product offerings, advancements in technology bringing new innovative features to the market, and, certainly, through more accessible means to purchase bidet seats for the trade professional," he says. "Kohler is invested in bringing new product solutions in expanded price ranges and purchase locations to better serve trade professionals and consumers alike."
Strang also sees the market continuing to expand over the next five years — and quite dramatically. 
"The nice thing about the bidet is you have the opportunity to expand into a market that doesn't already have a huge install base, which means there are lots and lots of naked toilets," he says. "In other words, they don't have a bidet sitting on top of them. So, there is lots of opportunity there and to improve the bathroom experience overall. When TOTO first came into the market, our greatest allies, our greatest advocate, were the plumbers. The plumber is absolutely the key person in this entire process."