Contractors have several choices of cab forward chasis in the Class 4 truck category. If you're in the vehicle-purchasing mode, this is a must read.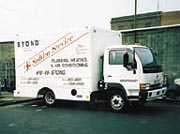 Isuzu's truck sales in the Class 3-8 range have increased about 25 percent since last year.
The advantages of large, cube-style boxes on light commercial truck chassis include the ability to carry a much larger inventory and to serve as rolling billboards.
Isuzu now offers the NPR HD and the new NQR, with a rating of 17,950 lbs. GVW, although it is the same size and looks identical to the NPR. Its newest vehicle is the NPR HD. It features four full doors and provides ample room to carry four or more employees to a job site. The titling cab feature, however, is missing from the newer vehicle.
All 2002 model year NPR trucks now come with the fuel tank mounted between the frame rails. This location provides more space along the frame rails, to allow for more compartment-type storage boxes. I would've preferred to see a combination of a side diesel fuel tank and a center-mounted rear tank as doubling the fuel capacity would decrease the frequency of refueling.
 
Nissan/UD
Nissan produces a diesel cab-forward truck series under the UD name. I've spoken to several Class 4 UD truck owners who have driven more than 350,000 miles without experiencing any problems. Now that is my idea of vehicle reliability and life. Nissan's Class 4 cab-forward truck model is the UD 1400, which comes equipped with a 175 hp diesel engine and the Aisin transmission.
Mitsubishi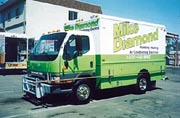 Although it's not available in California, Mitsubishi is the only Class 4 cab-forward truck manufacturer that produces a four-wheel drive truck. For contractors based in other parts of the West or in very rural locations, Mitsubishi's FG truck is an ideal choice, especially with the optional limited-slip differential, which gives the FG excellent grip and control in mud, snow or slippery conditions.
Hino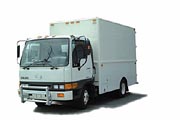 Hino is another truck manufacturer that has been around for many years, although it is not as well known among plumbing and HVAC contractors. Hino trucks are probably the most expensive, but it's because of the their quality. The cab is somewhat bigger and more upright than the others and comes with a really nice shelf located above the flip down sun visors. The common model is the FB1517, rated at 15,000 GVW. The FB1817 comes with air brakes just like the big rigs. Hino believes more strongly in drum brakes. Although disc brakes on Class 4 trucks are really easy to service yourself, I hear a lot of anecdotal evidence that drum brake shoes hold up for many more miles.
Hino doesn't have quite the dealer infrastructure that Isuzu does, but Hino counters this by allowing purchasers to select their own local truck repair facility and that operation becomes the designated warranty center.
 
Final Analysis
duty 5-speed automatic truck transmission for these types of commercial trucks, but none of the manufacturers (mentioned here) specify them with Allison's 5-speed automatic transmission. Compared to the current 4-speed automatics, 5-speed shifts would appear to be smoother and the engines would rev in a more appropriate rpm window and realize more increased fuel economy.
With so many choices, it pays to fully research all the different truck offerings, and don't forget to talk to your colleagues and find out what their experiences have been.
"This article was originally posted on ww.reevesjournal.com."