The new American National Standards Institute (ANSI) standard governing flammable vapor ignition resistant (FVIR) water heaters has been in effect for less than a year, and plumbers around the country are still adjusting to the subtle differences found in the installation and maintenance of the units.
To meet the new FVIR standard that went into effect July 1, 2003, a water heater must be designed so it can't ignite vapors from gasoline (or other flammable fluids) spilled outside the unit. The standard covers conventional gas-fired atmospheric vented water heaters of 75,000 BTUs or less with 30-, 40- or 50-gallon capacities, but will eventually cover all residential gas-fired models by July 1, 2005. So what's the big difference with a FVIR water heater?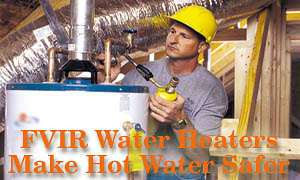 Essentially, the various FVIR water heaters on the market have components and features in common, including a flame arrestor plate that prevents a flammable vapor fire inside the water heater from igniting the surrounding room. However, beyond the flame arrestor plate technology, each manufacturer has developed its own solution to the FVIR issue, meaning significant design differences among brands.
"Most customers don't want change," said Jim Bienias, senior product manager, residential for Rheem Manufacturing Co. "So we did a lot of market sensing with customers, contractors and distributors before developing our unit. We wanted to make sure that when a plumber brought a FVIR water heater out to a customer that it met the customer's expectations."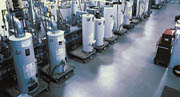 FVIR water heaters offer benefits to both consumers and plumbers. First and foremost is the safety factor. "Plumbers should be aware that these models are designed to shut down in the event that poor combustion conditions exist," said Philip Wallace, director of marketing for American Water Heater Company of Johnson City, Tenn. "The installing contractor should verify that the installation does have adequate air supply and that the water heater is properly vented."
Drew Smith, director of residential design, certification and standards for A.O. Smith Water Products Company in Ashland City, Tenn., agreed that the safety issue was a chief motivation in the development of the new technology. "All FVIR water heater designs require adequate combustion air and part of the safety testing is the test for lint, dust and oil (LDO)," he pointed out. "The heater has to shut down or not generate carbon monoxide at the end of the test. With the older water heaters, you could have bad combustion, which could generate carbon monoxide because of the lack of combustion air."
Bienias said that the LDO issue was the main concern facing the industry when developing the new FVIR standard. "A ten-to-one air-to-gas ratio gives perfect combustion in a water heater," he said, "but with those ten parts of air we realized we were drawing in other things too, potentially flammable vapors. Insuring that didn't happen was what drove the development of the standard."
Installation of FVIR water heaters also was made easier thanks to their design. "One of the benefits to installation of an FVIR heater is that the National Fuel Gas Code allows the unit to be installed on a floor, instead of on an 18-inch high stand," said Smith. "In the past, those stands sometimes caused problems for installers, especially when it came to vent piping."
Mike Gordon, vice president of engineering for Bradford White Corporation in Amber, Penn., added that the "overall dimensions of the FVIR heaters remain the same, so installation is simple, which maintains a high level of reliability and serviceability."
With FVIR heaters, plumbers no longer have to do a "belly crawl to light the unit because of the new igniter," according to Bienias. "For the contractor, there's not much difference in installation compared to older model water heaters. Most of the changes were inside the unit, where we developed a proscribed air pathway through the flame arrestor. That's really the big difference."
Wallace pointed out that his firm's FVIR units have been in the field since 1999 and have not accumulated any significant field service or performance issues. "Our FVIR units are designed to fit properly in the same location as the customer's existing gas water heater," he said. "It's just as easy to install as the old-style models. As always, we caution the installer to read and follow the instructions in the installation manual, but special precautions aren't required."
How about maintenance of the new units? "Under normal conditions, no regular cleaning of air inlet openings or the flame arrestor is required," Gordon said. "However, as with the old style water heater, you still need to inspect it regularly to assure long life and safe operation. In an extreme environment, the system is easily cleaned with a vacuum or compressed air."
Bienias noted that his company's units are maintenance free. "There are no special filters to service, replace or clean," he said.
A.O. Smith Water Products uses a grid screen on the heater in order to prevent any debris from reaching the flame arrestor. "Our competitors use jackets with holes in them," Smith said. "With our grid screen, we recommend it be removed and rinsed once a year. It takes five minutes to do."
Seemingly, there are no drawbacks to the FVIR technology - only positive developments. Apparently the only reluctance manufacturers and plumbers have encountered from customers revolves around pricing. "There is an increased cost to make a FVIR water heater because of the extra apparatus on it," Smith said, "but the safety issue far outweighs that. We've tried to communicate with our customer base about that issue, especially because most plumbers want to learn as much as possible about the products they install."
Wallace echoed Smith's sentiment. "We have found no resistance to this technology other than cost," he said. "Once the technology became mandatory, the resistance to a higher price faded as other manufacturers introduced their models at the higher price. The additional safety benefits far outweigh the cost."
Tankless Offers Hot Water Option
Tankless water heaters have been in use for years, both in the U.S. and abroad. But while they are wildly popular in Europe and Asia, the tankless units have been slow to develop a following in the United States. But that situation is changing as more and more plumbing contractors report that their customers - both consumers and builders - are requesting tankless water heaters more frequently.

One of the advantages of a tankless water heater is it has a small footprint and doesn't take up valuable floor space because it hangs on a wall, according to Michael Campbell of the Takagi Industrial Company in Irvine, Calif. "While we concentrate mainly on the residential market, we're finding that tankless water heaters are becoming more popular on the commercial side because of the space-saving issues," he said. "Space can be important in smaller commercial establishments, like a fast food restaurant, where there may not be a lot of room."
Eemax Inc. of Oxford, Conn., has been making electric tankless water heaters since 1987 and gets approximately 70 percent of its business from commercial establishments. "In commercial applications, you'll see our units in strip mall shops and office buildings where they're used for hand washings, to kitchen sinks and bar sinks in restaurants, to eye-wash stations for tepid water applications," said Aaron Siegel, Eemax's vice president of sales and marketing. "We have the largest range of domestic tankless water heaters, from a half gallon a minute to 25 gallons per minute."
Brian Watts, project manager for Noritz America Corp. in Lake Forest, Calif., said the size and versatility of tankless water heaters allow them to be installed in closets, attics and crawl spaces, or in other limited access areas. "The other advantages to tankless water heaters include the energy savings and the longer life expectancy of the unit," he said.
Siegel pointed out that Eemax recommends hard wiring the typical tankless unit to a dedicated electrical resource because the design of many of its products are used for showers, boosters and hot tubs.
Maryke Gillis, marketing manager of Controlled Energy Corp. of Waitsfield, Vt., said the beauty of a tankless unit is that it doesn't use energy until you call for hot water, so energy costs are generally lower for tankless units. "That's the big advantage with tankless," said Campbell. "We only heat water when its needed and we can provide an endless supply of hot water."
However, Gillis said manufacturers have made big strides in improving tank efficiencies. A standard residential hot water heater typically stores 40 to 50 gallons and keeping that water hot means an on-and-off cycling of the heating unit. In a tankless unit, the water is heated only when it is needed. And while a standard water heater has a recovery time after being drained of hot water, tankless water heaters have a drawback in terms of capacity.
"You can have a limited capacity with some tankless units," Siegel said. "For instance, if you have a Jacuzzi tub that requires a fill rate of 10 gallons per minute and a tankless water heater that will only run at 4 GPM, then you're going to sacrifice some flow, but the tankless unit still will provide unlimited hot water."
Other drawbacks include a higher price when compared to a 40-gallon standard hot water heater - approximately $150 more. But tankless manufacturers say the outlay is recovered in savings during the first year after installation.
In addition, any of the tankless units that use 240 volts will use more power when operating, but the overall cost for the power will be less because the unit only works when its called on to do so.
"The plumbing is the easiest part of the [tankless] installation," Siegal said. "We use compression fittings for many of our models. The plumber just has to run the cold water line to the unit. The biggest challenge might be that the electrical resource is hard wired into a dedicated circuit breaker."
Campbell said plumbers should be careful to properly size the hot water demand and determine that the hookups are the correct size. "In some instances, the water line, gas line and flue sizes can be larger than what a plumber might see with a traditional hot water tank," he said. "But when everything is sized properly, the unit will be trouble-free."
Campbell recommended 3/4-inch water lines in and out of the tankless unit, a minimum of a 3/4-inch gas line, and a 4-inch flue vent. He said those specifications were Takagi's recommendations for all its units. "Because a tankless unit can only produce so much hot water at one time, you have to stay within the unit's limitations," Campbell said. "So it's important for the unit to be sized properly to the demand of the application, whether it's for residential or commercial use."
Watts said the two biggest issues facing plumbers in installing tankless units are sizing the water heater for the task and sizing the gas line. "If you're changing from a tank to a tankless water heater, the existing gas line can be an issue," he said. "Tankless water heaters have a higher BTU capacity and may require a larger gas line. If the gas line is undersized, the water heater will never work properly."
Maintenance isn't much of an issue on tankless units, Siegel noted. "There's no constant heat factor on the element to cause any calcification," he said. "And there's no heat factor at all when the unit is not operational because the water sits at an ambient temperature when its not being used. So the tankless unit's longevity will outdistance that of a tank in a ratio of [approximately] 2 to 1 in a hard water condition."
Al Petrillo is a freelance writer based in Tucson, Ariz.
"This article was originally posted on ww.reevesjournal.com."