The construction of a commercial kitchen is one of the most critical links in the efficient operation of a restaurant or food service facility-especially the plumbing system.
The phrase "commercial kitchen" conjures up images of glimmering stainless steel, durable quarry tile and a hard-working staff churning out meals. The construction of a commercial kitchen is one of the most critical links in the efficient operation of a restaurant or food service facility. Go deeper into the kitchen and you'll find the work of plumbing and mechanical contractors that is most critical to the overall operation of the facility.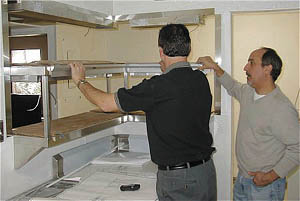 54 Billion Meals Each Year
According to the National Restaurant Association, more than 54 billion meals were eaten in restaurants and school/work cafeterias in 2002. Food service professionals need a commercial kitchen that includes a reliable, functional, sanitary and safe food preparation area. Food-related illness hits between 3.3 and 12.3 million Americans, and is responsible for 3,900 deaths, each year. There is zero tolerance for any risk that an unsanitary kitchen environment may create.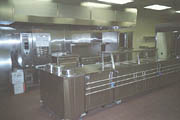 Proper plumbing installation and strict code compliance reduce safety risk. Equipment must be properly connected and operational. Sufficient resources such as hot water, steam, gas, ventilation and drainage are critical to achieving a proper flow for the equipment and stations throughout the kitchen and the facility.
Commercial kitchen concerns include the following:
potable water for drinking as well as non-potable water for other applications, flushing and cleaning;
drains from sinks, floors and equipment that must drain properly and to the right place;
steam and gas for various pieces of equipment;
backflow prevention for all water systems;
lavatory facilities;
hood exhaust;
ventilation; and
numerous other mechanical concerns that depend on the type, size and operation of the facility.
Each mechanical system has its own specific needs. Water at 140 degrees Fahrenheit is required for industrial dishwashers using 180-degree water for their final rinse cycle. A booster heater needs to boost the supply water to the required 180-degree temperature. The kitchen generally requires one lavatory facility for washing hands, and at least one mop basin will be required in the kitchen. Floor drains need to be provided throughout the kitchen area. Waste piping that intersects or is routed above or near food preparation or storage areas requires a protective drip pan or containment.
Cross-connections between the potable water supply and any non-potable water supply are, of course, forbidden. Non-potable water systems for things such as air conditioning and fire protection must not have contact with any food, potable drinking water or equipment that has contact with food or utensils. The piping of any non-potable water system must be identified so that it is readily distinguishable from piping that carries potable water.
Grease interceptors need to be installed throughout the drainage plumbing because most plumbing codes require grease interceptors to be installed for any equipment that generates greasy waste. Having grease extracted at a central point is a design attribute of the plumbing. An experienced plumber may add some intuition and know-how to the design and installation to avoid problems in the future. For example, an experienced plumber may know when to centralize the grease extraction or when to install it locally with individual equipment.
A plumbing contractor can hardly work on commercial kitchens without some knowledge of backflow prevention. Equipment must have some protection from any contamination coming through a device and back into the drinking water. Usually, a backflow presenter is installed to preclude backflow of a solid, liquid, or gas contaminant into the water supply system at each point of use in the kitchen.
Dishwashers, beverage dispensers, food macerators, ice makers and water spray systems all require sufficient backflow prevention to prevent contamination. The flood level rim of the plumbing fixture or food equipment must be at least twice the diameter of the water supply inlet and not less than 1 inch.
Beyond Cutting, Soldering and Equipment
When it comes to the construction and renovation process, one of the greatest challenges for the commercial plumbing contractor in outfitting the kitchen is working as part of a multifaceted team. The property owner is a member of the team and is the overall customer of customers in the construction. But between the owner and the plumbing contractor are numerous other parties: an architect, a kitchen designer, an engineer who may work for the architect, and a food service equipment consultant.
"Usually, all project engineering is done by an engineer hired by the architectural firm," said Chet Scheel of Texas-based Kitchengineering, a dealer and consultant firm in the construction of commercial kitchens. "A food service equipment consultant frequently interacts with the design team during the planning stages."
In many projects, there is a division of responsibility established between the plumbing contractor and the food service equipment contractor. The plumbing contractor may have to pick up additional requirements that the plumbing engineer or food service equipment contractor misses. These include pressure regulators, filters for ice makers and drinking water, connections for two different pieces of equipment, indirect waste piping from equipment to spillover floor drains, unions, hoses or other miscellaneous final connections that may get left out in the aftermath. The plumbing contractor must work with architects, engineers and kitchen designers to ensure that all of the details get ironed out and also that they're in the best interest of the job.
For example, the plumbing contractor may coordinate the tie-in of floor drains, sinks and water/waste penetrations with the overall building structure. The majority of the drains and connection points can be moved a short distance without affecting the performance. The team is composed of many minds with many different types of experience, and the plumbing contractor is undoubtedly one of those minds with much to offer.
"A good plumbing contractor is a good team player" said Bob McLaren of Superior Commercial Kitchens, a kitchen consultant and food service equipment dealer who acts as a project manager for commercial kitchen construction. "There are going to be changes and challenges (for the plumbing contractor). It just depends how you work through it."
Time spent upfront in coordinating efforts will save time, material and labor in the future. A plumbing contractor needs to review the installation plans and the details of the equipment being installed. Missed details or ambiguous facts about the plans can cause confusion and have been known to throw projects off schedule and budget. The plumbing contractor has the advantage of being able to install much of the main plumbing before the equipment arrives. This leaves a cushion of time to find any inconsistencies or potential problems.
If skill in working as part of a project team isn't demanding enough, then knowing and understanding the litany of codes in commercial kitchen construction will teach humility to most any contractor. There are multiple agencies that regulate the commercial kitchen, often leading to conflicting requirements. Consider the many jurisdictions: local building code, plumbing code, sewer and drainage requirements, and health department regulations. Plus, there may be another jurisdiction, such as a school authority or a penal authority, that has its own specific requirements in the kitchen construction.
Finding potential problems is a mantra for the plumbing contractor wanting to carve a niche in this unique part of the food service industry. Commercial kitchen construction is a very specific and unique specialty that is not easy for any commercial plumbing contractor to enter. Knowing the rules of engagement, shortcuts and potential problems is a valuable asset to the facility owner, who is trying to maintain the highest standards of productivity.
Food, Clothing and Shelter
There are some 815,000 food service locations in the United States. Some 30 percent of all retail locations are restaurants. Last year, 127 restaurants were opened in San Francisco alone despite that city's dot-com bust. In California, restaurants provide the single largest source of employment.
Food service firms are most interested in doing more with less these days, but they usually can't build out the commercial kitchen without a commercial mechanical contractor. For the savvy plumbing and mechanical contractor with experience, intuition and downright good quality work, business these days should be good.
"There are three staples" said McLaren. "People need shelter, they need clothing and they need to eat. So the future for commercial kitchens is always bright. A commercial plumber or mechanical contractor who does good work in this field will get known real fast, and word-of-mouth advertising should feed him."
"This article was originally posted on ww.reevesjournal.com."