Sloan Valve Co. Showroom
Sloan is the world's leading manufacturer of water- and energy-efficient plumbing systems for commercial, industrial and institutional markets worldwide. Sloan plumbing products include: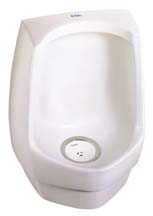 Vitreous china water closets that can be matched with Sloan dual-flush flushometers and other water-efficient models.
Vitreous china urinal fixtures that work with Sloan flush valves using as little as 0.13 gpf.
Solar-powered, sensor-activated SOLIS® flushometers and faucets, which run off any light source and operate even in restrooms with occupancy-controlled lighting.
Sensor-activated and manual diaphragm and piston flushometers for water closets, urinals, bedpan washing and service sinks.
The BASYS™ platform of sensor-activated, water-efficient faucets, which are advanced function faucets designed for ease of service with its diagnostic features and interchangeability of parts.
A complete line of hardwired, battery-powered, solar-powered and turbine sensor-activated faucets suitable for any commercial application.
Sink systems: Choose from SloanStone® solid-surface lavatories, available in numerous configurations and styles to fit any application; vitreous china sinks; and wash stations and scrub sinks with sensor-activated faucets in single-, double- or triple-station configurations.
Sloan Waterfree Urinals, which are touchless and hygienic and use no water.
Electronic hand dryers and electronic soap dispensers, which automatically and touchlessly dispense a pre-measured application of soap at each use.
Water control and monitoring systems, which remotely monitor and control plumbing fixture usage in prisons, schools and other environments to allow administrators in prisons, schools or any environment to turn water on/off to any or all faucets and toilets or program pre-set, automatic fixture usage parameters.
Act-O-Matic® showerheads, which feature self-cleaning action and "cone-within-a-cone" spray.
For more information, contact us at:
10500 Seymour Avenue
Franklin Park, Illinois 60131
Phone: 800-9-VALVE-9
Fax: 800-447-8329
Web Address: www.sloanvalve.com