REHAU Showroom
REHAU's RAUPANEL™ System Provides Easy Installation Of Radiant Heating

Consisting of REHAU's 3/8-inch RAUPEX® cross-linked polyethylene (PEXa) pipe, aluminum panels and wood return bends, the system's low 5/8-inch profile has minimal impact on overall floor height. Its lighter weight aids in reducing installation time by eliminating the need for added structural support. Job site preparation and installation time are further lessened as the system does not require the overpour often used in radiant systems.REHAU's RAUPANEL system is a lightweight, efficient, and easy-to-install radiant heating system that is ideal for retrofit and new construction applications.
Featuring an aluminum-intensive construction, the RAUPANEL system provides excellent heat transfer characteristics, allowing for reduced water temperatures and more efficient operation. In addition, its relatively low thermal mass equates to quicker response times.
The RAUPANEL system provides a quick and effective method of installing radiant heating over concrete slabs and new or existing subfloors. Flexible pipe spacing (6 inches or 8 inches on-center) makes it well-suited for a variety of installations. The system is compatible with commonly used floor coverings.
REHAU, a global polymer processing company with more than 50 years of experience, offers innovative design solutions and customer service programs. With a commitment to continuous product development and uncompromising quality, REHAU has emerged as a leading system supplier to automotive, industry and construction. An independent, privately held company, REHAU has the expertise and versatility to cater to a diverse customer base—from small businesses to major corporations.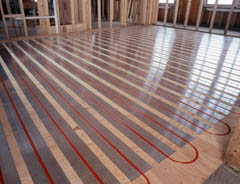 For more information, please contact us at:
1501 Edwards Ferry Rd, NE
Leesburg, Virginia 20176
Phone: 1-800-247-9445
Web Address: www.na.rehau.com/raupanel