Moen Incorporated Showroom
One-of-a-Kind Program Provides Training and Support to Service Plumbers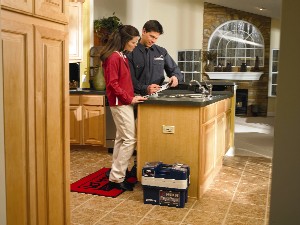 Standing out as a service technician in the plumbing field creates an opportunity to exceed consumer expectations while building long-term, profitable relationships.
Two recent studies conducted by Moen Incorporated shed light on issues in today's plumbing industry. For service plumbers, hiring and training qualified candidates, increasing the professionalism of the industry, and business development are just a few areas of concern. And, when it comes to finding service plumbers, homeowners are looking for ways to evaluate their knowledge level and professionalism. In order to meet the needs of both, Moen recently introduced the Moen Certified Service Plumber program (MCSP).
This innovative, one-of-a-kind training and certification program allows service plumbers to sharpen their installation techniques while also providing service tools to make their jobs easier, complete the job with the utmost degree of professionalism and set them apart from the competition.
Knowledge
After consulting with hundreds of service plumbers throughout the country, it was clear to Moen they were looking for key selling points, such as product and repair knowledge, to differentiate their services in a highly competitive market. To ensure this high quality service, the MCSP program requires training and continuing education sessions on faucet repair and installation.
In addition to the training to help prepare each MCSP technician, Moen also provides exclusive access to product and technical specialists through a dedicated toll-free MCSP support line. This line allows the plumbing technician to place on-site calls to obtain immediate assistance with product, repair and installation questions.
Service
Service plumbers were also looking for measures to increase professionalism in the industry. With the MCSP program, service plumbers who achieve certification receive a kit of customer service tools, such as shoe covers, floor mats, Moen product catalogs and product warranty cards.
In addition, Moen product catalogs allow service plumbers to extend their services to include product sales — right in the customer's home.
To learn more about the specific requirements of the Moen Certified Service Plumber Program, call 800/321-8809, ext. 2863.

For more information, please contact us at:
25300 Al Moen Drive
North Olmsted, Ohio 44070
Phone: 440/962-2000
Web Address: www.moen.com