Accubid Systems Inc. Showroom
ChangeOrder & ChangeOrder Pro
Accubid's ChangeOrder and ChangeOrder Pro solutions help you effectively manage and accurately price changes. Many contractors lose money on change orders because they price only the obvious direct costs and don't consider all the implications of the contemplated changes.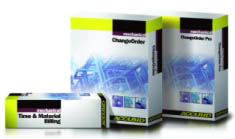 Both ChangeOrder and ChangeOrder Pro guide you beyond the defined scope of work to identify the indirect costs and assess the full impact of the changes. And the detailed and professional-looking reports help get your changes approved faster.ChangeOrder helps you assess the "big picture", pricing not just material, equipment, and labor -- using specialized labor units designed for changes -- but also material handling, overtime, relocation delays, supervision, as-built drawings, and warranties.
Flexible Pricing
Incorporate base contract unit pricing into ChangeOrder and save for use throughout the project. Discount or markup material or labor costs by whatever percentage or amount you choose. Choose whether to display or hide your calculations in office or client reports.
Customizable Reports
Reusable report styles allow you to customize your reports and save your customizations for future use. You can determine the appearance and contents of both client and office reports, specify the report title, and even include your company logo. You can preview your reports before printing, and e-mail them right from within your ChangeOrder program.
Project Management Tools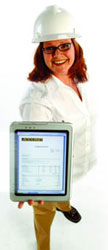 Track changes and subcontractors at a glance. Enter the base bid contract then use the Schedule screen to view the budget-to-date amount and calculate the cost-to-complete as change notices are approved. Export change notice information into project management software for purchasing or scheduling, or into accounting applications for job costing.
Comprehensive Material Database
ChangeOrder comes with a comprehensive material database, priced and ready to use. Accubid's mechanical database contains over 50,000 items and 4,000 assemblies, perfect for contractors engaged in plumbing, process piping, sprinklers, heating, air conditioning, ventilation, refrigeration, gas piping, or compressed air.
ChangeOrder is now available on the Tablet PC -- the full-sized portable device for remote users -- allowing project managers to price changes onsite.
For more information, please contact us:
Contact Name: Angelo Ricci
7725 Jane Street, Concord, L4K 1X4
Phone: 800/222-8243
Fax: 905/761-1234
Email: info@accubid.com
Web Address: www.accubid.com