Radiant Heating & Cooling
Radiant & Hydronics
Green Plumbing and Mechanical
Southern California transportation hub uses radiant cooling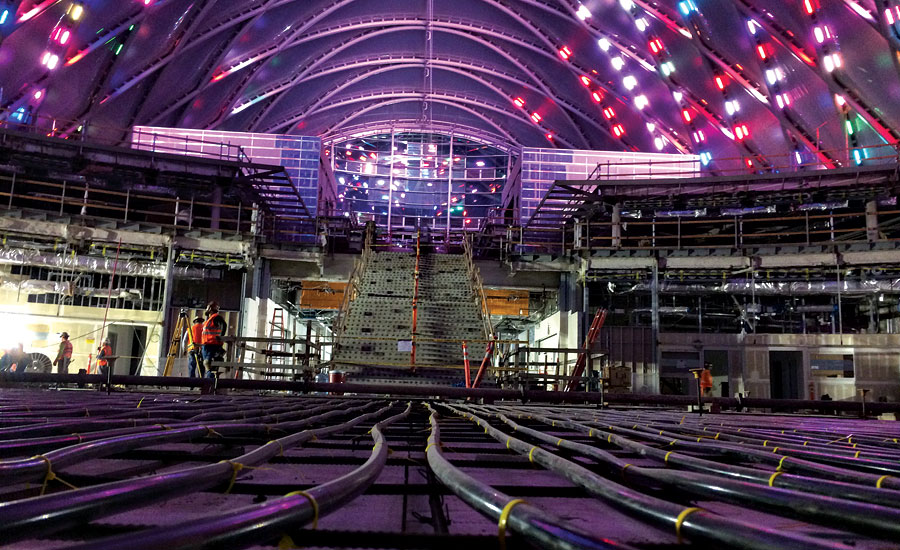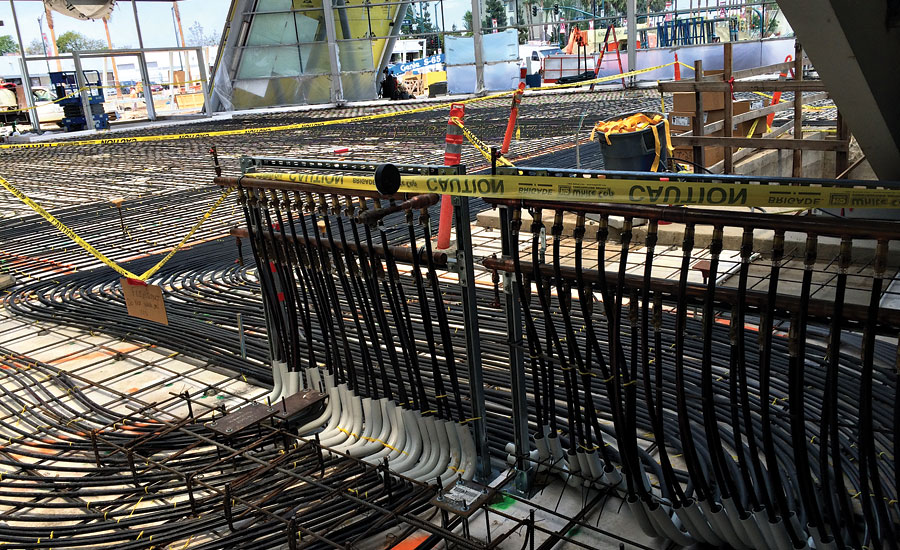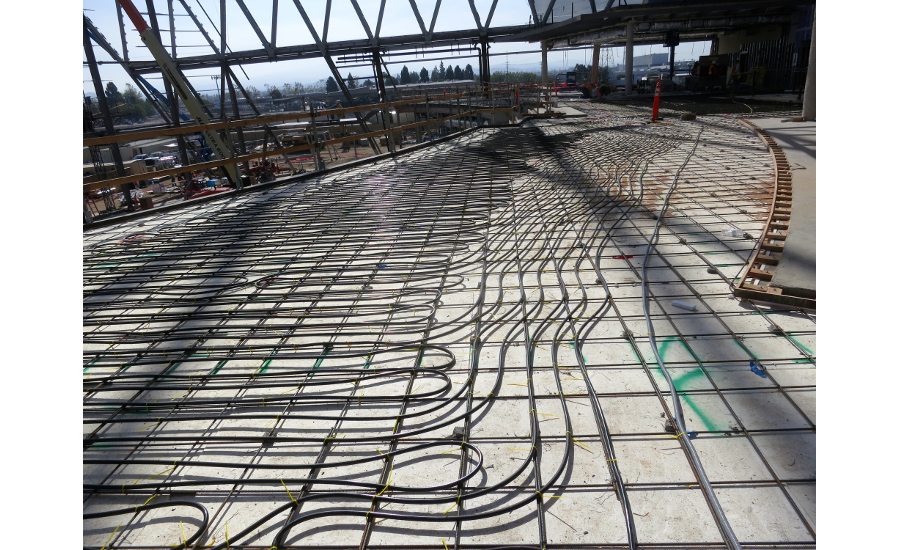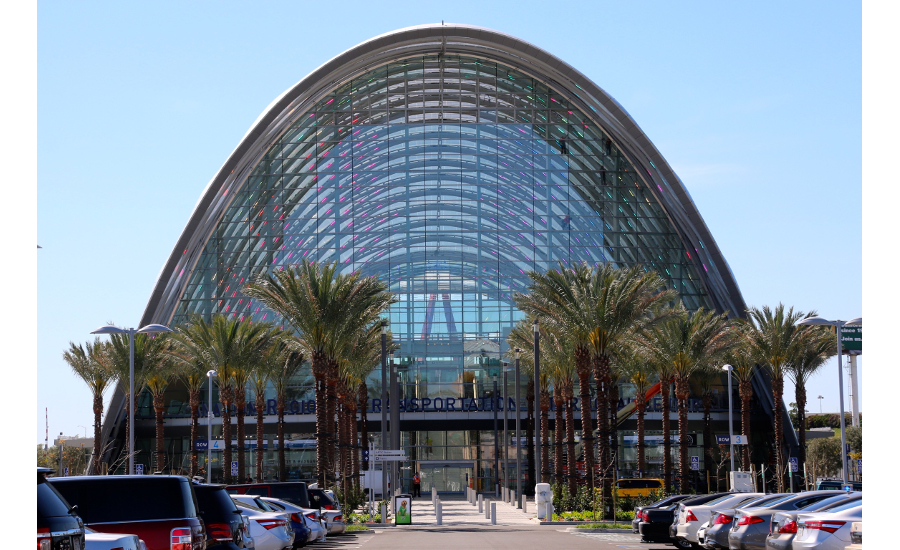 Billed as the first LEED Platinum-designed transit station in the world, the Anaheim (Calif.) Regional Transportation Intermodal Center (ARTIC) in Southern California is a 120-ft.-tall, 67,000-sq.-ft., three-level transportation hub and mixed-use facility center. And although the terminal resembles a 19th century rail station, the building technology is definitely from the 21st century.
Designed by HOK and Parsons Brinckerhoff and engineered by BuroHappold Engineering, the most visible feature of the $185.2 million ARTIC is its diamond-shaped steel arches filled with translucent ethylene tetrafluoroethylene and varied frit patterns.
"The ETFE allows natural light to come in, which recreates the feeling of being outdoors while inside the terminal," explains Ryan Olsen, Southern California district sales manager for Viega. "It also reduces solar heat gain, which helps reduce energy costs."
That becomes significant as ARTIC has 200,000 sq. ft. of glass cladding and ETFE — the largest use of ETFE in the United States. Olsen notes the material was used for the Water Cube structure in Beijing for the 2008 Summer Olympics, as well as the Fisht Olympic Stadium in Sochi, Russia, for the 2014 Winter Olympics.
Due to ARTIC's size and unique architecture, controlling the indoor climate via a conventional forced-air system would not have worked. Instead, a hybrid system was installed — that included radiant underfloor tubing to cool the space and jet diffusers along soffit areas to cool a 12 ft. to 15 ft. area above the building's floor line, notes general contracting firm Clark Construction. Glass louvers at the high areas of the curtain wall allow natural air flow, which helps condition the space.
The cooling capacity ranges up to 40 Btuh/sq. ft., providing an energy savings of 34% over ASHRAE 90.1-2007. The system is expected to reduce the building's energy consumption by 50%.
The radiant cooling system, designed by Viega's Michael Sullivan, consisted of 44,000 ft. of 5/8-in. ViegaPEX barrier tubing at tightly spaced increments (6 in. on center) within 2 in. of the finished floor.
"Radiant cooling can instantaneously remove the solar sensible gain from the building, which allows the engineer to design systems with smaller air-side complementary components," Sullivan explains.
Concerns about condensation in the concrete slabs was a problem, Olsen says. But condensation shouldn't be a concern at all, as long as the system is designed and installed correctly. When designing a cooling system for a building, you have to take into account the latent load and the sensible load, Sullivan says. Radiant cooling is only able to take care of the sensible load; the latent load is moisture in the air, which is always handled by an air-side system. As long as the air-side system properly removes the humidity in the ambient air space, condensation is a nonissue.
"The way slabs are designed with the supply water temperatures that are provided and the slab surface temperatures that are maintained, it is not possible to get condensation on the floor," he explains. "What governs the comfort condition of a building is ASHRAE Standard 55. There are surface temperatures and ambient temperatures that need to be maintained to keep the occupants comfortable. This project is well within those parameters."
Closer to the manifolds, PEX tubing was installed 2 in. on center rather than the 6 in. on center for the rest of the design. And to be cautious, installers wrapped insulation around the tubing.
San Diego-based California Comfort Systems installed the radiant system, which included 18 manifolds and 12 Grundfos Alpha pumps. The company worked on radiant projects before, but nothing of this size.
"I'm very impressed with the teamwork that took place between the contractors," says Paul Redgate, former pipefitting superintendent for California Comfort Systems. "Everyone was excited to be working on such a high-profile project."
Using building information modeling technology was crucial because of the complexity of the project. The project team's three dimensional modeling and coordination efforts were honored with a 2014 BIM Award from the American Institute of Architects Technology in Architectural Practice Knowledge Community, just one of ARTIC's many awards.
"At the beginning of this project, we weren't very comfortable," Redgate says. "But Viega representatives were hands-on and showed us best practices and installation methods."
California Comfort Systems beat the industry install average by 25%, he adds.
Sustainable technology
Of course, being in California, water conservation was a major issue. Bathrooms included high-efficiency, low-flow fixtures such as 1 pint urinals and 1.28 gal. per flush toilets, which is predicted to reduce fixture flushing by 30%. Recycled water is used for toilet flushing, cooling towers and irrigation.
Drought-tolerant and native plant species are estimated to reduce peak and annual water demand by 50%, while weather-based irrigation controllers will provide an additional 15% to 30% reduction in irrigation demand.
ARTIC also has onsite storm water management and onsite ground water runoff (which is injected into Orange County's underground wells).
Solar photovoltaic panels were installed on the parking structure and are expected to generate 20% of the building's power. About 20% of the building materials were of recycled content, such as steel, and 80% of construction waste was diverted from landfills.
Have you ever visited the ARTIC? Tell us in the comments section below? We'd love to hear from you!


I want to hear from you. Tell me how we can improve.