Plumbing News
New Products
Chicago Faucets brochure on faucet cartridges
Chicago Faucets'
brochure, Cartridges, shows users how to choose the correct commercial-grade cartridge to update, repair or modify existing faucets. The full-color, 12-page brochure provides an overview of cartridge types available and illustrates the features of more than 100 cartridge variations.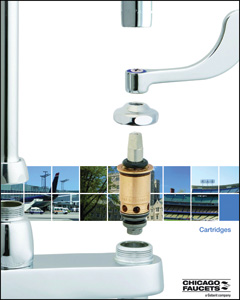 The cartridges can be replaced or rebuilt and used in hard water installations. Users may choose from options like auto off, manual off, immediate off, slow closing, positive stop, gradual stop, 90º turn, 360º turn and push button. Go online to download.


I want to hear from you. Tell me how we can improve.