Hydronic Technology
New Products
Green Plumbing and Mechanical
Crown Boiler stainless-steel, condensing boiler
Crown Boiler's
stainless-steel, condensing Phantom boiler fires at AFUEs up to 94% and features a water tube heat exchanger. It is offered in five sizes — 80, 100, 120, 150 and 180 mbh — with four more sizes (210, 285, 399 and 500 mbh) set to be available this fall.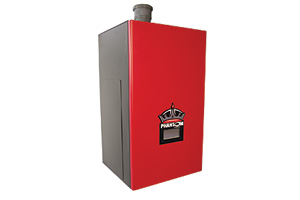 It features a compact design for wall-mount installation; a touch-screen user interface; a modulating burner with a 5-to-1 turndown ratio; and an intelligent boiler control. The standard outdoor reset function allows the boiler to adapt proportionately to outdoor temperature changes.


I want to hear from you. Tell me how we can improve.