Plumbing News
New Products
Sloan Valve commercial sink series brochure
Sloan's
Sink Systems brochure is a 16-page, full-color reference guide to Sloan's complete line of sinks for all commercial applications.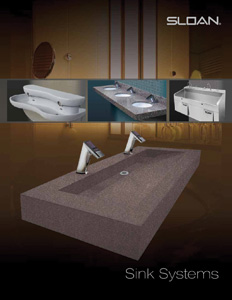 The brochure outlines the main benefits, applications and configurations for its four main sink types: Designer Series sinks, SloanStone lavatory systems, Bio-Deck sinks and stainless-steel sink systems. For the Designer Series, SloanStone and Bio-Deck models, which are available with sensor-activated faucets and soap dispensing systems, the brochure also shows color options. Visit the company website to download the brochure or complete a literature request.


I want to hear from you. Tell me how we can improve.