Thanks to the Food Network, the term "foodie" has become a well-known expression. Before there was foodie, the term used was gourmet. However, gourmet sounds snotty, whereas foodie sounds almost redneck. Interestingly, when it comes to food, foodie and gourmet mean basically the same thing; they are both lovers of good food and wine.
There has been an explosion of food shows on television — with Food Network and the Cooking Channel featuring food shows 24 hours a day. If that many cooking shows exists, it also means many more people getting into gourmet cooking.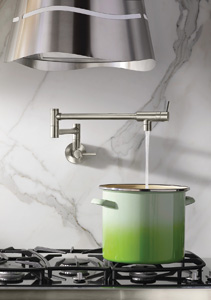 Photo credit: Moen
My wife and I have always enjoyed creating or trying new recipes in the kitchen. It is a passion we have shared through 36 years of our marriage. Ask our children; they always claim they never got the same meal twice growing up.
Foodies and gourmets love gadgets. We have kitchens filled with interesting tools, pots, pans, devices and appliances. We use every one of these unique gadgets. That is what makes cooking fun and easy.
Notice, I missed one thing on my list of items for foodies and gourmets. That's right, I didn't list plumbing fixtures. That is not to say foodie plumbing fixtures don't exist. They do. The problem is the plumbing contractor. That's right — sometimes we are our own worst enemy.
The plumbing fixture manufacturers have figured out they can reach the foodies with special products that a foodie would enjoy. Foodies read about these fixtures in the various food and wine magazines. However, when they contact the plumbing contractor, all too often the contractor or salesperson is trying to talk the foodie out of the high-priced special plumbing fixture. Think about that for a second. You are talking yourself out of earning more money. Does that make sense?
Join the foodie revolution
Let me give you some examples of products that can make you more money and make a foodie very happy. By the way, all these plumbing fixtures are in my kitchen.
First is a deep sink. Many years ago I harassed a kitchen sink manufacturer about making a deeper sink for the residential market. My justification was the interest in gourmet kitchens. A few years later, we spoke again, when he wanted to brag about the new deep sinks for the foodies. I was impressed.
When I went to order the deep sink, a major attempt was made to talk me out of it. One of the comments was the sink is so deep that I would hurt my back leaning over to do the dishes. Since I am a little forceful, the deep sink was ordered anyway.
This sink required complete repiping in the kitchen. After all, the standard plumbing is for a sink 6 in. higher.
If you are wondering why we wanted the deeper sink, it is because our pots are that much larger. When I make my lasagna, I now have an easy time cleaning my big saucepot. And for the record, my back doesn't hurt when I do the dishes.
The next item is a pot filler. Yes, a faucet over the kitchen range that fills the pots. I cannot tell you how many plumbing contractors have looked at my kitchen and said, "What do you need a pot filler for when there is a sink 3 ft. away from the range?"
I need it because it is easy and convenient to use. Why carry a full pot of water when I can just stick the pot on the range and fill it with water? It was one of the bigger items I added to our kitchen. It also is used on a daily basis to fill the coffeemaker.
Foodies also love higher-quality food waste disposers. Some contractors have asked, "What is wrong with the smaller units? They are less expensive to the homeowner." Forget cost, we are willing to pay more. The reason we want the more robust unit is because we use it more often and throw strange things into it.
I remember my father talking many of our customers out of installing food waste disposers. Before he passed away, I was able to convince him to sell customers on installing a food waste disposer when they didn't have one. He then became a big fan of using disposers, even selling the more robust units.
A gourmet kitchen is not complete without an instant hot water dispenser. Foodies can't wait two minutes for the microwave oven to heat a cup of water. They want hot water now. Plus, they are willing to pay for that privilege.
Most foodies have at least two sinks in their kitchen: a prep sink and a kitchen sink. I use both of ours. Don't ask me why I can't move five more feet to use the kitchen sink — install the prep sink and make more money. Additionally, many foodies like a disposer in both sinks.
When it comes to faucets, the high-end, pull-out spray faucet is the only type to have. A foodie likes automatic faucets that turn on with a touch or wave. When their hands are full, the automatic faucets are a lifesaver.
Instead of talking a foodie out of a high-end product, what you should be doing is selling to him. Create a gourmet kitchen plumbing contractor division. All you have to do is call it that, and you'll be selling high-end fixtures to the foodies. Be ready to go into a kitchen and tell them how much more convenient you can make their lives with upscale plumbing.
If you don't know what foodies want, pick up a copy of any food or wine magazine. Just flip through the pages and check out the kitchens.
Remember, foodies are a little bit crazy when it comes to food. I can say that — I am one.
To give you an example, our kitchen range is 48 in. wide with six burners, a grill and griddle, two ovens and two broilers. Yes, it cost five times the price of a standard kitchen range, but it is so much nicer to use. The most I had turned on at one time were five burners and two ovens, but I felt good that I still had another burner available. See what I mean, we're somewhat crazy!
So get on the bandwagon and become a foodie plumbing contractor. Sell the high-end plumbing products and installations that foodies really want. You'll make them all happy and you'll make a little extra money, too.
---
HELPFUL LINKS: