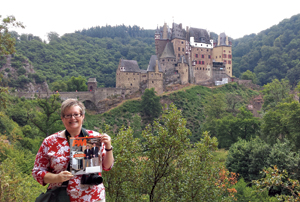 PM Editor Kelly Faloon and the June issue at the medieval Burg Eltz castle in the Mosel River region in Germany. Photo courtesy of Kelly Faloon/Plumbing & Mechanical
If you are in the habit of perusing Plumbing & Mechanical's Facebook page, you may have noticed a few pics of me in July at various European tourist spots, my June Plumbing & Mechanical issue in tow. I spent my summer vacation this year in Germany (Berlin and the outskirts of Frankfurt) and France (Paris and Versailles) to celebrate a milestone birthday. I'll let you guess which one.
As I did last summer when I took an Alaskan cruise with my parents, I promised our social media editor, Suzette Rubio, I would take a few photos of myself posing with the magazine. These she would post to PM's Facebook page on #PhotoOpFriday. Last year it was totem poles and mountains, this year it was castles.
But that was the only bit of "work" I agreed to do on either two-week trip. I didn't want to spend precious vacation time checking messages and answering questions that I knew the staff back at the office could handle. I needed the break, not only from work, but the seemingly endless requests for my attention.
I unplugged.
OK, I don't have kids or pets to worry about, so maybe it's a little easier for me to chuck the technology and just relax. And full disclosure — I did check my Yahoo email a few times on my sister's tablet.
But none of it was work-related. Don't get me wrong — I enjoy talking with people in the industry, learning about interesting projects and technologies, and watching them materialize on the pages of this magazine. But these days, everyone is working more with less — less staff, less resources, less time.
For some, it's too easy to let a job overtake what's outside the job — family, friends, hobbies or vacations. And it's not really a vacation if you're constantly checking your smartphone for text messages or emails from work colleagues, clients or feature-interview subjects.
PM columnist Kenny Chapman has written on this subject in the past. Most of us can't take off for two weeks every time we start feeling stressed (the working world would come to a stop if that happened!) but he has some advice for changing your inner state to improve your perspective
"For most of us, our 'island' is an external place we long for all year but only access a few times at most," he says. "I'm challenging you to find your island during your busy work day. It could simply be 10 minutes of changing your physical or mental environment. Take a walk. Read 20 pages of a positive book. Listen to a few songs by your favorite band."
Or go on an unplugged vacation and have fun.
---
HELPFUL LINKS: