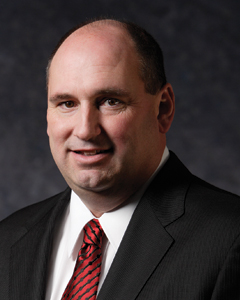 Elkay CEO and President Timothy Jahnke Photo credit: Elkay Mfg. Co.
Plumbing & Mechanical recently interviewed Timothy Jahnke, CEO and president of Elkay Mfg. Co., in his office in Oak Brook, Ill., about issues facing the plumbing industry. Before joining Elkay in 2007, Jahnke was group president of the Home and Family Products Group of Newell Rubbermaid where he worked for 21 years in a variety of leadership positions.
PM: Where do you see the greatest business opportunities for plumbing contractors in the second half of 2014?
TJ: New construction has been better the last 18 months than it was the last five or six years but is still lagging where we thought it would be. We're running at roughly 1 million housing starts, which historically has been a low point. Commercial construction has continued to lag, and it really has not come back since the housing depression in 2008 to 2012.
Right now we're seeing activity on a regional basis where commercial is starting to pick up nicely. I was in New York a couple weeks ago and I saw a lot of cranes. In San Francisco and Miami, we're seeing some nice activity. In large sections of the country, however, there is not much activity for schools, hospitals or office buildings. But you get the feeling some of those projects are starting, and over the next couple years we'll see great growth opportunities.
PM: How will Elkay help them take advantage of these opportunities?
TJ: We're making sure we have the products they need and are servicing them to the level they need. We've listened to a lot of folks about what else they would like to see and tried to integrate those ideas into the new products. A few years ago we launched our EZH2O water bottle filling station. That's been a very nice success for us because it addresses a need our customers brought to us — providing a green solution to meet consumers' desire to take their water with them in a refillable bottle.
 What is really important is making sure we are flexible enough to create unique products. Everybody wants something that's a little different, and we have to make sure we make those products available. We are fortunate to have a fairly broad product lineup that more often than not addresses the bulk of our customers' needs. But we also have to be flexible because it's not about how we want to do it but how our customers and the trade want the product and service.
In the huge projects going up in New York right now, the developers don't want what everybody else can have. A couple years ago we launched a product called Perfect Drain, which is very innovative on the stainless-steel sink side of our business. It has given us a foundation for something that is very different and very design-friendly. We're excited about that product and it's a good example of what we need to do.
PM: What can plumbing contractors expect to see from Elkay the rest of this year and in 2015?
TJ: On the product side, the next generation of our EZH2O bottle filling station will be the biggest, single introduction. It will come out late this year, with a second version of the next generation coming out early in 2015.
PM: Do you see either your retail or wholesale business being stronger over the next year?
TJ: During the tough times of 2008 to 2010, some people tended to go to the retail side of the market a bit more. But that has leveled off. We grew up servicing the plumbing wholesale channel, and that's still a strong foundation for us. We've seen nice growth there over the last couple years.
The consolidation of companies we're seeing in the wholesale channel to me shows a sign of good health. The big-box retailers are fine-tuning their product offering to what fits their customers well. They've done some good things but the wholesale channel is well positioned right now for that broader offering for the professional.
PM: Has the playing field been leveled in the U.S. plumbing market since Elkay won its anti-dumping suit against Chinese sink manufacturers in 2012?
TJ: No question winning the case has helped, but it has not been as beneficial as we had hoped. Two elements explain this. One is that as our case went along, importers realized we were going to win. It was a very obvious case of product being sold here at less than market value as well as the Chinese government giving the Chinese manufacturers unfair subsidies.
So, much of product was put into distribution centers around the country before the U.S. International Trade Commission made its ruling. That volume has pretty much worked its way through the channel.
The second element is that certain importers have started to ship product manufactured in China through other countries and labeling it as though it's not from China. We've been working with the U.S. government on how we can help it identify those products. The attempt to evade paying the tariffs is a criminal act, which the U.S. government takes very seriously.
Some shipments have been stopped, but we know there's a lot of product coming in from Malaysia. Prior to the trade case there were no sinks coming in from Malaysia and now the volumes are increasing every month.  We don't believe there is domestic production capacity to provide all of that volume, and there are companies that advertise that they will help Chinese manufacturers evade the duties by providing documentation for transshipment through Malaysia.
Sometimes there's a misunderstanding that the duties collected come to companies like Elkay, and that's not the case. The money goes to the U.S. government, which considers it a tax to collect. The benefit to us is that the industry is stronger and we participate in that.
PM: What more can the federal government do to improve business conditions for U.S. plumbing manufacturers and contractors?
TJ: I would like to see a change in focus on the part of the federal government to provide businesses the support they need to help our economy grow and thrive, to keep manufacturing alive and well in the U.S., in turn providing meaningful employment for millions of American workers. The fact is, it is becoming increasingly difficult to find and hire skilled manufacturing employees coming out of school today – and it is going to become even more so over the next five to 10 years.
Anything that the government can do to help turn this trend around — to support programs that lead to manufacturing careers and ensure that adequate vocational training exists to maintain a skilled American labor force — would be helpful for businesses that want to keep manufacturing in the United States. Instead, there seems to be this adversary situation developing today between government agencies and employers, particularly manufacturers.
OSHA is a good example. One of Elkay's primary duties is to provide a safe work environment for our employees and we have a fantastic safety record. And yet we get frequent OSHA visits, which we feel are unnecessary and just take up a lot of time. The attitude of the government seems to be changing, so it's not how do we help a company improve but how do we catch it doing something wrong?
That's really disappointing. We should be working together more effectively than we are. People in Washington don't see that the most important thing we can do to get this economy back in line is to have good jobs. When they make it more difficult for us to hire people and provide those good jobs, it's hard to understand.
PM: When plumbing contractors think about Elkay, what is their perception?
TJ: We have been in business for almost 95 years. We've helped develop the industry over the course of generations. When the plumbing contractors, wholesalers and trades look at us, they see U.S.-made products from a family business that is committed to the industry and committed to quality.
One of our core values is, "We value quality in all we do"; another is, "Our word is our bond." Our customers know that nobody is perfect, but when they deal with Elkay, there's an element of trust that takes many years to earn. I think that's why we are the professional's choice and we're committed to maintaining that honor.
PM: You recently spoke on leadership to a group of young executives in the plumbing industry. How would you describe your management style?
TJ: Other people are better to ask about my management style, but what I try to be is accessible, whether it is to our employees, customers or all our partners. As a company, we treat customers and suppliers as an extension of our family and that means they have to have access to me.
Every day I am here in Oak Brook, I do my best to make sure I wander through the offices. When I travel, I go to see our plumbing wholesalers, our reps or whomever, so I have a chance to find out what is going on and really listen to what they're saying. To think we're always going to be perfect as a company is crazy, but I want everyone to know that as a company we really care.
And we will always care about fixing the things that we could do better. I am so proud of our organization because we have such great people, including many long-term people who have given their entire careers to Elkay.
PM: How can the plumbing industry attract the next generation of employees and management?
TJ: One of Elkay's key values is that we're going to be in business forever. For that to happen, we have to have our partners in business forever. For example, we ask our reps, "What's your succession plan?" The answer can't be, "We'll figure it out when we need to." The next generation has to be identified and put in place whether they're sons, daughters or people from outside the family.
It takes years and sometimes decades to prepare the next generation to run those businesses because many of these businesses are complicated. Ron Katz is our chairman. His grandfather and father founded Elkay, so we have members of his family from different generations involved in our business. We're always asking what we need to do to involve the next generation, and the generation after that one, in our organization.
In the industry, we support activities such as the American Supply Association's Young Executives program, where I spoke on leadership. What I found amazing about that group is the interaction among the members. They can listen to old guys like me, but the fact is they're 25 or 35 years old and they're developing relationships that are going to last for decades.
That camaraderie is what is important to the industry. I worry less about them leaving once they're here because this is such a great industry and the opportunities are significant. We are going to be building buildings for a long, long time.
PM: How is Elkay using social media to communicate with its trade customers and their customers?
TJ: Like many companies, Elkay makes social media a part of our plans, whether it is Facebook, Twitter or another platform. We have to communicate with all the groups in the ways they want to be communicated with. One thing we try to do with social media is to help direct consumers to our partners. Our products aren't bought every day. Consumers need to know where and how to purchase our products. We want to make sure they know the different design elements that are available. 
Social media is another way to listen and another way to be accessible.
PM: If you had only one piece of business advice to give to plumbing contractors, what would it be? 
TJ: You have to learn to be nimble because the world is changing. Those who adjust and adapt will survive, and those who don't won't. If you dig in and continue to do things the same way, you are signing your own death warrant. Years ago, I worked with a guy who had a sign on his desk that said, "Not all changes make you better but to be better you have to change." That was so true then, and more so today than ever before.
---
HELPFUL LINKS: