BNP Media Plumbing Group Publisher Bob Miodonski presents a check to Oil Heat Cares Chairman David Bessette (second from left) May 13 in Uncasville, Conn. Also in the photo are Judy Garber, executive director of the National Association of Oil & Energy Service Professionals, and Dan Holohan, PM columnist.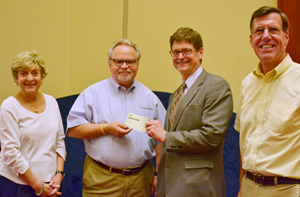 (Photo courtesy of Erin Holohan Haskell, Holohan Creative Services)
Plumbing & Mechanical magazine donates a portion of advertising sales from its May issue to Oil Heat Cares, a charitable organization helping people in need with their heating systems. The Oil Heat Cares board met during the NAOESP's 2014 Road Show.
Stay tuned for more coverage on the conference.
---
HELPFUL LINKS: