Latest News
Bath & Kitchen
Geberit celebrates 50th anniversary of concealed tank and carrier systems
Geberit celebrates the 50th anniversary of its concealed tank and carrier systems, which hide the toilet tank and components inside the wall. The company launched its in-wall technology to the European market in 1964 and more recently to the North American market, where designers, architects and homeowners have recognized and adopted the in-wall systems for their advantages over standard floor-mount tank toilets.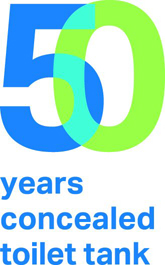 Geberit in-wall systems improve convenience and hygiene, as well as save space, particularly in powder rooms. Dual-flush operation conserves water: The system flushes 1.6 gpf for solid waste and 0.8 gpf for liquid waste. Plus, the in-wall systems for new construction and retrofit applications are compatible with many stylish actuator flush panels from Geberit, as well as numerous wall-hung toilet models from other manufacturers, to suit any bathroom décor.

"Geberit has more than 60 million concealed in-wall systems installed worldwide, which demonstrates the high standards that Geberit set half a century ago," says John Fitzgerald, vice president of Marketing for Geberit North America. "In-wall systems and the new floor-mount Geberit Monolith, which also conceals the toilet tank, offer the North American market many choices for achieving design freedom and other benefits. Geberit systems will continue to grow in this market because buyers are ready for more than what the basic tank toilet can deliver."

---
HELPFUL LINKS:
Source: Geberit


I want to hear from you. Tell me how we can improve.