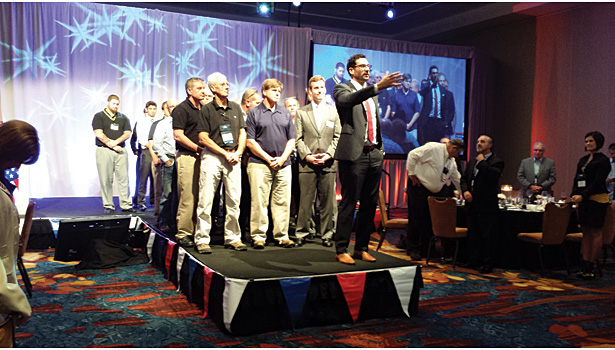 PHC contractors who served their country were honored at the Nexstar Legacy Foundation Troops to Trades fundraiser. Nexstar Training Manager Keith Mercurio (front of the stage) invited all veterans in the audience to join him on stage as he talked about the foundation's mission to match returning U.S. military veterans with job opportunities in the PHC trades.
Business owners in the plumbing and mechanical trades are having difficulties finding the skilled, professional workers they need. Yet this is nothing new for the construction industry. It was a problem before the Great Recession and is escalating as Baby Boomers in the industry retire and no one is waiting in the wings to pick up the pipewrench.
I wrote a "Recruiting For The Trades" series a few years ago that highlighted three groups of people the plumbing and heating trades should target and educate about the great careers found in the trades — young people, women and immigrants. The trades do a fair amount of work trying to get young people interested in plumbing and heating careers, and that will only intensify in the future.
Programs for women exist sporadically around the country. And recruiting immigrants into the industry is easier once language and cultural barriers are understood.
But I missed one group in my assessment — military veterans. And veterans have the right skill sets to make a successful career in the trades.
"Most people who join the military like to be part of a team, they like to work with their hands and they like to be outdoors," says Mike Hazard, program manager for the United Association's Veterans in Piping program. "And they want to be part of something bigger than themselves. We've found these traits cross over to the construction world. Veterans make good candidates because they are drug-free, disciplined, highly motivated and very trainable."
Renee Cardarelle, executive director of the Nexstar Legacy Foundation, which administers the Troops to Trades program, agrees: "Many businesses I've talked to about our program strongly agree there's this natural fit between veterans' skills sets and the construction trades. Veterans already have many of the soft skills that home service businesses are looking for — interaction with others, good communications skills and the abilility to present themselves in a professional manner.
"Many of these business owners say they can find people with the technical skills they need, but are lacking soft skills, which are harder to train. Some would rather hire someone with the essential soft skills and then teach them the technical side on the job."
Military vets looking for a franchise opportunity also have options through the International Franchise Association's VetFran program, which helps returning service members access franchise opportunities through training, financial assistance and industry support. Mr. Rooter President Mary Kennedy Thompson, a former Marine Corps captain, also is the director of veterans affairs for The Dwyer Group, parent company of Mr. Rooter. The former chair of VetFran, she still serves on the committee.
"Our servicemen and women have gone without many things while risking their lives serving their country," she states. "They've done the hard stuff and when they come back, they're trying to figure out what to do with their lives. They've got all this leadership training, and they understand discipline and systems. They deserve the franchise opportunity."
Training opportunities
The Troops to Trades program is the youngest of the three programs. The idea came from Keith Mercurio, a Nexstar Network trainer, who had a couple friends who were having a difficult time transitioning from military service to civilian life. He wanted to give back to them and other returning veterans who needed to find good careers.
"Keith saw this huge need in the plumbing, heating, cooling and electrical service industries for qualified technicians," Cardarelle says. "Here are veterans who have these wonderful soft skills, not necessarily technical skills, that will translate well into these industries. And here are these industries who are lacking technicians. How do we help these returning veterans who may be having difficult transitions find a career in an industry that really needs them?"
Mercurio brought the idea to the Nexstar Legacy Foundation board (a separate entity from Nexstar), which approved it in October 2012. The program was up and running in March 2013 with the "scholarship" program, Cardarelle notes. "We call them scholarship applications but veterans don't currently need to be in school. They do need to fill out the application in order to be eligible for the free training," she adds.
Troops to Trades offers veterans four Nexstar training programs — service systems, sewer sales, HVAC sales and CSR/DSR training — as well as the Lennox Build a Tech program. Lennox has five complimentary spots in their program; the foundation pays for airfare, hotel and food expenses for the students during the training. Like Lennox, Nexstar provides its training free and the foundation picks up the tab for expenses. So far, three veterans have gone through the program.
Cardarelle hopes to add training in the plumbing and electrical service fields in 2014.
The UA VIP program, which began in 2009, has two training disciplines: HVACR and welding. Each are 18-week programs; 40 hours a week for a total of 720 hours of training. "Students come into the program on a temporarily assigned duty status, meaning they don't perform any other military functions — at that point, their job is to come to the VIP program and get trained," Hazard explains. "We allow them one day a week to complete their separation from the service."
VIP training is free of charge; it is 100% funded by the United Association's International Training fund. About several hundred veterans have gone through the program since 2009, with 100% placement of successful candidates, Hazard says.
"We promise the students that we will train them and if they successfully complete the program, we will enter them into our apprenticeship program," he adds. "We have apprenticeship programs all over the country."
VetFran, which was relaunched after Sept. 11, 2001, has partnered with First Lady Michelle Obama in the Hiring Our Heroes program. Thompson notes the IFA has committed to hiring 75,000 veterans by 2014; what it calls Operation Enduring Opportunity. The Dwyer Group committed to hiring 300 of those veterans.
Since 1991, The Dwyer Group has brought more than 200 veterans into franchising and given discounts of more than $1.3 million. And Mr. Rooter was named in the top 10% of military-friendly companies by G.I. Jobs magazine.
Bridging the gap
As the Nexstar Legacy Foundation was getting its training scholarship program up and running, it also was talking up the Troops to Trades program to Nexstar business members, asking them to commit to employing veterans in their businesses, Cardarelle says, by signing Commit Cards. They also can support the foundation through a cash donation.
"But those businesses were having difficulties connecting with returning veterans," she explains. "We realized that we needed to provide more than training; we needed to provide bridges between veterans and service businesses because they were having a hard time connecting with each other."
The foundation is developing some marketing pieces it can provide to businesses to promote the program in their communities.
"We want to close that gap between people coming out of the military, not knowing about these opportunities in the small-business community, and the small businesses in our industry who are desperately looking for technicians but don't know how to connect with this pool of people who could be good matches for them," she says.
Hazard notes that wherever the UA has a VIP program set up, it advertises within the base and the local community, usually through the Morale, Welfare and Recreation departments at each military base. All proceeds from MWR advertising or fundraising efforts go toward providing military families with recreational opportunities. The UA also distributes program flyers in living and work spaces on the base.
"Most advertising is at the local level where we have programs established and directed toward people who are eligible for the program — active duty personnel who are transitioning out of the military with an honorable discharge," he explains. "For those already out of the military and are interested in a career in the mechanical trades, we can connect them with an apprenticeship program in their area. But the VIP program is strictly for those coming out of the military."
Cardarelle says that, while the Troops to Trades program gives priority to veterans leaving the service, the foundation doesn't want to turn anyone away who is interested in home service career.
So, this Veterans Day, think about hiring a returning military veteran.
---
HELPFUL LINKS: