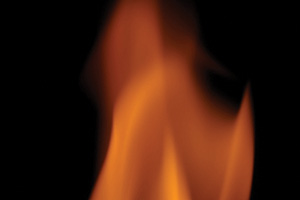 Photo credit: ©istockphoto.com/nuclearman
Three magical numbers: 20, 40, 60 years. But let's start with 40. This year marks the 40th anniversary since the federal government issued the document, "America Burning."
If you haven't read this or even heard about it, I would recommend you consider obtaining a copy. It is a fascinating report of the fire problem in the United States, including deaths associated with those fires.
For many years, you had to find a library that carried an old copy of this book in order to read it. Or you needed to find a firefighter who had a copy in his fire house. My father, being a volunteer fire chief, is how I managed to read the book when it came out.
Today, you can go online and download a copy for free here.
The report was originally requested under the Nixon administration and written by the National Commission on Fire Prevention and Control. It is quite frank in explaining that, for being the greatest industrialized nation in the world, the fire record of the United States was abysmal. In 1973, there were 6,503 unintentional fire deaths. The original "America Burning" actually listed more than 12,000 fire deaths annually. That number was corrected when the statistics were reevaluated.
In 40 years, we have made significant progress in reducing fire deaths in this country. In 2009, the number of fire deaths was 3,200. While this is a reduction of more than 50%, it is still too high.
"America Burning" is credited with starting the movement toward residential fire sprinkler systems. However, the 177-page book didn't say much on residential sprinklers.
One of the statements made is: "Research and development are needed toward automatic extinguishing systems that will be cheap, aesthetically acceptable and adaptable to existing homes as well as new construction. The commission recommends that the proposed U.S. Fire Administration support the development of the necessary technology for improved automatic extinguishing systems that would find ready acceptance by Americans in all kinds of dwelling units."
You could say that this statement moved us in the direction of low-cost sprinkler systems. The report states: "Automatic extinguishing systems in residences would not only save lives and reduce direct losses from fire, but would also reduce other expenses to the nation, such as the costs of treating burn and smoke injuries, insurance costs (both premiums and payouts), and the costs of maintaining fire departments.
"The developers of Disney World in Florida, who have installed sprinkler systems in residential buildings such as hotels and apartments (and smoke detectors in single-family dwellings), report that there have been savings in insurance rates and, just as important, savings in the costs of maintaining fire departments."
All this is still true today.
Multipurpose piping systems
One of the lowest-cost residential sprinkler systems is the multipurpose piping system. It is the residential fire sprinkler system that is piped as a part of the plumbing water distribution system. You would think this type of system would take off, but it hasn't. The majority of residential sprinkler systems installed are as standalone systems, typically by residential sprinkler contractors.
There are a number of reasons that multipurpose piping systems have not gained a lot of popularity. The No. 1 reason is the plumbing industry hasn't embraced residential sprinkler systems. Quite frankly, I don't know why.
Multipurpose piping systems are rather easy to install. I recently did a 625 sq. ft. addition to my house. I promised my lovely wife this addition 23 years ago. Oh well, at least I got it completed. When showing off the addition, one of the biggest comments we receive from friends is, "Wow, you sprinklered the addition?"
Yes, we sprinklered the addition. While I was at it, I also sprinklered all the sections of the existing house that I could reach when I had the walls open. It was pretty simple to install. I did the entire sprinkler portion of the water piping after dinner one night. That is how fast it went in. All I had to do was extend the piping to connect to the sprinklers. For the new master bedroom, I had to also run pipe overhead. My mains were run between the floors for the plumbing fixtures.
One of the major success stories with multipurpose piping systems is a contractor in the state of Washington. The residential sprinkler contractor works with the plumbing contractor. The plumbing contractor installs the water distribution pipe and leaves take-offs for the sprinkler contractor. The residential sprinkler contractor then finishes the sprinkler system, connecting his piping to the plumbing system.
The second biggest reason that multipurpose piping systems haven't taken off is plumbing contractors can't compete in the pricing. It is one of those old adages, if you don't know what you are doing, you are going to price it too high. Hence, educate yourself, so you know what you are doing.
We need to make sure that another 40 years doesn't go by before every home is sprinklered. If we want to eliminate unintended fire deaths, we need to protect all our residences with residential fire sprinkler systems.
I listed two other numbers. This month marks 20 years since I started writing for Plumbing & Mechanical. I just thought I would write for a few years. I remember my first editor told me there would be about three years worth of stories in the plumbing profession. He said that then you just start rehashing your old stories.
I hope I haven't rehashed my old stories. The last 20 years have seen so many changes in the plumbing profession that I have always found something new to address in my columns. I am just thankful to all the readers who have given me the opportunity to write for this long. If you didn't read my columns, I guess they would have booted me years ago. So thank-you.
The final number I listed was 60. Believe it or not, that is the age I turned in June. It sounds so old, but I still feel pretty young. To prove I was still young, I decided to climb Mt. Rainier for my 60th birthday. All 14,410 ft. of the mountain. Mt. Rainier, near Seattle, is the second highest peak in the lower 48 states. I climbed it with five of my friends and my son-in-law (he's a friend, too).
 I'll admit that climbing Mt. Rainier is one of the crazier things I have ever done. From now on, I think I'll hang around at lower elevations. 
---
HELPFUL LINKS: