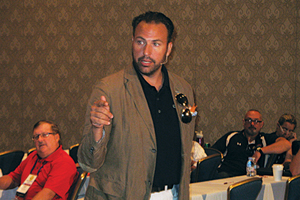 Construction attorney David Turiciano makes a point during QSC's Power Meeting in Baltimore. Photo by Bob Miodonski/PM
Get it in writing — whether it's a change order or a contract with a general contractor, a customer or a subcontractor. That's the advice construction attorney David Turiciano gave July 20 during Quality Service Contractors' Power Meeting XXXIX in Baltimore.
"Ten years ago when I made this presentation, we did deals on a handshake. Not today," he said. "We know we have to do the work upfront such as vetting the credit worthiness of your customer. No one likes to do this upfront work, but it is essential that we do it. Everything will work fine until it doesn't."
In this new era, the first question a contractor should ask on a commercial project is with whom is he contracting, Turiciano said. The contract should be made with an entity that has ownership rights to the property as opposed to someone leasing the property.
The contractor also should contact a title company to get a title report on the property to find out how many liens exist and how much money is owed. He also should find out who has agreements on the property and who holds the deed.
If a contractor does residential work, he should meet with his attorney every two years for a couple hours to make sure the contract template he is using with customers matches state laws. The contractor should be particularly aware of being in compliance with state and federal consumer protection laws, which apply to all contractors who do home-improvement work.
"You should have a one- or two-page document printed in 14-point font to cover residential work," Turiciano said. "You should have a separate contract for when you sub your work to a G.C. and another contract for when you sub out work to a subcontractor. Have lawyers draw up your contracts."
 Contractors working in small towns should not be lulled into a false sense of security due to their locale, he said. Contractors in big cities sometimes are better in knowing their risks.                
---
HELPFUL LINKS: