FieldAware recently joined forces with Mayor Rahm Emanuel to announce that the field service software company will further expand its presence in Chicago to support accelerating business growth. FieldAware's staff will expand across key business operations with a new 6,000-sq.-ft. office in the Loop area, which is expected to house 80 employees by the end of 2013.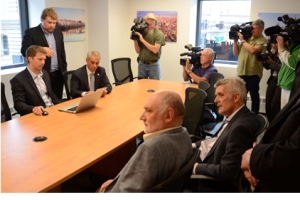 FieldAware executives and employees showing a demo of the system to Chicago Mayor Rahm Emanuel.
Located in the Sterling Bay building at 111 North Canal, the new space will support FieldAware's rapid growth and acquisition of exceptional talent and create a platform for continued business growth. The office will feature several functional areas, including sales account management, business development, marketing, finance and human resources.
The office is the second of three phases of an expansion plan in Chicago. "With operations in other locations around the world, we were excited that FieldAware made the decision to select Chicago to support its growth plans," said Mayor Emanuel. "FieldAware is an innovative high-tech company that is creating new jobs for Chicagoans and making a critical investment in the city and its workforce."
"As a global company serving the needs of small to medium service businesses, Chicago was a natural choice in selecting the location to support our business growth," said Brendan Sullivan, chief marketing officer of FieldAware. "With great access to a talented and educated workforce, a strong transportation hub and solid support for business and entrepreneurism, Chicago will be a springboard for accelerating the pace and capacity of our business growth." 
FieldAware is a leading provider of field service management solutions for small and medium businesses. The company's powerful and flexible system enables field service companies to transform their business by streamlining the service scheduling process, increasing field worker productivity, generating lead opportunities in the field, accelerating invoicing and improving customer satisfaction. 
---
HELPFUL LINKS: