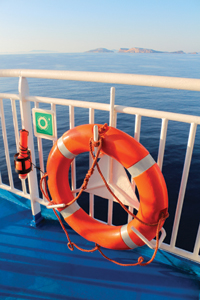 Photo credit: ©istockphoto.com/PLAINVIEW
Many good contractors are struggling to survive America's economic crisis and some have already lost their businesses. And far too many good employees are struggling at work as well as with finances at home. What can we do different to help this situation?
First, we need to get rid of the stupid idea of "slow down and make the job last longer." Instead, show your employees that "hurry up and make the job go faster" means the company will be competitive to start on the next project. It's time to talk about helping each other not only to survive, but to prosper. We can do it!
Start with the value-engineering motto: There is always a better way. Your sincere interest in your employees' struggles will produce positive, profit-producing, upward communication and results.
Let's look at some feasible options to offer your employees:
• Go out of your way to help everyone you can. You will feel blessed to be able to help and each person will hope for an opportunity to return the favor.
• What other skills have you mastered or would like to learn that are not listed in your mechanical skills inventory? You could perform these tasks on remodeling projects and repairs such as carpentry, drywall, masonry, tile-setting and painting.
• What other position in our company would you be qualified for and desire? This could include supervision, service work, prefab shop work, estimating, accounting, purchasing, craftsmanship and maintenance of vehicles, tools and equipment.
Employees also could inventory all parts and equipment in your warehouse and the usable equipment, parts and pieces in your salvage center. This up-to-date inventory will definitely ease the hunting for costly parts and usable equipment.
Laid-off or part-time workers
If your company has employees who have been laid off or are working part-time, they could sign up with one of the local temporary labor pools that furnish job opportunities with total payroll taxes and insurances. Having a database skills inventory simplifies meeting the specific needs for contractors.
Naturally, they could continue to work part-time for you and eliminate complicated legal payroll problems.
Unlimited opportunities for work can be found at local DIY building supply and hardware outlets, such as The Home Depot, Lowe's and Ace Hardware. These stores offer installation services for everything they sell as well as repair work and maintenance. They welcome qualified craftsmen of any trade to work in sales and training at their stores.
You can offer assistance to any employee who wants to moonlight and earn extra income. He could borrow your truck and tools and use your buying power and credit at local supply houses. Helping him assures his loyalty to work for you as work becomes available.
You would be able to use that moonlighter as a subcontractor who could quickly clean up punch lists to complete a project in order for you to collect your final payments. Likewise with your obligations on your maintenance contracts or any callbacks on service work. All this can be accomplished with moonlighters' flex-time hours.
In the October 2012 issue of Plumbing & Mechanical, I discussed using customer records to increase your service business ("A fortune in your files"). Your service techs and installers should be surveying each customer's plumbing and heating systems and recommend cost-saving maintenance contracts.
All the data may not be in the customer's file, but some of your employees who are laid off or are part-timers would remember and would be grateful for the opportunity to make a sales call on that particular customer. And your customer will appreciate your concern.
The service manager can spearhead this entire venture by reviewing your records and contacting each of your installers or service techs who worked on that property. A mass meeting would be more effective but individual meetings also produce valuable input, especially for value engineering.
Your tech needs a professional appearance and written recommendations for updating each customer's file. After the site visit, your tech needs to schedule another visit to present your maintenance contract. Most contractors share a percentage of these profits with their techs.
Discuss with your employees the possibility of bidding work out of your market area. Some employees would be willing to travel and come home on weekends. This is especially attractive when using flex-time schedules:
1. They can work three 13-hour shifts and perform two payroll weeks in one week. This also reduces travel expense and living costs. Many employees prefer working two shifts in one week and staying home the next week. Flex time is adaptable for all kinds of employee satisfaction.
2. An employee may have a friend or relative in a different market where he would consider moving to start another division. Attend local trade association meetings to discuss sharing manpower. You will be surprised how many of your competitors would welcome that opportunity.
Contractors with union agreements need to discuss available job opportunities in other locals with their business managers. Some of the areas have higher wages and more benefits, which would compensate for traveling or moving to that area.
Unemployment benefits
Advise employees who have run out of unemployment benefits to keep trying. They will not have much luck finding work while sitting at home watching TV. The best chance to find more work is to volunteer, meet other people and help others who are in need.
• They could stop at any farmhouse and ask if the family could use some help.
• They could ask at any church if it does missionary work to help others in need.
• They could get involved with Habitat for Humanity and add their knowledge and skills to any building project. This includes mentoring and training of unqualified volunteers. The majority of these dedicated people would benefit from the training and tell others of your employee's ability and willingness to help others.
Doing projects such as this might also add to your employee's own skills inventory.
• They could volunteer to teach apprenticeship classes.
When you are talking with any employee who is really down on his luck, remind him of the welfare, food stamp and other programs available from federal, state and local governments, sharing centers or local churches. He should not be ashamed to ask for temporary help. Half of our nation's citizens are receiving some type of help during these rough economic times.
Your employees will appreciate whatever help you might be able to give them, even if it is just your concern. We hope that recovery is right around the comer. In the meantime, perhaps you can utilize the above suggestions to help your valued employees.
---
HELPFUL LINKS: