WD-40 Co. will be debuting limited edition red, white and blue, "Made in USA" Smart Straw cans to help celebrate the 60th anniversary of WD-40 Multi-Use Product and to recognize where the product has been produced since 1953. New 8- and 12-oz. WD-40 Smart Straw cans will be available at select retailers with the special packaging for a limited time, while supplies last.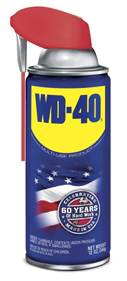 Limited edition 8- and 12-oz. WD-40 Smart Straw cans will be available at select retailers.
"The WD-40 brand is as American as apple pie, and these special cans are a salute to those who subscribe to the tradition of hard work and the practice of getting the job done," said Tim Lesmeister, vice president of marketing for WD-40 Co.. "We're very proud our flagship product is made right here in the U.S.A. and is used to help people get the job done in 187 countries around the world."
WD-40 Co. is a unique American success story, having started as a group of three scientists working at a tiny San Diego lab in the early '50s. The then-called Rocket Chemical Co. set out to create a rust prevention solvent for the Atlas Missile, finally finding the perfect mix on its 40th attempt. Water Displacement, 40th Formula (WD-40) was born and soon made its way into people's homes where thousands of uses for the product were discovered. While the formula still remains a secret and the original notepad with the formula is locked away in a bank vault, the "secret sauce" is still mixed at the site of WD-40 Co.'s corporate headquarters in San Diego and is shipped from there to packaging facilities nationwide.
---
HELPFUL LINKS: