Mestek Inc. announced the passing of John E. Reed, chairman of the board and chief executive officer, on May 9, 2013 of heart failure due to advanced congestive heart disease.
Stewart Reed, vice chairman and chief operating officer said, "Mestek was always more than simply a business to him; it was his life and his creation. It was personal; and he cared deeply at many levels. He was intensely proud of the people who chose Mestek for their careers and the progress of the company. He established a culture for Mestek that he wanted to last for generations beyond his life, his most cherished legacy. Whether in his office or on the shop floor, Mestek was home. John Reed touched many of us in a profound way; he will be long remembered. We can honor his memory by fulfilling his vision: a world-class American manufacturing company with a bright future."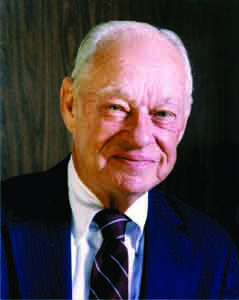 John E. Reed passed away peacefully at his home on May 9, 2013.
John Reed enjoyed a successful career that spanned 75 years, many in which he served as chairman of the board and CEO of Mestek. The company consists of more than 36 operating companies involved in the HVAC, architectural products, metal forming & fabricating and coiled metal processing industries.
John began his career with the H. B. Smith Co. after graduating from The Williston School in 1933 and Yale, A.B in 1937 and earned his L.L.B law degree in 1942 from Northeastern University Law School.  In 1946, John founded the Sterling Radiator Co. where he pioneered hydronic finned tube radiation.
Sterling Radiator continued to grow during the 1950s, '60s and '70s both internally and through the careful acquisition of other climate control companies and of the Peterson Roll Feed Co. and the Cooper-Weymouth press feed company. In 1975 Reed National was formed to administratively consolidate these companies and air distribution acquisitions. More growth and acquisitions followed, and in 1986 Reed National merged with Mestek Inc., a public corporation listed on the New York Stock Exchange. Mestek remained public for 20 years before returning to its present status as essentially a private company with shares traded under the symbol MCCK.PK. 
Reed was a very active participant in the Hydronics Institute (now merged into AHRI) and the Better Heating/Cooling Council. He served as chairman of the Hydronics Institute twice and was the first chairman of the Better Heating Cooling Council. Also, he consistently supported various national manufacturing associations including the Association for Manufacturing Technology, the Fabricating Manufacturers Association (which honored him with a lifetime achievement award), the Sheet Metal and Air Conditioning Contractors' National Association among many others.
John Reed will truly be missed by his family at home, his family at Mestek and throughout our industries.
---
HELPFUL LINKS: