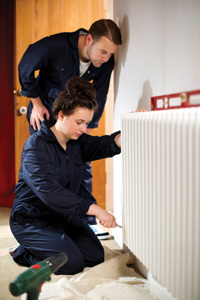 Photo credit: istockphoto.com/sturti
Let's begin at the top with your foreman's immediate boss. Your written chain of command must define only one boss to assist, monitor, motivate and control everything that happens on each project. The contractor, project manager or other company officials may visit and view activity and progress, but never give orders, criticism or discipline. They may ask questions but refrain from interference.
The traveling superintendent must negotiate the foreman's written job description (a copy of the job description can be found in the February 2013 issue, "Employee Relations," page 40) and document all above-average or below-average performance in the foreman's file for timely wage reviews. He also should monitor jobsite training and maintain records of each employee's progress in their database skills inventory.
The superintendent should show your foreman the entire set of plans, specs, estimates, your contract and related codes. He should accompany your foreman to weekly jobsite meetings to ensure that the crew is meeting and beating critical schedules. After each meeting, they should value engineer the project together and create a one-week written schedule to establish manpower needs, tools, equipment, on-time material deliveries and training opportunities.
The superintendent is your foreman's link to your office. He must monitor timesheets, job logs, change order requests and accident reports. Most projects require only weekly visits with a seasoned foreman. Extensive changes or a new foreman may require more.
It is imperative that your superintendent and foreman maintain a pleasant attitude and smile, which shows confidence and approval to everyone on the jobsite. And absolutely no foul language!
Enforce all your rules with private, constructive criticism. Your employee should feel he has been helped. Never say, "You should have known better," unless the employee was already instructed in that task. Do not favor your personal friends or relatives. Always document any serious offense or reasons for firing to prevent legal action.
When giving orders to any of your employees, especially the new or inexperienced ones, ask in a respectful manner. Any task an employee is asked to do he knows he must do it, but everybody appreciates respectful behavior. All employees are flattered when you accept their ideas. This creates invaluable upward communication.
Both your foreman and superintendent must physically write down any promises they make to be certain they keep their word. If they cannot do what they promised, they must apologize and give that person their reasons why.
Team building 
Who taught each of your foremen how to recruit, train, motivate, discipline, measure and reward skilled craftsmen? Do you monitor and measure each foreman's team-building efforts?
How many new recruits did he attract in the last 12 months?
What caliber are these recruits?
How much did they advance in skills? In wages?
How many did you lose? Why?
Do you reward each foreman accord-ingly? Should you?
All trades in our construction industry traditionally have promoted their hardest-working and most-experienced craftsman to a supervisor management foreman's position without any orientation or human-relations training. Craftsmen typically spent four years learning their trade but don't even get four hours learning about supervision techniques or team-building basics.
Not every good craftsman will make a good coach or team builder, regardless of how much human-relations training he receives. There is a big difference between performing skilled craftsmanship and developing skilled craftsmen.
Foremen must be proud of themselves, as well as the work they perform.What many of these untrained foremen never realize is that you cannot have pride without respect. How proud would you be if the people around you did not respect you?
Emphasize the recruiting power of every foreman's actions and rapport with each individual employee. Whatever positive item that employee tells his friends and relatives about his job will bring you more recruits than you can hire.
Your foreman must maintain a productive morale with every employee. If he suspects a problem, he should discuss it privately with the employee and resolve it, if possible. When he cannot, he should accompany the employee up the chain to his superintendent and clear to the owner, if necessary. Employees should always be aware of your grievance procedure.
Proper training procedures
It is necessary to spend a considerable amount of time explaining the critical do's and don'ts for fast and effective jobsite and after-hour skills training. Sadly, too many foremen believe that just placing a novice with a craftsman ensures the former will learn the task. In most cases, the helper does only the grunt work and the craftsman performs the task without any explanation or training.
Proper training involves four specific steps. Keep in mind you can only teach a trade one task at a time. Each task requires these four measures:
Tell 'em.Explain what you want done and how to do it. Emphasize quality. A craftsman never improves the quality of his work. You begin with quality, regardless of how long it takes. You can only improve speed.
Show 'em.Do it yourself, or let someone else do it and allow the helper to watch.
Help 'em.Take the tools and plans away from the craftsman, who then becomes the helper. In management terms, this is called role reversal and it really works.
Watch 'em.At least one time, watch the helper do it alone and then certify him as capable of doing that task.
A registered apprentice should be assigned to one master who becomes responsible for accomplishing his learning of that trade. They should not be separated on different projects. Some companies unfortunately think their apprentices will learn their trade at night school and do very little jobsite training.
It is imperative that laborers, metal tradesmen or helpers do all material handling, tool control and grunt work. These menial tasks should never be assigned to an apprentice. Consider your apprentice as an intern, performing professional, skilled tasks under the direct guidance and assistance of a professional, skilled master craftsman. This master also should monitor the apprentice's progress, record his certified skills, and recommend justifiable merit raises.
Job satisfaction
The traveling superintendent or project manager needs to monitor each new employee or apprentice's progress on his certified skills inventory. If an employee is not gaining new skills each month, you need to intervene and resolve the problem. You may have a poor trainer, a poor learner or even a personality clash.
In addition to not gaining a new skilled craftsman, you are sending home an ambassador with a negative recruiting message to your potential labor market. He is talking about how your foreman is treating him, which is why human-relations training is so critical.
Every newly hired employee should receive at least a 15-minute orientation. Your foreman should explain your company rules and invite him to join your payroll and continue up the professional ladder to company management. Ask each new hire, "What are your goals?"
Foremen must realize that every individual has different wants, likes and dislikes, ambition and ability. They need to treat these employees accordingly. It is very important to let them do what they prefer as much as possible. The result is called momentum: They are good at it because they like it and they like it because they are good at it!
It is not possible to write a job description for employees who must do what they are told every hour. Your foreman must monitor performance and recommend raises or promotions when earned.
Some contractors try to hide wages to prevent jealousy or resentment. Your foreman must not give a raise unless the employee earned it; then he can brag about it to everyone. That way, employees know their own performance will be likewise rewarded.
It is advantageous for your foremen to socialize and maintain a personal friendship with each of his employees. This involves helping with their homes and families. However, during these times, they must never talk shop or about other employees to eliminate being quoted for damaging gossip or rumors.
Finally, your foreman should always have a backup foreman's intern who is willing to accept responsibility and maintain production in the foreman's absence. 
---
HELPFUL LINKS: