New Products
Bath & Kitchen
Product Focus
Technology for Contractors
Digital control
Steamist offers a new touch screen TSC-450 digital control as well as Bluetooth technology for its AudioSense option. Designed for installation inside the shower, the advanced yet user-friendly TSC-450 offers a high-contrast display of ad-justable settings for all Total Sense functions as well as for temperature and duration. In addition, Steamist's AudioSense option has been enhanced with Bluetooth technology, allowing the wireless receiver to connect a smartphone, iPad, iPod Touch or any Bluetooth-enabled music player from up to 30' away for added convenience.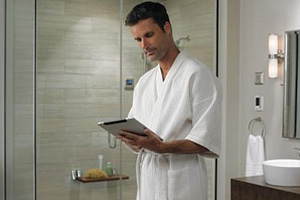 Steamist. www.steamist.com


I want to hear from you. Tell me how we can improve.