If you happen to be superstitious, 2013 may be of concern for your life and your business. There's a wise, old saying: "Together we can do it!" I highly recommend joining forces with as many other contractors as possible. You may not be able to bid, individually, on multimillion dollar projects, but together, you can do it.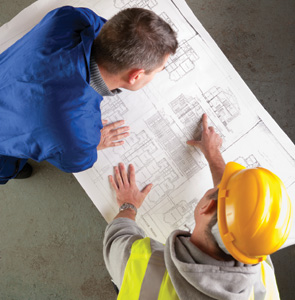 You should already be active in your local trade associations. Even if you aren't a member, you are welcome to attend local meetings and conventions. These are competitors who join forces to help each other, adding power and recognition to themselves as well as our industry. Every time you help someone else, you help yourself, too.
Compare your capabilities, your ambition and workload in general, but also those areas specifically related to a project coming out to bid in your market area. Stress the possibility of combining forces. You will be surprised with the number of different trades who would appreciate the opportunity!
Review the plans and specifications for other trades who could complement your bid. In addition to plumbing, electric, HVAC and site work, you can combine kitchen equipment, metal studs, drywall, millwork, masonry, roofing, waterproofing and various miscellaneous items. The general contractor or construction manager will appreciate your combined bid. And use a standard joint venture agreement, which is a collaborative undertaking by two or more persons or organizations for a specific project or projects, having the legal characteristics of a partnership.
This agreement includes the scope of work by each company and how costs and profits are to be divided. When that specific project is finished, so is the venture. Joint ventures are used by many large contractors to partner with another contractor who possesses some financial power or sufficient skilled manpower needed to bid and successfully complete a major project.
Another option is to submit one bid, using all the trades as subcontractors to any one of your involved contractors.
Make sure you clarify if the project will be totally union or open shop. You  want to have access for flex-time to accommodate your team with the ability to maintain and beat critical job schedules. Projects completed ahead of schedule make money, please your customers and establish a desirable reputation in this great industry.
Value-engineering
Working together as a team creates a fantastic opportunity for value-engineering. All your contractors have valuable ideas from their own experiences, plus watching the good and bad practices of other contractors they have worked with in the past.
Hold a formal value-engineering session before you bid a job and as each phase of the construction begins. You will be amazed at the input. Submit these options and tentative price savings with your bid.
When your bid is accepted and you are awarded the job, have your attorney check the contract for method of billing and guaranteed payment language. Always include a late penalty clause to assure on-time payment. Avoid any type of "pay when paid" language!
It is critical that you have valid licenses for any trade needed on the project. All the members of your team should utilize a database skills inventory to ensure proper expertise is used in all parts of the project to produce quality craftsmanship on schedule. This inventory will ease the hassles of scheduling the proper manpower on time and also indicate who may need any additional training.
The most effective training can be accomplished using a qualified mentor on the jobsite after hours or at the pre-fab location in your shop. Many suppliers and manufacturers are proud to train your employees to install and maintain their products. You also can find a local handyman or moonlighter to assist you when necessary.
One of your craftsmen with each trade must accept the responsibility of foreman to assure profitable productivity, quality workmanship, cooperation with the other trades and management and safety.
Safety matters
Many contractors consider safety as eliminating OSHA citations. Naturally, this is important but protecting your employees from injury must be a primary goal. I have been enforcing safety on jobsites for more than half a century. We have tried every method available to keep jobsites safe and found the most effective to be a weekly safe plan of action (you can find a new version of this in my December 2012 column at www.PMmag.com — "Safety first").
Every employee on a site must list any hazards he would encounter for that week and what safe plan he is using to protect himself and others. These forms are then signed and posted in the jobsite trailer. In addition to ensuring caution, this provides written proof of training for review by an OSHA representative.
Should an injury occur, you are required to complete Form 301 within seven days and send to your office to be included in your yearly 300 poster. You also must maintain a first-aid kit and have someone knowledgeable for rapid response until 911 emergency help arrives.
Money matters
Another benefit of the "Together we can do it!" mindset is the increase in your banking and bonding power. There is no doubt that bigger is better. Because of our struggling economy, many good contractors are having trouble with collections and paying their bills, which makes it even harder to borrow what they seriously need. You can easily understand how a joint venture team can overcome those problems.
Your biggest challenge is making money. That's why we insist on value-engineering every phase before you begin:
1. Hunt for "float time" on your critical path schedule. That simply means constantly look at items that come later in the schedule that can be done now.
2. Cooperate with everyone on that job. When you find an opportunity to help someone, do it. You might lend him tools, equipment, scaffolding or ladders, and perform small tasks when he is not there or is too busy.
3. Maintain a clean site. It is cheaper to clean up a mess than to work in it. You also risk losing expensive tools and parts. OSHA will issue expensive citations for working in clutter.
4. Eliminate waste. Supply proper, sharp tools and necessary materials on time.
Insist that every foreman works 8 1/2 hours to ensure his  crew works a full eight hours. That also gives the foreman 15 minutes in the morning and at quitting time to assign duties and check tools and necessary materials.
Always look in the dumpster for damaged or extra material that should have been returned to the vendor or your shop. You or your partners should have an inventoried salvage center for training and usable equipment.
5. Make your jobsite safe at night. You may have visitors, curious onlookers, thieves and even children who come there to play. You are totally responsible if anyone is injured. Always notify the police if you suspect theft or vandalism. Police are free!
If you are capitalizing on flex-time, you must never allow one employee to work alone. It's easy to understand why this value-engineering is so critical for your profit picture.
Many good contractors are struggling just to survive in today's drastic economy. You do not have to face it alone. Many of your local competitors would jump at the opportunity to work with you in this battle.
Make 2013 be your lucky year. Together you can do it!
Follow PM on Twitter!, Like PM on Facebook!, Contact Plumbing & Mechanical