Electric Eel Ecam Pro 2 Pipeline Inspection Camera System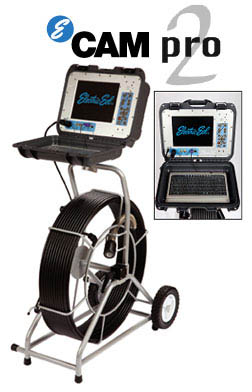 The Pro 2 offers excellent value in a main line camera system featuring a self-leveling color camera which negotiates 3" P-traps, 200 ft. of Kevlar braided push rod and a 512 Hz sonde.

The Pro 2 also features a larger 10.4" daylight readable monitor and allows for one-touch recording directly to a USB flash drive. Additional standard equipment includes on-screen footage counter, a 2-hour battery with built-in charger, adjustable light controls, 16 pages of text writing, voice-over recording and an 8X zoom function.

Proudly Made in the USA Since 1939.

ELECTRIC EEL MFG. CO., INC.
501 W. Leffel Lane
Springfield, OH 45501
Toll Free: 800-833-1212
Website: www.electriceel.com


I want to hear from you. Tell me how we can improve.