See the latest offerings in this product category.

Automatic Grease Interceptor
GreaseStopper® Automatic Grease Interceptors (AGI) from Highland Tank are designed to intercept and remove large quantities of fats, oils and grease (FOG) discharged from food service establishments and large commercial/institutional kitchens, which might interfere with the proper drainage and treatment of municipal wastewater. GreaseStoppers are the best alternative to a grease trap. www.highlandtank.com.

Polyethylene Grease Traps & Interceptors
ASHLAND™ Polyethylene grease traps & interceptors are designed to separate grease, oils, fats and sediments from commercial and industrial sources. Ashland PolyTraps™ are made of High Density PolyEthylene (HDPE). Available from 2.3 to 560 gallons, lightweight, cost efficient, extremely durable and corrosion free. Designed for above- or below-ground installation. The HDPE construction is acid resistant and solids do not easily adhere to the smooth walls, making cleaning effortless. Call for options and information 800/541-8004.

Variable Offset Kit For Grease Duct
Metal-Fab Inc. introduces a new kit to make offsets in installations of its factory-built G Series Grease Duct. The Variable Offset Kit provides offsets of 1.5-, 3-, 4.5- and 6 inches as an easy method to work around beams, pillars and other obstacles on an installation site. The innovative design allows the installer to select the amount of offset needed with just one kit. www.greaseduct.com.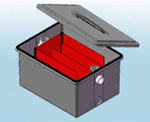 FOG Removal At The Source
The Retroceptor from Green Turtle Americas is a high-performance, beneath-the-sink grease interceptor that offers wastewater treatment at the source for restaurants, institutions, manufacturers and other food service industry businesses. The Retroceptor is a game-changer in the food service industry. It dramatically increases grease removal performance, yielding a 99.6 percent reduction in the amount of fats, oil and grease (FOG) released into the wastewater stream. This compares to PDI-certified grease traps that remove only 90 percent. Proven to perform at 60 ppm of free oil, it is constructed from a corrosion-resistant and leak-proof composite to effectively handle the high temperatures and harsh conditions of the industry. www.greenturtletech.com.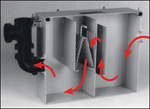 Custom-Built Separators
A Rockford Separator is designed for exceptionally high efficiency in retaining a wide variety of insoluble wastes. Maximum water travels without turbulence through the filtering action of its screens prevents evacuation into drainage systems, which may cause blocking, stoppages and backups. The Rockford Separator family includes more than 26 varieties in more than 200 sizes, engineered and custom-built for jobsite applications and installed wherever separation systems are required. www.rkfdseparators.com.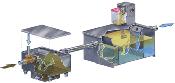 Retrofit Skimmer & Grease Recovery Device
The Grease+Gard® Retrofit Skimmer and Grease Recovery Device from Jay R. Smith Mfg. use patent-pending technology that automatically removes FOG from the interceptor before it becomes a problem. It has a belt and heater assembly that is controlled by a 24-hour timer. Upon a given schedule, the heater warms up the water in the interceptor and the agitator propeller helps to liquefy the FOG to be extracted. The belt assembly picks up the FOG that is skimmed into a trough. From there it flows into a storage reservoir. www.jrsmith.com.

Fire Barrier Duct Wrap
3M Co introduces 3M™ Fire Barrier Duct Wrap 615+, a new fire-resistant wrap that is lighter and thinner than previous 3M offerings and meets the new ASTM E 2336 fire test requirements. Made from an advanced ceramic fiber wrapped in scrim-enforced foil, 3M Fire Barrier Duct Wrap 615+ is a lightweight, thin-profile insulation that provides up to two hours of fire protection for grease and air ventilation ducts. Maintains the duct integrity and helps prevent fire from rapidly spreading throughout a building. Supports maximum temperatures of up to 2,192°F. www.3M.com/firestop
Links