From backup batteries to primary systems, here's what's new in the sump pump market.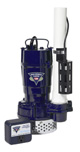 PHCC Pro Series Line Glentronics Inc.
Glentronics Inc. is celebrating 20 years of manufacturing the world's most reliable battery backup sump pumps and energy efficient primary and sewage pumps. The industrial-grade primary PHCC Pro Series line, designed for the residential market, delivers durability and high pumping capacity, while using substantially fewer amps, which saves energy and the homeowner money. Plus, PHCC Pro Series pumps feature the patented caged dual float switch – should one float fail, the second float automatically activates the pump.

Glentronics Inc. PHCC Pro Series backup systems
The PHCC Pro Series backup systems have unique monitoring systems that sound an alarm when maintenance is needed, alerting the homeowner when problems arise. After all, a backup system with a dead battery, loose cables, or a clogged pump is like having no backup at all. www.stopflooding.com.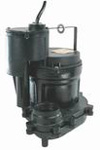 Cast Iron Motor Housing Stevens Pump Co.
The SS35F from Stevens Pump is a completely assembled and ready to install. It has a quiet, dependable 1/3 HP, oil-filled, shaded pole motor designed for reliability and long life. Highly engineered quality standards. Overload protector with positive protection against motor burnout. Maximum cycle rate of 180/hr. For environmental safety, no mercury is used. Corrosion inhibitors used to protect electrical connections. Dependable switch system has proven reliable in 25 years of testing. The SS35F pumps more than any other pump of comparable class. High tech, chemically-coupled, glass-filled polyproplene cover employed for lightweight, cool operation and superior impact resistance. Cast iron construction. www.stevenspump.com.

Water-Powered Emergency Backup Zoeller Pump Co.
Zoeller's Home-Guard MAX system is a high capacity, high efficiency water powered back-up system. With no electricity or batteries required, the Home Guard MAX takes over seamlessly when your primary sump system fails. The Home Guard MAX comes fully assembled for fast, easy and trouble-free installations and its small footprint allows for installation in even the smallest sump pits. With superior performance and discharge capacity, it uses less water and costs less to operate. When installed as a back-up system, it does not use any water until the primary system malfunctions or in the case of power failure. Water flow is equivalent to a normal faucet and is required only when the Home Guard MAX is operating. Not intended for use as a primary water removal unit. www.zoeller.com.

Elevator Sump Pump System Liberty Pumps
The new ELV-Series sump pumps from Liberty are designed and approved for safe operation of pumping, alarming and monitoring of elevator sump pits, transformer vaults and other applications where oil and water must be detected. Featuring the unique OilTector™ control, the system will activate the pump to remove water from the pit in accordance with ASME17.1. The OilTector stops the pump before oil or other harmful substances are discharged. Alarms for both high water and high oil are integral to the system. A remote mount alarm is included and features auxiliary contacts for connection to a building automation system or SCADA system. Systems are available with 1/3 and 1/2 HP pumps that feature oil resistant power cords and pump components. www.libertypumps.com.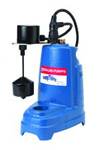 SumpThing™ Goulds Pumps
The ST31 SumpThing submersible sump/effluent pump from Goulds Pumps features corrosion-resistant construction, a cast-iron body, a thermoplastic impeller and cover, and a replaceable power cord. Upper sleeve and lower heavy duty ball bearing construction. Its built-In vent hole prevents air-binding with no added labor. Motor is permanently lubricated for extended service life and is powered for continuous operation. All ratings are within the working limits of the motor. Complete unit is heavy duty, portable and compact. www.goulds.com.

Flood-Guard® General Pipe Cleaners
Prevent basement flooding and messy floors with the Flood-Guard from General Pipe Cleaners. Available for 2-, 3- and 4-inch floor drains, the Flood-Guard operates like a check valve to seal off water backup caused by overloaded sewers. Water flows normally through the drain until the sewer begins to back up. Then the Flood-Guard float rises to seal off the drain opening until the water recedes. A screwdriver and a couple of minutes are all you need to install the Flood-Guard. Once in place, it can prevent property damage and a very messy clean-up job. The Flood-Guard is also available in a stand pipe model for handling extreme, extended pressure. www.drainbrain.com/specialties.

Effective Solids Handling Yeomans Chicago Corp.
A common problem in the design of sewage and wastewater pumping systems is the effective handling of large solids for low-flow high head applications. In order to meet the necessary pump output requirements, the ability to handle large solids is often sacrificed in the pump hydraulic design. Yeomans Chicago Corp. has solved this dilemma with the introduction of its new Model 412.53SV submersible solids-handling pump. The pump utilizes a single-vane impeller that is trimmable to meet the specific duty rating necessary for each application. The impeller will also pass full 3-inch spherical solids to meet the preferred specification requirements of today's sewage pumping industry. The pump's capacity range is 100 to 1,100 gpm and it produces discharge pressure up to 175 feet TDH. www.yccpump.com.

'Oil Detective' Blue Angel Pumps
Blue Angel Pumps' three "Oil Detective" Sump Systems are job-ready and designed to detect/alert the presence of oil in various applications. Systems include: durable cast-iron or cast-iron/stainless-steel pump, pump controller, audible alarms, visual display lights, preset on/off, 20-foot piggy-back switch cord, UL508-approved switch and complete easy-to-install instructions. www.blueangelpumps.com.