Watts Water Technologies held a ribbon-cutting ceremony in April to celebrate the grand opening of its latest training center in Fort Worth, Texas. The new 250,000-square-foot facility is customized for training, administration and manufacturing, and joins five other Watts Works Learning Centers across North America.
In addition to a working mechanical room with pressurized water lab, the facility includes a 3,600 square foot Learning Center, office areas and a wide range of product manufacturing and assembly, including robotic welding and cutting, metal passivation, sheet metal rolling, precision laser metal cutting, CNC machining, and ASME testing.
"We've always been a training leader in the plumbing industry, and part of our value proposition is if you purchase Watts, install or service Watts, we'll train you for life at no charge," explains Greg Gyorda, director of customer and employee training, Watts Water Technologies. "We recognized with the training centers we already had in North America, we didn't have something in the central U.S. We had feedback from customers asking us to do something in the central part of the country. So when we were building this new facility in Fort Worth, we carved out a nice space for the learning center."
Watts' additional training facilities are located in North Andover, Massachusetts, Blauvelt, New York; St. Pauls, North Carolina; Burlington, Ontario; and Woodland, California. Gyorda notes that location has its own specialty.
"Each of our learning centers is at a factory, with the exception of North Andover, which is about an hour away," he says. "Everything else is located at a factory where they can see the product made and then learn about it. Here in Fort Worth, we really focused on in building risers, water heaters, BLÜCHER stainless steel drains. Each training center has a niche focus on key products that are made there that customers can come in and learn about. Now what's different here in Fort Worth is we can train on anything. We'll focus on our products made here, but we will train on anything. In the lab, we have our backflow preventers, automatic control valves, water quality products and more."
Gyorda explains that Watts wants to continue to lead in education in the plumbing channel and has been investing in various types of training, including online.
"When COVID hit, everyone pivoted online," he explains. "Fortunately, we had introduced our online training program just before COVID, and we were ready to embrace the new world of online training. Today, post-COVID, folks are very comfortable with online training, whereas they weren't previously. The world has come back to in-person training, so we have folks in person, but that online training component hasn't diminished at all. In fact it's growing — it's still the fastest-growing part of our training program. It's the next generation folks coming in. These three to seven minute modules we have, they love them! They can complete these quick and easy modules and learn about our products on breaks, at the wholesale counter and between calls. We're continuing to invest in online and in-person, like this brick-and-mortar facility in Fort Worth."
Manufacturing component
At the Fort Worth facility, more than 200 Watts employees produce PVI water heaters, BLÜCHER stainless-steel trench and HygienicPro drains, and Ames and Watts in-building risers. The products that are manufactured in Ft. Worth are used worldwide in various commercial applications. Many Watts technologies play a role in supporting energy efficiency, safety and regulation and water conservation.
Ryan Brown, sales director, engineer solutions, for Watts Water Technologies, notes that Watts is meeting the growing demand for decarbonization and electrification very responsibly.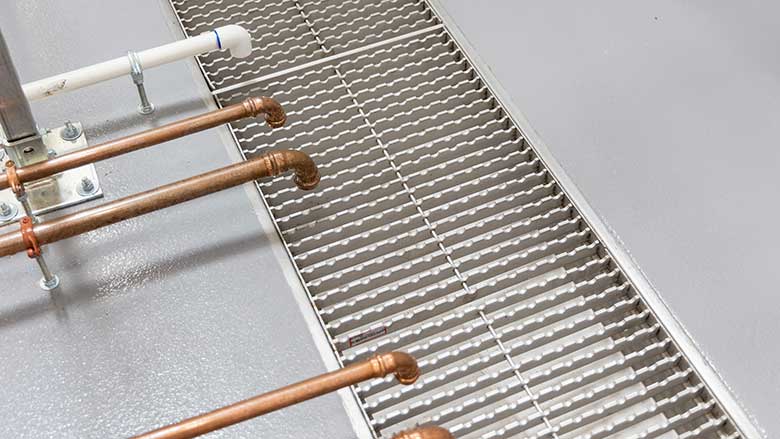 "There was a big push with a lot of people trying to get into it very quickly trying to get their hands on electric resistance," he explains. "When we looked at entering this space, we looked at what existed and what was capable and really made the decision to go with a CO2 heat pump for two primary drivers. First, with domestic water, CO2 is tailor-made for it — we can get higher temperature output and we can operate far longer and throughout the year with colder water and really cold temperatures. The other big one is this overarching goal of electrification is to stop or curb global warming. We've kind of rushed into putting refrigerants into the field that, when they leak, they're worse than if we had been cleanly burning natural gas from the beginning. Some of the Global Warming Potential(GWP) of common refrigerants are 2088 and 1430. CO2 is the reference gas where everything else is judged upon. With a GWP of 1, we are 2088 times less damaging to the environment than R-410. We wanted to future-proof against the refrigerant wars, and as we are focused on a domestic water application, the transcritical process is fantastic for what we're doing. It was a very responsible entrance that we can build upon, not just in new product, but in new ways of applying the product, of prolonging how long it can operate at the high COPs, relying less on resistance or gas backup and really getting the benefit of the refrigerant cycle through the year."
BLÜCHER stainless-steel trench and HygienicPro drains were historically made in Denmark, but Jimmy Hunt, director of sales, industrial, Watts Water Technologies, made the case for growing the business by producing them domestically simply because customers could not afford to wait 8-12 weeks for a drainage solution.
"We needed something faster and more flexible in the states. You can stock a drain and stock pipe because it's always the same, but trench drains are always different," Hunt explains. "PVI works with stainless steel all day, so it made sense. Now every trench drain we make is made in this building for North America."
BLÜCHER's HygienicPro are a game-changer in the trench drain market as the product works together to prevent stress cracks and separation between the floor and drain to prevent bacteria from forming.
"Our system eliminates those issues," Hunt notes. "First thing you see is there are no angles or corners, everything is rounded and sloped so there's nowhere for stress cracks to occur. The second thing is we added these little anchor tabs all throughout the entire system. As they bend down and the concrete pours, they act as tree roots to hold the concrete in place, so as the system expands and contracts, it moves together. And the expansion-contraction rate of stainless steel is identical to concrete, so it's all one system. Additionally, everything ships with a protective cover and protective strips to prevent construction debris from getting inside."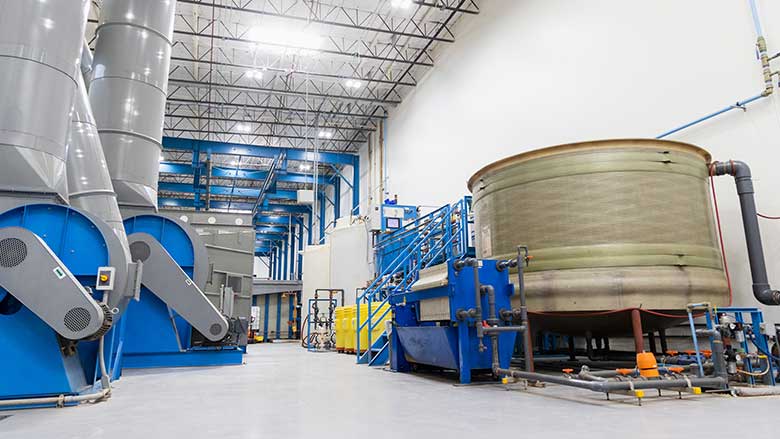 Ames and Watts in-building risers are also new to being manufactured in the Fort Worth facility. Rick Kelly, national sales manager, fire, waterworks and irrigation, Watts Water Technologies, explains the in-building risers were all originally made in Woodland, California, but due to the high cost of freight in shipping the large, heavy products, Watts decided to move the custom part of the business to Fort Worth as it was more centralized location.
"If you've ever seen a riser going into a building, there are typically a lot of steps with ductile iron mechanical joints, including cutting pipe, attaching elbows, connecting all the various pipes together with mechanical joints. It's a very, very manual process. And generally, this is done at the job site. You need a lot of employees to pull this together. With our risers, it's a single piece of stainless steel pipe. Once the trench is dug, two guys can drop it into the ground. We offer customizable solutions. We can ship up to a 20-foot run section of pipe. We can customize anywhere up to 20 feet, 8 by 8, 8 by 10, we can make custom sizes anywhere from 2 inches to 10 inches, which is certified. We can make 12 inches but the local authorities have to approve it because it's generally not certified ULFM, which is required in fire systems."
For more information on Watts training opportunities, visit www.watts.com/resources/training/learn-from-the-experts.