As we head further into 2023, we thought it was a good time to look at how the plumbing industry is responding to demographic shifts that are occurring across the United States. According to U.S. Census reports, the fastest-growing population are both the 'Boomers' (those 58+) and the even larger demographic of those in their 80s. According to newly released 2021 population estimates from the U.S. Census Bureau, the median age in the U.S. is 38.8 years. The median age for most states increased from 2020 to 2021, indicating that the across the United States populations are getting older.
How is the aging population changing product design? Builders and designers have been hearing from clients that homeowners now want to age-in-place, and they also want to renovate their existing homes to accommodate various generations living under one roof. The lack of housing stock and current mortgage and interest rates have contributed to this phenomenon. This shift in living has been a boon to the renovation industry, and it has given rise to innovations and building processes that elegantly combine technology and health benefits in the service of independence for elderly or anyone with physical challenges.
We wanted to break down some areas where smart technology and excellent design solutions intersected.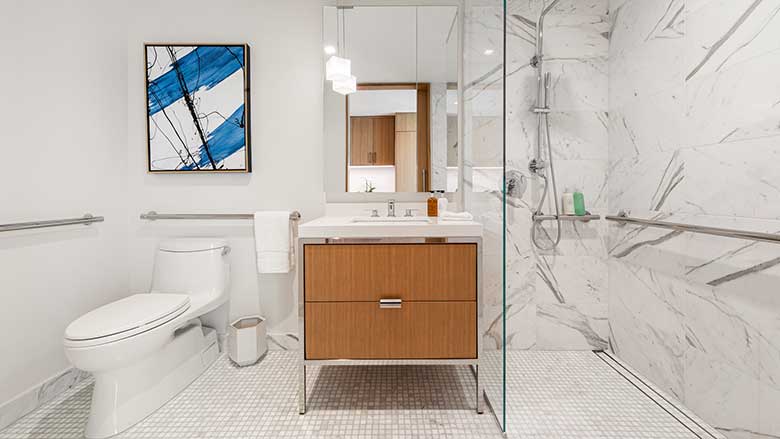 Voice-control — it's really here
While it's easy to think of Google's Alexa or other blue-toothed-enabled voice-activated products as great choices for playing music — there is an entire industry built around helping those with physical challenges live more independently.
Voice-activated smart thermostats and voice-smart lighting can each be connected to cell phones for full control. The benefits to being able to control your thermostat from your phone means you can turn the heat up before you enter and conversely, turn it down when you leave. You can create schedules so that when you're out and about, you can ensure your home will be at your desired temperature by the time you get home. That's why many power companies are actively promoting smart thermostats to their customers. Voice-activated smart lighting is especially helpful for anyone with physical challenges — the ability to turn lights on/off from anywhere in the house is especially useful if someone is in bed and has forgotten to turn off the living room lights!
The use of video cameras installed outside of homes has become a must-have for the elderly or anyone who cannot easily get up to answer the door anytime someone rings the bell. Being able to see deliveries being made via video cameras and having the camera connected to the ability to lock or unlock doors adds an additional sense of security. Smart locks are excellent devices for people with mobility impairments because it provides trusted people with keyless entry. It's also safer than a keypad, as it's impossible for somebody to crack the code and gain unauthorized entry to your home.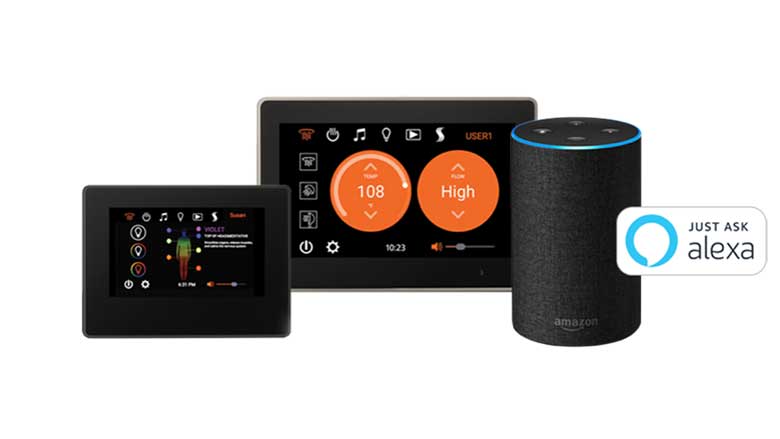 There have been major advances in bathroom products, with voice-activated products giving homeowners control in a way they did not have previously. By syncing a smart shower valve to the showerhead and to a voice-activated product like Alexa, homeowners can now ask Alexa to 'Start the shower.' Using pre-programmed controls for duration and precise temperature ensures that the shower or steam will be as personalized as possible and last only as long as programmed.
Barrier-free bathrooms are now the norm
By removing obstacles to provide sufficient space with the addition of good lighting and easy-to-use controls, designing a barrier-free bathroom allows people with various levels of physical disabilities to remain independent. Fitted with fixtures such as adjustable hand-held showers, folding benches, and threshold-free entrances, barrier-free bathrooms no longer need to look or feel industrial.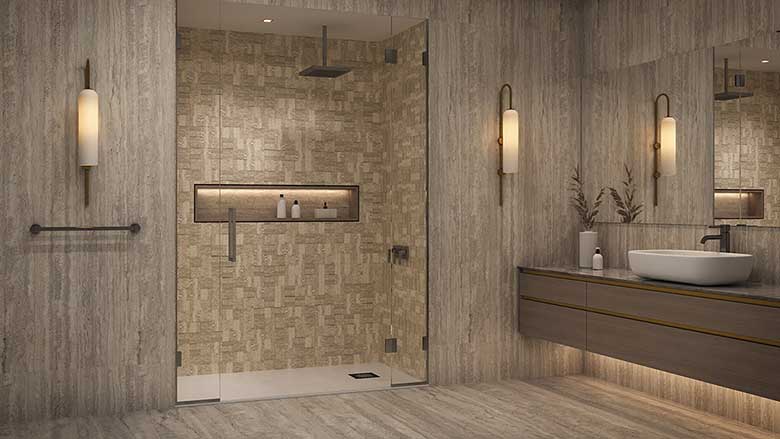 There are important building aspects that plumbers and contractors should be aware of when creating a functioning and safe barrier-free bathroom. Aside from fixtures and furniture one of the most important design considerations is the construction of the floor, especially the shower base.
When constructing a large barrier-free bathroom, floor heights should be equal between the shower area (wet area), outside the shower (dry area), and the next room. Preferably, installation should include a linear drain, as the drain needs to span from wall to wall inside the shower enclosure a minimum of 60 inches. This keeps water from pooling under the shower seat and allows a consistent one-plane floor pitch.
For smaller spaces, many architects use shower bases made from Mineral Cast materials. These bases improve structural integrity making them very durable, easy to clean and beautiful. These bases use traditional center drains but the waterproofing and floor height construction needs are the same.
Today's home continues to evolve, and the plumbing industry remains committed to meeting the challenges that homeowners face…all with an eye towards helping everyone age in place.