When plumbing emergencies inevitably happen, plumbing contractors have to act quickly and make pipe repairs swiftly so they can mitigate water damage for their customers. There are several methods you can use for pipe repairs — soldering, gluing, crimping — but only one offers the quickest fix and long-term reliability: Push-to-connect fittings.
While you may gravitate toward other plumbing techniques for your day-to-day installations, here's why you should also keep push fittings handy for repair situations.
1. They're quicker
Traditional repair techniques like soldering or gluing can become complicated and time-consuming in emergency repair situations, especially if you're waiting for wet pipes or glue to dry. This extra time on the job unnecessarily extends the hassle for the customer and cuts into hours you could be using to pick up more jobs.
Push-to-connect fittings simplify your process and reduce leak points by allowing you to make smooth connections in seconds. This is because of a few key features:
They don't require special tools or techniques. Just cut, push, fixed; and
Some options can also be installed in wet lines, which allows for faster repairs — even if you're unable to shut the water main off.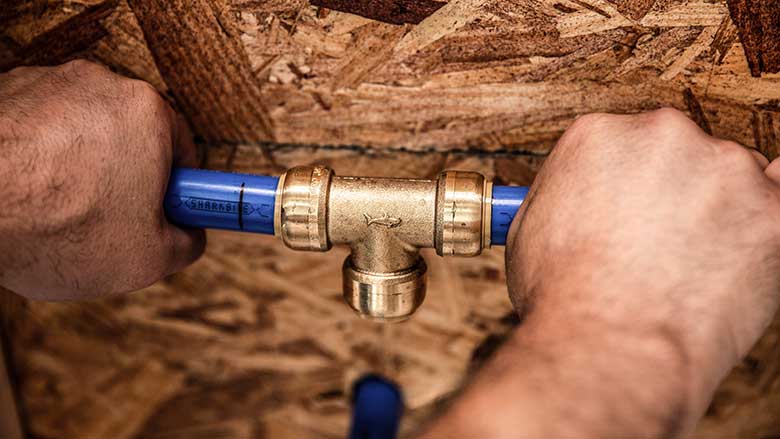 These same benefits are a huge asset as the industry struggles with a labor shortage. Because push-to-connect plumbing has less of a learning curve than other installation methods, you can put apprentices and new hires to work more quickly to distribute the workload, maximizing productivity and increasing profitability. In a tight labor market, that's no small thing.
2. They're versatile
Being able to work not only quickly but also dynamically is important when making plumbing repairs. A major draw of push-to-connect fittings is how much flexibility they give you.
Couplings. You may come across pipe types you don't have on hand or tubing you don't want to use because they're more expensive or less reliable. Push-to-connect couplings that are compatible with CTS pipe — such as PEX, CPVC and copper — allow you to work with multiple kinds of materials seamlessly. Some brands even make fittings that you can use to replace brittle polybutylene pipe or replace broken PVC. With just a few different kinds of push fittings on your truck, you'll be prepared to fix plumbing issues no matter which type of piping you encounter on the job.
Other repair products. Aside from couplings, you can find push-to-connect ball valves that let you quickly shut off water for repairs. These come with the same end connections that work with various pipe types so you can quickly stop leaks.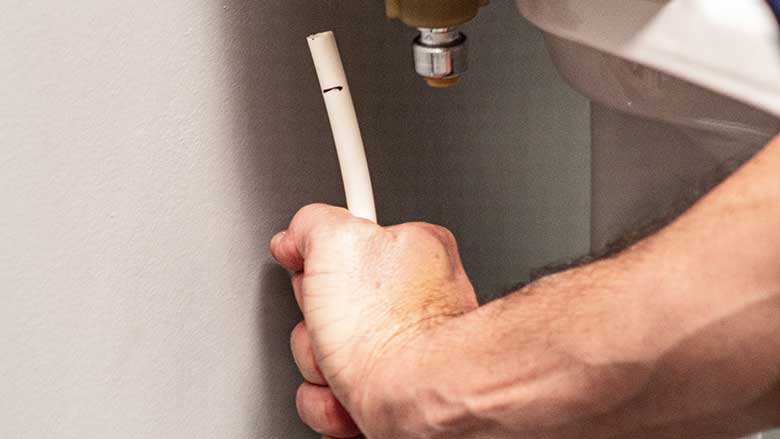 3. They're ideal for tight spaces
When you get a call for a plumbing repair, you could be working anywhere in the building, including cramped spaces like closets, under sinks or up in the corner of a ceiling. While a tool-less install makes push-to-connect fittings quicker to use than traditional methods, it also helps make your jobs less of a hassle no matter how much elbow room you're working with.
With a more streamlined installation process, you can worry less about some common issues of working in tight spaces, including:
Putting strain on your body for a long period of time;
Wielding bulky tools that limit your movement;
Potential risk of fire or injury from using torches in close quarters;
Having crimp rings and clamps shift while you work.
4. They can be used long-term
While there's a common misconception that push fittings are only good for temporary fixes and need to be replaced with a long-term solution, many products are formally cleared for permanent connection, meeting standard plumbing codes.
For instance, some push-to-connect fittings are approved by the Uniform Plumbing Code and International Plumbing Code for permanent installation. They're also approved for behind-the-wall and underground (when wrapped) use.
For additional peace of mind, you'll also find that these types of fittings are backed by a warranty too.
5. They're established in the industry
While push-to-connect technology looks different from traditional plumbing techniques, it's not an untested or under-used method by any means.
Plumbers across the country have also relied on push-to-connect technology for years. In fact, push-to-connect fittings providing faster service and superior quality whether you're replacing fixtures or repairing a frozen pipe.
At the end of the day, fittings that let you work faster without sacrificing quality give you more happy customers while allowing you to finish more jobs — ultimately putting more money in your pocket.