When you talk about water scarcity and the lack of clean drinking water, most people think about third-world countries. They don't realize that there's a growing threat to clean water right here at home in the United States. Look at the February train derailment in East Palestine, Ohio, where a fire forced the controlled release and burn of toxic chemicals to avoid an explosion. The resulting contamination killed thousands of fish in nearby streams and ignited concerns over soil and water quality.
Events like these are sadly becoming more common. Everyone remembers the Flint, Michigan, disaster. Because of this, homeowners are now more aware of the importance of clean water than ever before, driving increased interest in the growing water filtration market.


Mike Mormino, vice president of sales and marketing, ENPRESS believes there are multiple reasons for why water filtration has surged to top of mind for consumers.
"People were stuck at home during the pandemic and had extra financial means, either through saved monies that were not used to go on vacations or from the government during the pandemic, home projects surged," he explains. "The water treatment industry was part of that ground swell. Additionally, we were stuck at home, drinking our unfiltered water out of the tap, couldn't go to the store really to buy bottled water and were not in the office drinking from our filtered water cooler — perhaps consumers realized that with a little research, they could have good tasting and healthy filtered water at home, either throughout the home (Point-of-Entry) or at the kitchen sink (Point-of-Use)."
Mormino also points to the media for the surge in interest.
"PFAS (Per and polyfluoroalkyl substances) and lead contaminant awareness in news articles have not slowed," he says. "They are far more common today than I can ever recall, and I have been in this industry for nearly 20 years. It's never been like this, with the Environmental Protection Agency (EPA), The New York Times or other large and national publications publishing articles about forever chemicals and removal of lead service lines, the list truly goes on and on. Almost everywhere you turn, water is in the news and so it is very hard for a consumer not be aware and subsequently water has moved to becoming top-of-mind. Lastly, with state and federal regulations continuing to push forward, and the joint efforts of WQA and IAPMO on the proposed legislation on the Healthy H2O Grant program Act to bring water filtration grants to those in rural communities, the awareness has grown at the state and federal level and throughout Congress."
Shawn Pan, business development manager for Kohler, there are several drivers for the increased awareness, not only the high profile water contamination cases, such as Flint, but also the frequent boil water alerts issued by local health officials in a number of U.S. cities.


"Consumers are increasingly aware of the contaminants such as lead, bacteria, virus, chemicals like PFAS — the forever chemicals in the water supply," he says. "The survey results consistently revealed that public trust in municipal drinking water quality in the U.S. is declining. Additionally, water pollution along with drought, inefficiency, and an exploding population has contributed to a global freshwater crisis, threatening the sources we rely on for drinking water and other critical needs."
Increasing demand
The increased awareness over water quality has driven product demand, but also added product development and pressure on engineering within companies and firms to meet the new demand for contaminant removal, Mormino notes.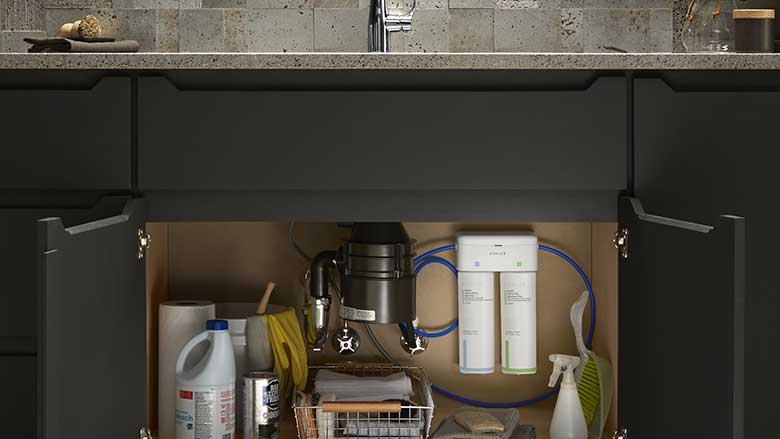 Plumbers play a critical role in improving water quality becuase they interact with consumers daily and can educate them on the importance of healthy drinking water, according to Kohler's Shawn Pan.
"If product standards are developed, it drives firms to develop engineered product solutions to meet or exceed the water filtration requirements of that new standard," he says. "Products must go through extensive in-house testing and field trials, and then subsequent third-party product certification. Most of this product certification is done through three ANSI accredited organizations that are approved for product certification requirements to certain standards. These are The Water Quality Association (WQA), International Association of Plumbing and Mechanical Officials (IAPMO) and National Sanitation Foundation (NSF). Standards exist to hold manufacturing companies accountable for their products meeting or exceeding standards from contaminant removal, ensuring they do not contain lead in their product manufacturing, or do not put certain chemicals or contaminants into the water when used in the marketplace, just to name a few."
Jody Rahoy, integrated marketing manager, InSinkErator, also notes the increased interest have driven water filtration manufacturers to expand their product offerings and improve filtration technology. "Consumers themselves have also become more aware of what filtration products are available and what issues they address."


Kelly Mills, commercial director of water treatment for GE Appliances Air & Water Solutions, points to the 2021 WQA Consumer Opinion Study, which found that concerns about contaminants and desire for a healthy lifestyle are considered the most important factors influencing the decision to purchase a water filtration product after the COVID-19 pandemic. "The study indicated about a quarter of those who do not have water filtration in their homes said they are likely to install products in the near future, with 10% saying the possibility was very likely."
Point of Entry vs. Point of Use systems
The 2021 WQA Consumer Opinion Study found that, of the current water filtration systems installed in homes, 32% were one installed under the sink (POU) and 16% whole house (POE).
According to Mormino, both POU and POE devices have their place.
"Many times, the differentiation is an apartment complex and all one has access is to the water filtration device at their kitchen sink or their refrigerator filter," he explains. "Sometimes it is financial or a customer preference for wanting to filter just what is drunk in the home, versus filtering all the water so that the water one brushes their teeth or takes a shower in, is also filtered. There are far more volumes of POU filtration systems and filters sold globally than POE devices, but this could be due to a number of factors, from lower POU price points to availability and marketing in big Box stores to ease of installation. Much of these decision are based on consumer preference and access to the water that enters their residence."
Mormino adds that POE devices have long life with a large filtration capacity for a multitude of contaminants but at a higher price point. "Additionally, for POE solutions, the systems more than likely need to be installed by professional installer that is state or board certified to come into the home and cut the Inlet service line into the home at or around the water meter in the home, whereas a POU system does not have this requirement."


Mills also points out the POE systems can reduce sand, sediment and particulates throughout the home, helping to protect plumbing, appliances and delivering better quality water to every tap.
Though POE systems are growing in popularity, POU systems remain the primary method of water filtration due to easy installation and low cost for both the initial system and replacement filters, according to Rahoy.
"A POU system provides easy installation and a low cost for both the initial system and replacement filters," she says.
Pan acknowledges both methods as effective means to treat water and remove contaminants as designed.
"Whole-home water filtration systems provide comprehensive solutions for all water uses from drinking to cooking to bathing," he says. "It generates large flow treated water and gets the appliance protected from damage caused by hard water and other contaminants. The POE system in general is more expensive and professional installation is required. "POU systems provide targeted filtration. It is a cost-effective solution and easy to install. The POU system in general has limited water filtration capacity by design."


The plumbers role
As Mormino mentions previously, a licensed plumber is absolutely necessary for installing a POE system, and most consumers would prefer a professional installing a POU system as well.
"A plumber's role for improving water quality is that they can be considered as a trusted source for installing and maintaining water treatment systems and their knowledge to advise consumers on the importance of water quality and how filtration can help safeguard against potential contaminants," Rahoy says.
It can also become an additional revenue stream for the plumber, Mormino points out.
"If the plumber is educated on the technology and can offer multiple filtration options or solutions to a consumer, whether residential or commercial, overcoming price objections becomes less of the conversation or requirement in the dialogue or relationship they have," he says. "Consumers are looking for product solutions and the plumber can be the resource to give a host of product options for evaluation by the consumer to take care of the concern or issue at hand."
Pan adds that plumbers can focus on the value of service. "By providing options to the customer, being transparent, building trust, offering financing options and following up with the customer, plumbers can help customers feel confident in their decision to invest in plumbing services and ensure a positive customer experience."
What's next?
With the ability to now test into the parts-per-trillion (ppt), the public is now able to see more of what's inside our water, Mormino explains.
"That clarity is why we see so much activity now in the PFAS arena and with new regulations, filtration methods and product solutions to remove these 'forever chemicals,'" he says. "Because of these better testing methods, I believe we are only getting started on understanding the chemicals and items that are in our drinking water, and what illnesses these chemicals can potentially lead to. The testing clarity will lead us to new product and filtration solutions to address these, as the innovation requirements drive this continued awareness at the consumer level."
Mormino adds filtration systems will also become smarter and more connected, but within reason. "What I mean by this is that notifying a consumer of what is in the water, how a filter is performing and when to order a new one and to communicate with their plumber on how or when to order a new replacement filter, will be the drivers of the connected system. What we have to try and avoid is over complexity and the consumer's unwillingness to add another app to their phones or other devices to manage the installed water filtration systems. This will remain the challenge as connected devices evolve and move forward."
By providing options to the customer, being transparent, building trust, offering financing options and following up with the customer, plumbers can help customers feel confident in their decision to invest in plumbing services and ensure a positive customer experience. – SHAWN PAN
GE Appliances currently offers a Smart Water Whole Home Filtration System and Smart Water Softener System with leak alerts and remote shutoff capabilities, Mills points out. "These water treatment solutions enable people and families to receive home water leak alerts, access details about their water systems and perform remote water shutoff through the custom-designed GE Appliances SmartHQ mobile app, compatible with both iOS and Android devices."
Pan notes that the industry will see a lot more smart and connected products in the future. "We will also see more innovative water filtration solutions to address sustainability, health and wellness, and personalization needs, and new high-efficiency membrane and water quality sensor technologies."