According to the National Kitchen and Bath Association (NKBA) Living Impacts Design Report for 2020, there are four overarching themes emerging throughout the bath and kitchen industry: Healthy living, simplified living, connected living and living in place.
No surprises here, as staying connected and health and sanitation are top priorities for most people this year, largely due to the pandemic. Simplified living reflects the continuously busy homeowners and businesses that society is made up of; convenience and ease are more important than ever.
Easy cleaning is hugely desired in both the bathroom and the kitchen. Sixty-nine percent of NKBA survey respondents say that an undermount sink is preferred in order to make cleaning easier, while 59% want self-cleaning toilets. In the kitchen, 62% say that a giant sink for easy washing and cleaning is extremely effective.

Hands-free is key
Touchless technology has reigned over most other topics in the bath and kitchen space over the past year. The trend will continue to grow, but is it all thanks to the pandemic? 
Although the touchless technology movement seems to be linked heavily with the COVID-19 pandemic, Brittany Merritt, category manager, finished plumbing, consumer and builder for Ferguson, notes the technology has been around for years, and is really a part of the smart home era. "Thinking back to KBIS last year (2020), before COVID was talked about, the booths were full of touchless technology," she says. "I think it's really the wave of the future and part of the smart home features people are after."
According to Merritt, the drive towards touchless technology is more prominent in the kitchen than the bathroom. "We certainly see some of it in the bath, but in the residential space, I think the kitchen leads the way for a few reasons," she says. "The kitchen is a high priority and high-traffic space where you get the most muck and dirt. Bathrooms are certainly a great spot for touchless, but the kitchen has led the way and was the first area that came out with touchless for the home, so there are more options available there."
Voice activation is also continuing to gain popularity in the bath and kitchen space. Kate Bailey, senior director, category management, consumer and builder at Ferguson, notes that voice-activated metric capabilities are widely available, but the consumer response is still unknown. "Using Amazon Alexa to fill a baby bottle or coffee pot is really cool, but I don't think we have the response yet to tell if consumers are really utilizing those capabilities on a daily basis," she says.
Kris Alderson, senior marketing manager with Bradley Corp., says that wellness has been a growing movement for the past five years, but COVID-19 has amplified the relevance. In the commercial space, hands-free products are becoming increasingly popular to reduce surfaces that need to be touched and prevent cross contamination. 
"As Americans adjust to public life in the age of COVID-19, the vast majority are looking for a completely no-touch experience. Bradley's Healthy Hand Washing Survey, most recently conducted in April, found that 91% of Americans believe it's extremely or somewhat important that public restrooms are equipped with touchless fixtures," Alderson explains.
Katie Hayes, director of product management for Gerber Plumbing Fixtures, sums up the touchless conversation nicely, explaining the commercial space is the most prominent area for hands-free fixtures. 
"In the past year as we battle this global pandemic, we've seen an increased interest in touchless technologies related to health and wellness, with a strong focus on shared and public spaces," she says. "In public, handwashing is the primary use of touchless products in the bathroom space, while at home, faucets and sinks are used for tasks and allow consumers to have more control over the health and safety of our families and spaces. I believe that American consumers still prefer the reliability and control available with standard faucets, adjusting temperature and volume for each specific task, and eliminating the added cost and complexity of touchless faucets in their personal bathroom spaces."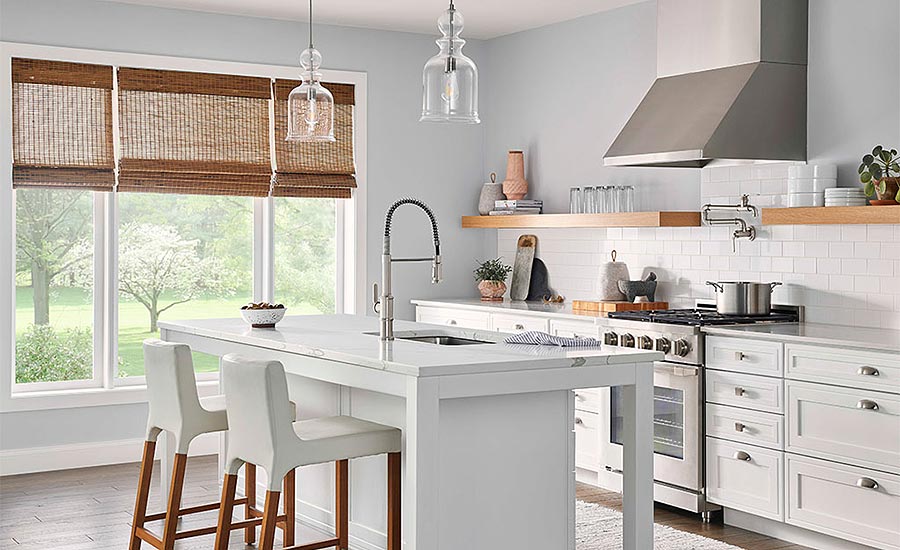 Gerber's Kinzie single-handle pulldown kitchen faucet.
 
In the kitchen
According to Hayes, style and functionality are key in the kitchen. "Consumers want to easily find products that make their time in the kitchen more enjoyable, and make chores quick and easy," she says. "For professionals, ease and speed of installation and product reliability are top of mind when recommending brands to their customers."
Although touchless is popular, standard touch and pulldown faucets are still claiming space in the kitchen. Hayes notes pulldown kitchen faucets are a great way to cater to both pros and homeowners. "Pulldown faucets continue to deliver optimal performance and style," she says. "Open concept kitchens deliver on the multi-use requirements of kitchens today, and often that includes a secondary faucet. Gerber's new Kinzie collection includes four different faucet types for the kitchen; prep, pulldown, pre-rinse or pot filler."
Merritt agrees, noting that Ferguson's top-selling kitchen faucet is the Delta Trinsic faucet. "Our number- one seller is a touch product, it's an electric faucet where you touch on and touch off. It's been a number- one seller for a few years now."
Bailey brings up an interesting point on why touch faucets remain a favorite for some consumers. "I think consumers enjoy the sense of control with turning the faucet on and off," she says. "Faucets where you can use an elbow or the back of your hand to operate are really popular; it's still that hands-free ability, but with the operational control people want in the kitchen."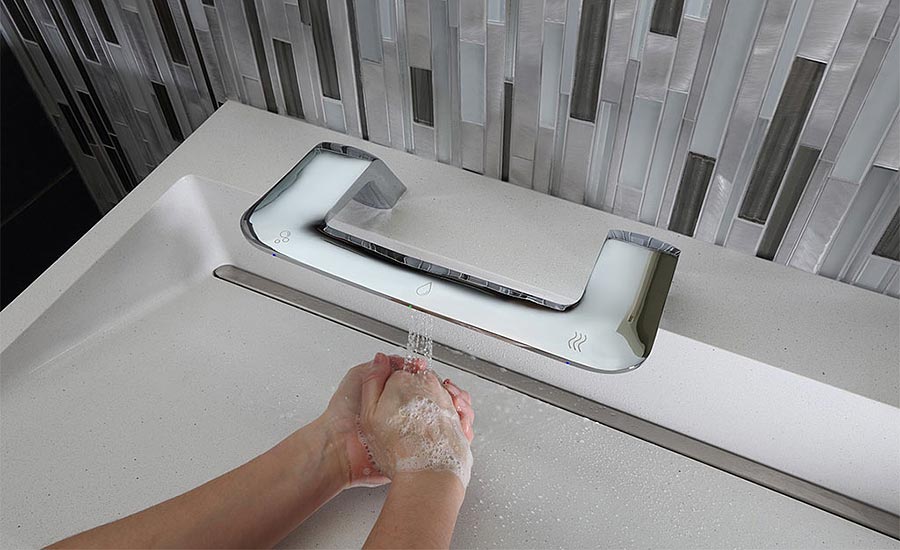 Bradley's touchless WashBar series offers hands-free solutions for the commercial space.

Smart toilets 
Although they aren't the most glamorous part of the bathroom, toilets are evolving with new technologies. "Not surprisingly, toilets are becoming cleaner and smarter," says Kevin McJoynt, director of product management, fixtures, Gerber. "Manufacturers are putting more effort and energy into designing toilets that are easier to keep clean — both inside and out — and some even have self-cleaning capability."
McJoynt notes that toilet design and surfaces are manufactured to reduce dust and dirt collection, making them easier to clean.
"The porcelain surface often has super-slippery characteristics to help keep the bowl clean and inhibit the growth of germs and bacteria," he says. "The idea of sensor-operated toilets is becoming more accepted as the technology, battery life and aesthetic designs continue to improve. Toilets now have integrated seats with functions such as hands-free operation, heated seats, nightlights and bidet functions. Some even perform basic health monitoring functions, measure water consumption, and can alert the owner of a possible leak."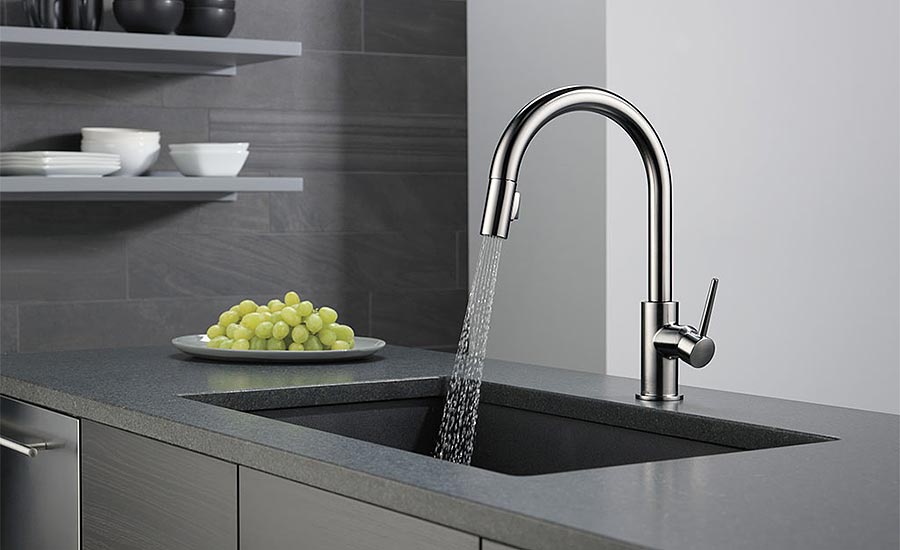 Ferguson notes the Delta Trinsic pulldown faucet is the showroom's best-selling kitchen faucet.
 
Conservation and efficiency
As the world strives for increased hygiene and cleanliness, the push for water conservation could be taking a back seat in some cases. 
McJoynt notes the push for water conservation and the consumers' desire for cleanliness and sleek designs often oppose one another. 
"Customers want a clean look and style, but the push to continually reduce the water consumption in plumbing fixtures and fittings can oppose that at times," he says. "We learned that when push comes to shove, people generally pick clean and hygiene first and efficiency second. There is a small percentage of consumers that are true conservationists, but most will use as much water as they are allowed to use. That is set by state regulations or local codes and/or incentives in the form of rebates. Commercial facilities often see a greater benefit in water efficiency due to their scale, so demand for these highly efficient products is stronger with multi-unit and hospitality projects than at the individual consumer level."
Chris Oatey, general manager, QuickDrain agrees, saying the commercial space is more concerned with water efficiency and conservation. "There is a focus on sustainable solutions, such as efficient faucets, water-saving showerheads, LED lighting and the use of recycled materials to reduce our footprint in the building process," he notes. 
Sustainability in the restroom looks like using different materials for product developments and increased use of hand dryers. "Sustainability is factored into restrooms in terms of maintainability, durability, initial costs and total lifecycle costs," Alderson notes. "Product materials such as natural quartz, solid surface, recycled materials, stainless steel, etc., all help customers achieve sustainability goals."

Overall kitchen and bath demands
When asked about responding to customer pain points and wants, manufacturers all agree that increases in cleanliness, water efficiency, hands-free products and ease of cleaning are capital investments among both the residential and commercial sectors.
Oatey notes that due to technology and social platforms, design improvements in kitchens and bathrooms will continue to have a high bar to reach.
"Consumers have an interest in taking their kitchen and bathroom designs to the next level," he says. "More consumer research is taking place on social media platforms, such as Pinterest and Instagram, to gather inspiration for creating the ultimate bathroom oasis. The adoption of more finish options and creatively captured inspiration will continue to develop throughout the rest of the year."