Much like every other industry event on the calendar last year, the National Association of Home Builders (NAHB) and the National Kitchen & Bath Association (NKBA) decided to move the annual Design & Construction Week — featuring NAHB's International Builders' Show (IBS) and NKBA's Kitchen & Bath Industry Show (KBIS) — to a virtual platform due to health and safety concerns and ongoing travel restrictions stemming from the COVID-19 pandemic.
The all-virtual DCW 2021 will still take place Feb. 9-12, but from the comfort of attendees' own homes. IBS and KBIS virtual attendees will have access to both shows' exhibitors to see the latest product launches and cutting-edge housing and design innovations. An expo pass registration is free for all NAHB and NKBA members. There is also non-member pricing and options to add-on education access for each show.
"While 2020 brought many challenges, including the decision to bring KBIS 2021 to a fully virtual format, we are confident it will remain the key event for the kitchen and bath industry," says Bill Darcy, CEO of NKBA. "We've responded by creating excitement in an extraordinary new space, developing ways to reach broader audiences across the U.S. and globally, and with interactive, immersive presentations. The NKBA will use this dynamic platform to engage and educate our members on how best to position themselves for a successful year."

IBSx
The IBSx Virtual Experience will feature new product launches, live demos, more than 100 educational sessions, live Q&A chats with session speakers, live one-on-one meetings, virtual tours of The New American Home and The American Remodel and networking opportunities.
The educational sessions will be a mix of live sessions offered in real-time; semi-live sessions, which blend pre-recorded elements with live speaker interaction through video chat; on-demand recordings, which are available to attendees through March 31; and educational sessions in nine industry tracks, including: Architecture & Design, Building Techniques & Strategies, Business Management, Custom Building & Remodeling, Land Development & Community Design, Multifamily Housing, Project Management, Research & Trends and Sales & Marketing. 
The IBSx Opening Ceremonies will feature keynote speaker Mike Rowe, best known for his hit TV series "Dirty Jobs." Rowe is a well-known advocate for skilled trades, and the CEO of the mikeroweWORKS Foundation — a 501(c)(3) public charity that debunks myths and misperceptions about the trades and helps close the skills gap. The foundation has granted millions of dollars in work ethic scholarships.
PQ:"KBIS Virtual 2021 will provide exhibitors the opportunity to create their own virtual booth aesthetic and programming, chat live with attendees, host panel discussions and networking events, provide showroom tours, introduce new products and much more."
KBIS Virtual
Late last year, the NKBA announced its partnership with Sequin AR, an augmented reality content creator. NKBA and Sequin will produce multiple events for KBIS Virtual 2021. Founded by Robert DeFranco, Sequin AR first garnered global attention in 2019 for bringing five of Madonna's virtual personas to life on stage as part of her performance at the Billboard Music Awards. 
"KBIS is the premier trade platform for our industry every year. In person or virtually, our job is to make it remarkable," Darcy says. "This new partnership is an opportunity for us to create an unparalleled event for our exhibitors and attendees. Working with the team at Sequin AR, we can produce events like our Design + Industry Awards that are inclusive, interactive — and most of all, entertaining. We want our attendees to feel like they have a front row seat to our version of the Oscars."
KBIS Virtual will be open daily from 10 a.m. to 6 p.m. EST. During these hours, attendees can explore the virtual Expo Hall, participate in one-on-one meetings with brands, experience product demonstrations and attend exclusive live events ranging from the annual State of the Industry address to panels from the KBIS NeXT Stage and awards ceremonies.
"We are looking forward to hosting KBIS virtually," says Jason McGraw, group vice president, KBIS. "As we anticipate a solid turnout, one of our top priorities is to create a seamless experience for attendees, who will be able to interact with exhibitors in a variety of ways. KBIS Virtual 2021 will provide exhibitors the opportunity to create their own virtual booth aesthetic and programming, chat live with attendees, host panel discussions and networking events, provide showroom tours, introduce new products and much more."
Also new for the virtual experience is expanded round-the-clock attendee access through March 31. All KBIS programming, including exhibitor booths, educational sessions and special events will be available on-demand after the scheduled viewing, giving attendees ample time to explore and experience all that KBIS Virtual has to offer.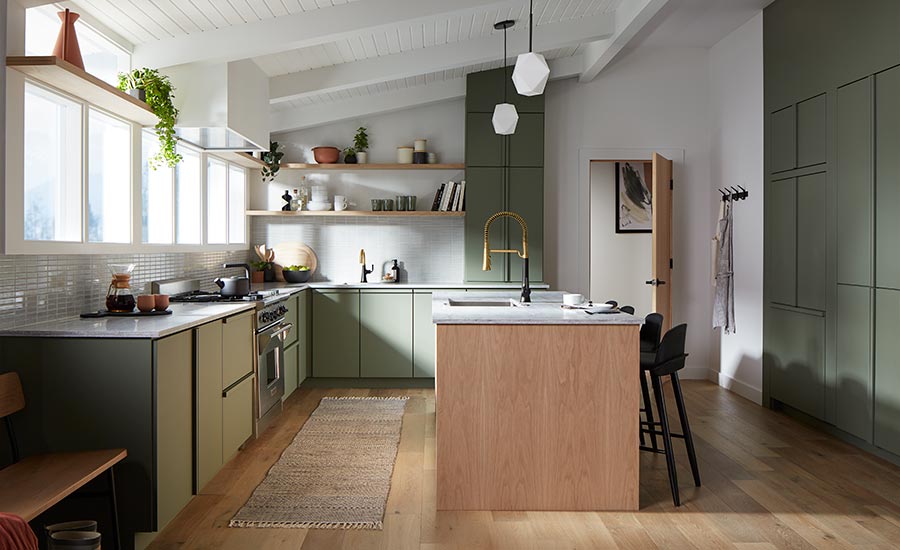 Kohler will showcase several new products at KBIS, including its Tone faucet collection features an easy-to-clean coated hose and removable coil, a three-function pull-down sprayhead with touch control and boost technology, which increases the flow rate by 30% with the press of a button.
Exhibitors remain positive
Kohler Co. has participated in KBIS for decades, and that won't change this year with the pivot to a virtual format, according to Jason Keller, senior channel manager at Kohler Co.
"As an industry and global collective, we've had nearly a year to acclimate to this new normal of connecting virtually," he says. "We are energized by the new opportunities a virtual trade show experience affords us, and believe this will lead to a vitalization of our industry. 
"While a fully virtual event of this magnitude is certainly a pivot, it's an experience we've been exploring since early last year," Keller adds. "Our virtual booth is designed to celebrate innovation, inspire and educate. We've created rich content to showcase new products and the stories they support within the lens of technology, wellbeing, the impact of clean and hygiene, personalized design and much more."
To ensure an interactive experience for attendees, Kohler's virtual KBIS booth will include the ability to book meetings with customers looking for additional information or help connecting on upcoming projects. The company will also participate in the virtual KBIS panel, "The Crystal Ball: Predicting the Unpredictable for 2021."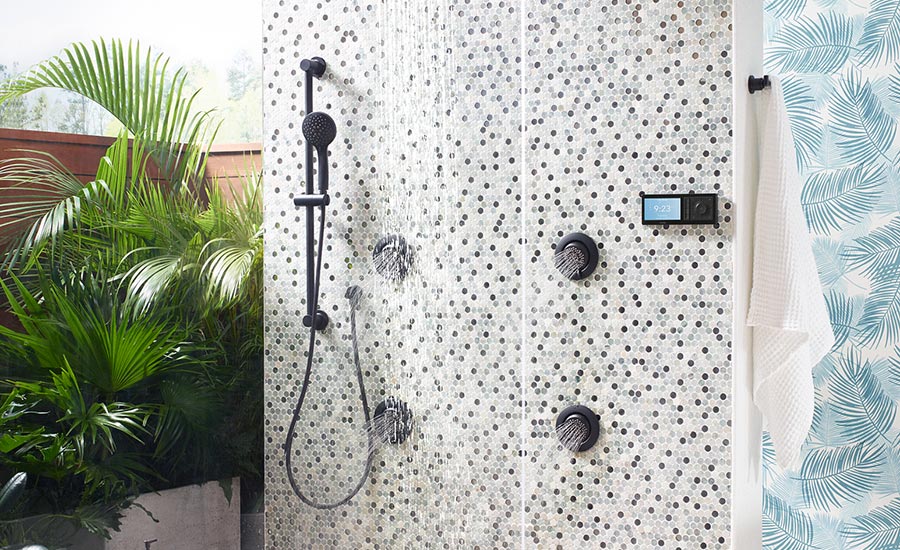 Moen will also highlight new products during the show, including its Aromatherapy shower, Smart Shower design and Nebia Spa Shower designs.
Kevin Campbell, vice president and general manager — kitchen and bath for Moen, notes the company is thrilled to have the opportunity to interact with customers in exciting new ways.
"Even with a virtual show format, we're committed to providing options to experience what's new with Moen," Campbell says. "We'll have digital information available as well as an exciting virtual home for attendees to explore our latest product designs and smart water innovations.
"It will certainly be different not seeing everyone in person on the KBIS show floor this year," he continues. "This virtual format has challenged us to get creative and we've been working hard to create a virtual experience that beautifully illustrates how Moen products work within the home environment to enhance and elevate people's experiences with water."
According to Campbell, attendees will be able to interact and meet with Moen representatives via the KBIS virtual platform. Within this hub visitors will find everything they'll need to make their kitchen and bath projects beautiful and more intuitive.
Neoperl expects KBIS to be a learning experience for everyone this year, according to J'aime Salvatore, senior director of sales and marketing for Neoperl.
"It's an opportunity for us as exhibitors, and also for attendees, to see what is really possible in a virtual event, and also to connect in a new and different way with customers and colleagues," she says. "We also hope to engage with people that would not have attended KBIS in person under normal circumstances due to the costs or scheduling, but this virtual option suits them better.
"Our staff will be ready and waiting to talk to attendees via chat, video meetings, and email to answer any and all questions they may have," she explains. "We will also have literature and videos for visitors to peruse as they please. We are thrilled to have a virtual option for KBIS. We are excited to connect with old and new contacts at the show and look forward to seeing attendees online."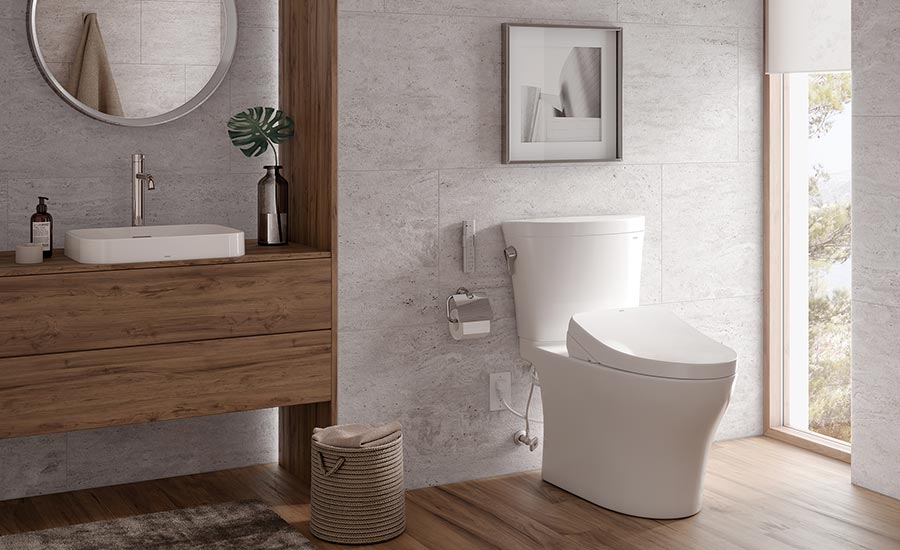 TOTO will highlight its new WASHLET C5 bidet, which features adjustable water temperature and volume, warm air drying with three variable temperature settings, a slim wireless remote with illuminated touchpad and an automatic air deodorizer.
William Strang, TOTO's president of corporate strategy, eCommerce and customer experience says the virtual show is going to be a very interesting opportunity. 
"We have a different way of addressing KBIS attendees, and we want to make sure we do that in an effective manner," he says. "So it comes how to make this kind of a conversation that is as dynamic and enthusiastic as when people actually come to the show in person. One of the things we're doing is we will have a series of videos and live events. These kinds of discussions are going to take place on an ongoing basis throughout the show. Right now, we're doing the very same thing at the CES show as we speak. CES is giving us a chance to test some of these digital experiences. We will have video presentations, including some brand new product introductions into the marketplace."
Strang notes that the 2020 work from home phenomenon and virtual experience has helped TOTO understand how best to convey its message and develop the right storytelling for 2021. 
"KBIS, honestly, is all about storytelling," he says. "It's about telling the story about the products, their benefits and the experience, and bringing some excitement into it. For us, it's about telling the story of design, innovation and technology, and our continuation to improve and bring a healthy, hygienic experience to the marketplace."
Design & Construction Week will return to Orlando, Florida, as an in-person event Feb. 8-10, 2022. For more information on the 2021 show schedules, visit www.buildersshow.com/generic.aspx?sectionID=1541 and www.kbis.com/master-agenda/#.