While the history of radiant heating stretches all the way back to the Roman hypocausts more than 2,000 years ago, the technology is still growing in popularity today.
"The concept of being comfortable in a space without ice cold floors appeals to humans across recorded history," notes Ryan Westlund, senior manager, radiant heating and cooling with the building solutions division at REHAU. "Once relegated to ski chalets, where radiant floor heating was used as a luxury option in higher-end residential, radiant is now taking hold as a more common part of high-performance HVAC systems in commercial spaces. High levels of energy efficiency and thermal comfort are key aspirations in the design of many different types of spaces nowadays."
Barry Campbell, vice president of marketing, Aquatherm North America, notes commercial building owners and operators are aware that water is a much more efficient heat-transfer medium than air.
"Rising demand for energy-efficient cooling and heating systems is a key factor driving the radiant market," he explains. "A radiant heating system provides exceptional comfort at relatively low temperatures, making it more cost-effective and energy-efficient for consumers. In the radiant cooling process, chilled water is circulated through floors and beams, thus cooling the structure as well as the air in it."
While radiant is an excellent choice for both occupant comfort and energy efficiency savings, it only holds a market share in the single digits compared to other forms of heating, notes Kate Olinger, senior manager, residential segment, Uponor.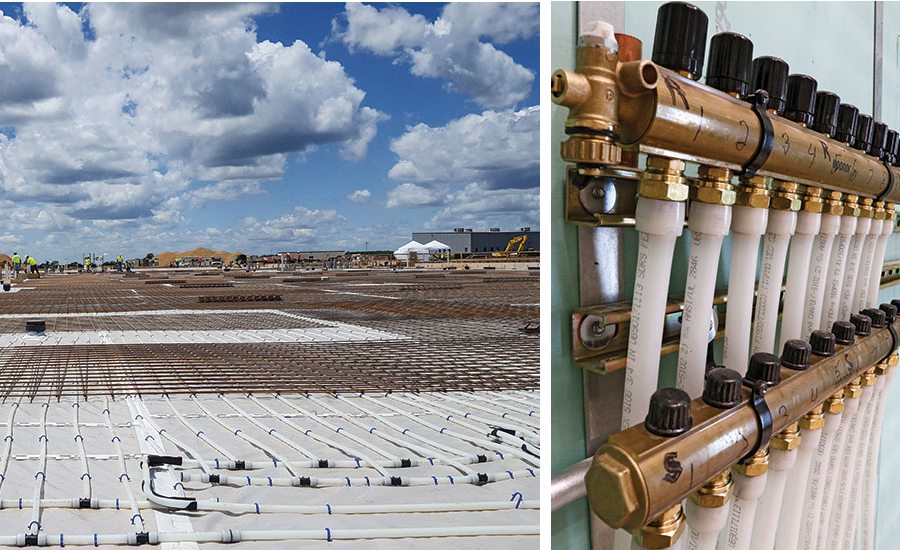 "Traditional radiant installations typically involved stapling the radiant tubing to foam-board insulation and running wired controls to each zone. Now, there are so many new technologies to make installations faster and easier. For example, Uponor's Fast Trak knobbed mats make the radiant tubing installation much easier and quicker, and wireless thermostats, like in Uponor's Climate Control Zoning System II, make the installation of controls much more efficient," says Kate Olinger, senior manager, residential segment, Uponor.
"This is primarily due to larger up-front installation costs, low customer demand and lack of interest and understanding from the trades," she says. "We are seeing a trend in the commercial space with more structures specifying radiant heating and cooling as an innovative building practice for large commercial structures. However, on the residential side, radiant is still considered 'complicated' by a majority of the trades and an expensive, out-of-reach luxury for the majority of homeowners.
"However, with the onset of COVID-19 and a new focus on healthier homes, this may finally be the time when homeowners begin to see the positive health effects of radiant, in addition to its superior comfort and energy efficiency," Olinger adds. "Because radiant doesn't use blowers or fans to circulate allergens, odors and micro-particles throughout a home, it is a far healthier heating alternative. Once homeowners begin to see the triple benefits that radiant provides with cleaner air, energy efficiency and comfort, they may change their thoughts toward an all-around healthier home with radiant."

Better technology, smarter systems
According to Kolyn Marshall, systems engineering manager for Watts Water Technologies, modern radiant heating has migrated to mostly synthetic piping in the floors, whether it be PEX, PERT or EPDM piping. 
"These new synthetics offer enhanced durability and longevity, two important characteristics," he says. "Home construction has also come a long way with the advent of ventilation systems that provide the necessary air changes in a tighter built structure. Although newer buildings don't need as much heat as their predecessors, it doesn't mean radiant isn't a go-to solution. Lower heat losses mean lower utility costs and faster responding systems. New controls allow for systems to be 'smart' — giving them the capability to respond before the interior space indicates a need for heat. Adding to that, homeowners now have the option of monitoring system performance (or even controlling system function) from smartphones." 
Julia Billen, owner and president of WarmlyYours Radiant Heating, notes that some of the biggest technological changes have been related to thermostats in recent years.
"WiFi-enabled thermostats began to grow in popularity for floor heating about five years ago, and in that short time, there's already been a number of incredible advancements in what's possible," she says. "From compatibility with home automation systems like Amazon's Alexa and Google Assistant to geofencing (where the phone can be set up to energize the radiant heating system based on the user's proximity to their home), there's a number of new features that have a lot of our customers excited."
Dave Holdorf, wholesale training manager, East region, Taco Comfort Solutions, agrees that today's market is trending toward the Internet of Things (IoT), with devices sending data online, or components talking to each other.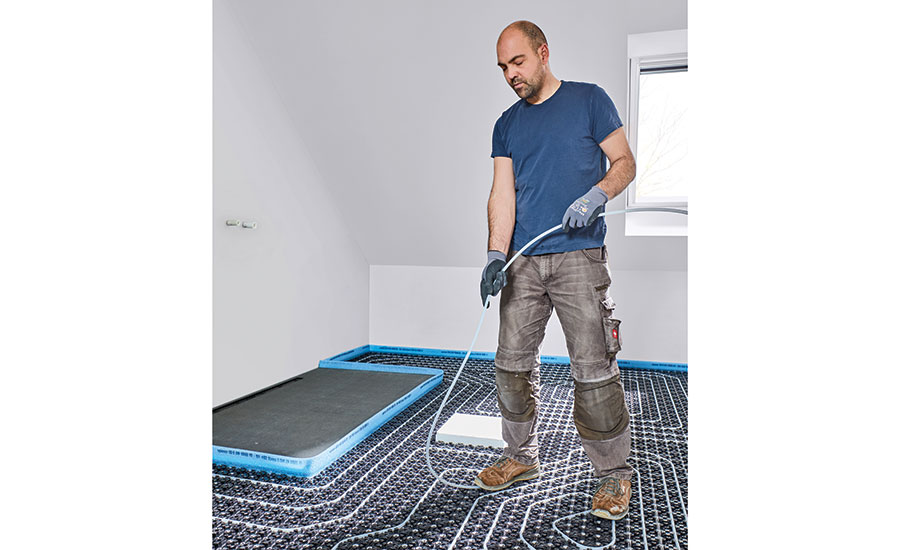 "We see boilers communicating online, sending data prior to or following service calls, or with information about ambient conditions," he notes. "With this technology, a contractor can call the homeowner to schedule maintenance before the homeowner even knows there's an issue.  And, there are circulators — such as Taco's 0018e — that have Bluetooth communications that enable easy, intelligent setup to precisely match the requirements of the home. 
"There's no need, necessarily, for equipment to get 'smarter,' but there's always the basic necessity to match system performance to the load," Holdorf adds. "To accomplish that, a boiler's controls might connect to the web to know what the outside temperature is so it can modulate its firing rate. Of course, an installer needs to set up the system for optimization, including calibration of the circulators(s) to take advantage of those modulations. When you 'can see inside the pipe' and verify the flow and head of the system, then you have a system that is singing and dancing!"
Olinger explains radiant is keeping up with the times by offering smart controls that enable systems to become even more responsive and energy efficient. 
"This means offering solutions that can sense slight temperature shifts and react accordingly to keep optimum comfort levels," she says. "Another option is providing a more custom comfort experience to ensure occupants are never at a loss for comfort. For example, Uponor offers its Climate Control Zoning System II that features wireless thermostats for placement anywhere in a home. This means you can move the thermostat around anywhere in the home and keep the comfort where people are located. No longer is the thermostat relegated to the wall in the hallway or on another level of the home where people aren't living. This technology offers the ultimate comfort control that a wired thermostat just can't provide."
The advancements are not just limited to controls, either. Many radiant heating and cooling manufacturers have innovated simplified installation methods for contractors in the field.  
"At one time, a radiant system had to be incorporated into the initial build of a home; today, retrofit systems often can be easily applied in existing homes," Campbell says. "Reflective metal 'pans' help focus the heat and cooling from the radiant piping and speed heat-up and cool-down times while enhancing efficiency. On the commercial side, custom-built radiant panels or loops make installation of systems easier and faster, and enable many more mounting options, such as including radiant panels or loops in walls or ceilings."
"Newer installation methods such as custom-made REHAU RAUMAT radiant mats reduce onsite installation time in commercial heating/cooling and turf conditioning systems with large, open footprints," Westlund adds. "In addition to overall jobsite time savings, the mats allow most of the radiant circuit installation to be done in a factory setting where pandemic safety measures are likely in place."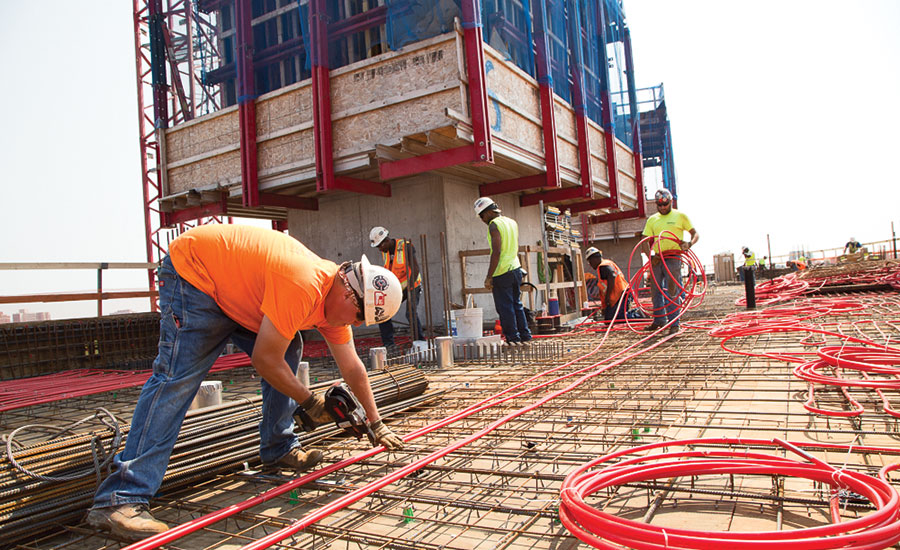 Workers install REHAU RAUPEX O2 barrier pipe for a radiant heating and cooling application at the University of Chicago Campus North Residence Commons in Chicago.
COVID-19 impacts
While the coronavirus pandemic has affected just about every industry, Holdorf believes it's impacting the acceptance of radiant technology in a positive way.
"As the availability of free time crashed in on a lot of us, opportunities for learning and improvement increased dramatically," he says. "With webinars — optimally-suited for info-driven, motivated installers — trade professionals suddenly had unlimited ways to gain knowledge, and the time to explore!  Taco offers almost 400 different webinars, virtual office hours and trade shows. In the past several months, we've connected with more than 14,000 people."
COVID-19 has likely not affected the radiant heating and cooling market to any greater extent than the effects it has had on all construction markets worldwide, Campbell notes. 
"In fact, radiant systems may experience a boost as potential customers who are concerned about the risk of airborne-germ transmission may be more comfortable looking at a draft-free radiant system that heats and cools without constantly stirring up the air inside a space. Growth of radiant systems will likely be steady into the foreseeable future." 
Westlund says COVID-19 has thrown a curveball into the building sector. 
"It is up for debate exactly what effect the pandemic will have on how we use commercial spaces, such as office, school and retail. Will there be drastic shifts in the use of these subsectors that will jeopardize mid-term and possibly even long-term construction growth? These questions are still playing out. In the turmoil of COVID-19, construction timelines are outside the norm.  Speed of installation is at a premium this year, because nobody knows what the jobsite will look like tomorrow. In-person support is also less frequent. Some jobsites and crews aren't interested in having visitors, wholesale houses are keeping drop-by traffic to a minimum, and traditional hands-on training is discouraged. Honing technology skills to support jobsites at a distance is essential.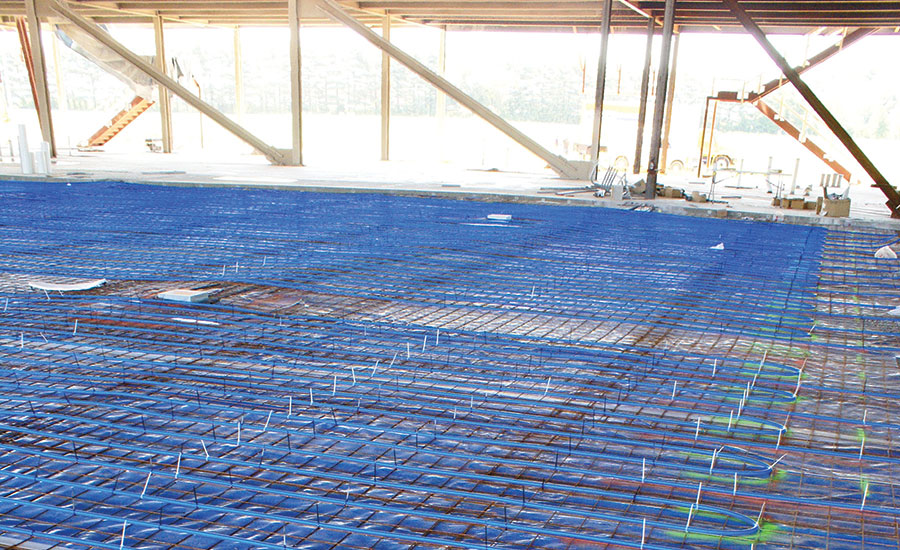 Durable polypropylene pipe can help ensure long-term trouble-free performance of radiant heating and cooling systems.
"Additionally, many people are now working from home offices — this might lead to a spike in home renovations as people tire of uncomfortable basement and spare room offices," he adds. "Using panel and plate installation systems, radiant can easily be installed in these existing spaces."
Billen notes the virus and corresponding lockdowns have actually helped increase consumer demand for radiant systems.
"With sales in both trade professional and homeowner channels up, it seems the increased amount of time that homeowners spent in their houses resulted in a higher prioritization of home improvement projects," she says. "COVID-19 has certainly made people think more about their heating systems than they have in the past. There's still a lot of research that needs to be done about how the virus is spread in the home, but I think that some homeowners are interested in electric floor heating because it doesn't rely on air movement.
"A lot of our professional customers have relayed concerns to me about the long-term economic impacts of the virus and whether or not they will be able to continue their work if there's an economic downturn like we saw after the housing crisis," Billen adds.

Market outlook
Radiant systems have been used on a steady basis for the past several decades, and Marshall sees that trend continuing on in the future. 
"Fortunately, consumers now familiar with radiant heat have begun to understand that the technology can be applied for very specific purposes (master bath and kitchen), or for whole-house/building heat, and everything in between," he says. "The technology offers broad flexibility, one of its key advantages."
Olinger says the hope is for the trend of healthy indoor environments and energy efficiency to continue to push radiant into smart building designs, and eventually, into the masses. However, the industry still has work to do. 
"We still need to focus on making the technology easier to design, install and afford," she says. "The goal is to find that sweet spot where homeowners are demanding the comfort, efficiency and air quality of radiant while the trades are adding it to their offerings alongside traditional forced air HVAC systems at a similar cost."
According to Billen, public awareness of radiant heating continues to grow every year, and she expects that to continue. 
"I also expect as solar panel technology improves and becomes more economical, more and more homeowners will be able to energize their electric floor heating systems with this renewable resource at a scalable level," she says. "While there is still a lot of uncertainty about the long-term impacts of COVID-19, I am confident that the radiant heating industry will be able to 'weather the storm.' If anything, I think that this virus has shown a lot of homeowners how important it is to have a little bit of radiance in their lives — even if it's just a warm floor on a cold morning."