"The history of the radiant market dates back to Egypt in 3,000 BC, when Ra was the God of Sun," says Max Rohr, academy manager with REHAU's building solutions division. "Arguably, that was the earliest documentation of the importance of radiant heat transfer. It wasn't until the 1980s that we were able to recreate that warm sensation of being in the sunlight with boilers and PEX pipe inside a house."
The radiant market in North America in particular had its birth decades ago with the introduction of residential heating systems that utilized brass and copper piping embedded in floors, walls and ceilings, notes Devin A. Abellon, PE, business development manager – engineering services, Uponor North America. By circulating warm water through the network of tubing, they were able to create and maintain warm and inviting indoor environments.
"While radiant heating systems proved effective, they were often thought of as costly and troublesome, especially as the metallic piping started to deteriorate over time," Abellon explains. "This changed in the 1970s when PEX-based systems were introduced. PEX has now become the industry-standard for embedded-tube radiant systems, due to its flexibility, cost, reliability and longevity.
"In addition to the change in material type, we've seen an expansion in the application of radiant systems from residential to commercial applications," he adds. "Driven by the goal to provide optimum thermal human comfort, in accordance with ASHRAE Standard 55 (Thermal Human Conditions for Human Occupancy), while reducing overall system energy consumption, radiant heating and cooling systems have become increasingly popular, especially for projects trying to meet minimum LEED (or equivalent) goals."
Fast Forward to Today
The radiant market isn't just a luxury home building option, Rohr notes: "Stakeholders that are passionate about lifecycle costs of heating systems,  comfort, resiliency and sustainability are good targets for radiant. There is also room for growth for radiant cooling in commercial, new construction.
"Radiant shouldn't be limited to floors," he adds. "Hot travels to cold, so radiant isn't directionally limited. Shower stalls and corner rooms may be great for radiant floors and walls. For commercial projects, thermally activated building systems (TABS) are a favorite to heat and cool a multi-level structure. In a TABS project, the PEX is embedded in concrete, without insulation between floors, which creates an active radiant surface on both floor and ceiling."
Rohr explains that the design process is also better due to decades of experience with various applications. "The materials are also a better fit for the job at hand," he says. "PEX makes the task of weaving a heat emitter into a surface easy. There are more fastening options for installers too, which adds to convenience."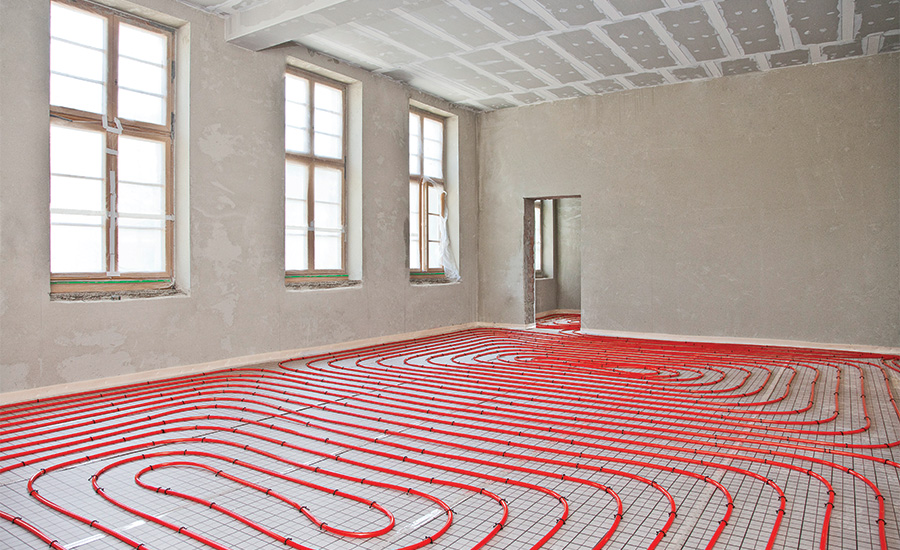 REHAU PEXa pipes in rebar prior to concrete pour in commercial high-rise radiant heating/cooling system.
Over the years, the construction industry has gone through a dramatic evolution to improve both design and installation efficiencies, Abellon notes. Manufacturers can provide engineers and contractors with BIM data and models to reduce coordination issues in the field and streamline the installation of the systems.
"We see this trend continuing with innovative solutions like the pre-fabricated Radiant Roll-out Mat," he says. "As the construction industry moves further into pre-fabricated strategies, we are seeing radiant tubing being incorporated into pre-cast concrete panels. This is an exciting trend to watch, as a pre-fabricated/ pre-cast system can take a lot of the variability out of a field-installed system and lead to improved consistency, while reducing field labor costs."
Kolyn Marshall, system engineering manager at Watts, agrees the radiant market is continuously changing and growing.
"No longer is radiant simply a system used to warm homes and to temper cold floors," he says. "Radiant systems have been adapted into snow melt systems, turf warming systems, solar reclamation systems, and so much more."
Location and Application
Radiant can be applied throughout an entire home or building, says Randall Quon, communications coordinator at HeatLink.
"It is most popular in areas with hard surfaces, such as bathrooms, kitchens, entry ways and basements," he says. "Radiant isn't just about heating. Radiant cooling is becoming more popular, especially in commercial buildings, because it has a smaller structural footprint compared to air."
"Historically, bathrooms are the most popular, and pantries are something we avoid," Rohr notes. "Commercially, anything with a high ceiling is an especially good fit for radiant heating/cooling systems, while best practice for radiant cooling is to avoid specific rooms with the potential for humidity spikes (e.g., showers, commercial kitchens)."
Radiant systems can be applied in any area as an energy-efficient means of providing heating and cooling capacity, Abellon agrees.
"However, the designer should be aware of system limitations, so that the end-user has realistic expectations of how the system will perform," he says. "In residential areas, radiant systems are most commonly used in areas with hard flooring surfaces — typically kitchens, bathrooms, basements and other areas with tile, wood or bare concrete flooring. Radiant systems will work with carpet, but the designer should understand the impact of carpeting on the system performance to determine operating parameters.
"The same can be said for commercial applications," Abellon adds. "We see a lot of radiant heating and cooling systems installed in large, open public spaces, such as lobbies, atria, etc. However, as more and more engineers recognize the system's ability to provide optimum and energy-efficient capacity, we are seeing the use expand to all areas, especially classrooms and offices."
Historically, radiant has thrived in the northern territories where winters tend to be colder and longer, Marshall notes. However, in recent years, many more homeowners in the South and West have discovered the joy of warm tile floors. Electric radiant allows for homes in Florida, for example, to have warm floors in the morning even though there's no need to heat the home.
The southern states in the U.S. have the shortest heating season, so adoption is lower there, Rohr says.
"However, that would also make them great candidates for radiant cooling," he notes. "ASHRAE Standard 55 prevents scenarios where condensation would occur in radiant cooling projects, even in humid places such as New Orleans. Our best foot forward with high-performance building design is a radiant heating/cooling system with a dedicated outdoor air system (DOAS) to handle air changes, latent loads and seasonal changeover."
Radiant systems can be effectively used in any climate zone, Abellon says: "For obvious reasons, we see the use of radiant heating more heavily in colder climates for both residential and commercial applications. While we have seen successful radiant cooling projects throughout the country, we do see more installations in the West, where surface condensation is less of a concern due to the lower relative humidity."
Contractor and Homeowner Concerns
Even though radiant has grown in popularity and awareness thanks to home renovation shows and other outlets, it's still one of the least used systems when it comes to heating a home, Marshall notes.
"Only about 5% of the U.S. heating market is hydronic based," he says. "This means that 95% of the market hasn't opted for the greater value, control, efficiency and comfort that radiant heat delivers. This also means there's a wide-open market for radiant, yet there is still a need for contractors to understand, become comfortable with its installation and effectively sell its higher-cost value."
TYPES OF RADIANT
By Devin A. Abellon, PE, business development manager – Engineering Services, Uponor North America
There are several different types of systems available for the building owner today.
One way to differentiate systems is to look at the heating source: electric or radiant. Electric systems typically utilize electrical resistance heating elements in a mat embedded in concrete or set directly below the wood, tile or carpet flooring. These can be very effective and provide a relatively quick response time.
Hydronic systems utilize a network of tubing also embedded in the concrete or set directly below the flooring. By circulating water through the tubing and controlling the temperature of the water, the surface temperature can be controlled to provide both heating and cooling capacity.
While electric systems are typically used to serve small, isolated areas (e.g., master bathrooms, kitchens, etc.), hydronic systems are more commonly used for larger residential areas and commercial buildings, as they tend to be much more energy-efficient.
Another way to differentiate system types is to look at the installation format: high-mass embedded systems or low-mass panel solutions. As the name implies, embedded systems are constructed in the field, as the floor or ceiling is being poured. Panel solutions are pre-manufactured ceiling panels that are typically installed in the ceiling grid. With higher thermal mass, embedded systems tend to provide a more consistent indoor environment with lower energy costs. Low-mass panel systems, however, can provide quicker response times and are better suited to retrofit applications.
The design engineer should work closely with the manufacturers and building owner to determine which type of system is best for their application.
"Upselling something the average homeowner has never thought about is tricky," Rohr adds. "If a homeowner is looking to check a box that says 'heating system' when building or renovating a home, an inexpensive furnace is the path of least resistance, without much regard for holistic comfort. However, contractors can address these concerns by mentioning that a radiant system is an elegant way to not only satisfy your thermostat set point, but to also create a home where you are comfortable, without noticing when the heating system is running."
Radiant comfort is hard to describe on paper; the system needs to be felt. Having or bringing someone to a functional showrooms is a good way to go, Rohr notes.
"Education is key," he says. "The hurdles to radiant are that the average homeowner in the U.S. doesn't know enough about the efficiency and comfort that radiant can provide. Some homeowners also want to use setback thermostats, but they aren't ideal for radiant. Steady is more efficient for radiant than a setback rollercoaster."
When a radiant system is sold, the concern then becomes maintenance. It is an overall fear of the unknown, Marshall says: "I hear 'What happens if . . .' and 'We're so used to forced air (AKA 'scorched air') systems and having to change filters and clean ductwork, we no longer think of those things as unknowns.' Hydronic radiant has its own set of maintenance requirements, especially when glycol is used for snowmelt systems. These 'unknowns' may cause some contractors to hesitate."
Proper training can address these concerns, Marshall adds.
"Hydronic and electric radiant are among the most reliable and comfortable heating systems available today," he says. "The best way to ease any concern is to become trained on what and how a system works."
Another concern is time and labor. Skilled labor shortages continue to be a cause for concern in the trades.
"Saving a contractor time on the jobsite is important," Quon says. "Fabricating assemblies in the shop or purchasing them from suppliers means less on-site work. It also helps to keep jobs with tight timelines on schedule. Our 'Mechanical Room in a Box' line of pre-fabricated mechanical panels allows contractors to mount all the major components of a radiant system at once and make minimum connections."
"The industry has responded, with manufacturers providing training and field support, as well as innovative solutions, such as our Radiant Roll-out Mat, to dramatically reduce the time it takes to install a complete system," Abellon says. "Contractors are also trained on how to properly pressure-test and repair a system, if needed, to ensure system reliability."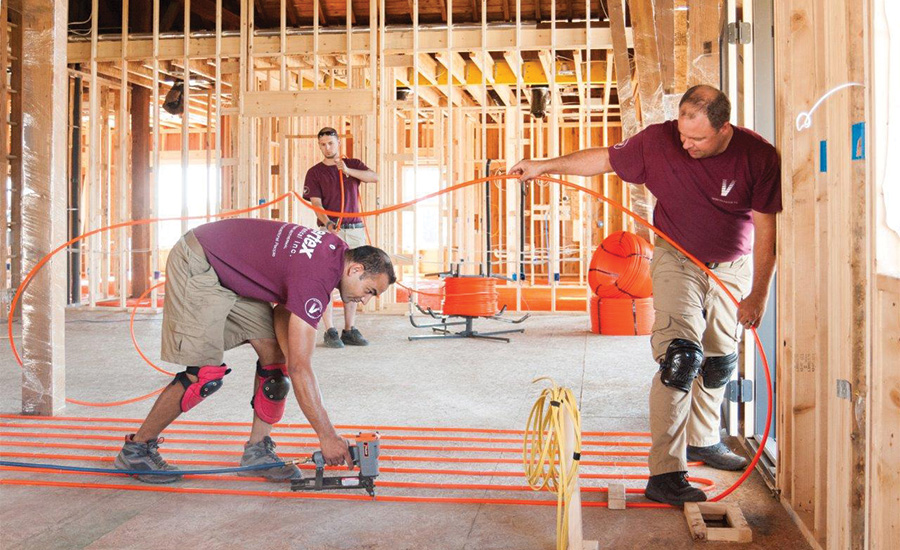 Stevens, Pennsylvania-based Vertex Mechanical installers attach Watts PEX+ tubing to a subfloor prior to a lightweight concrete over-pour (wall double-plating came in later as a retrofit).
In the Internet of Things era, homeowners increasingly want the convenience of remotely monitoring and controlling their radiant system, Quon adds. They also may expect that floors will always be warm.
"In the shoulder season when the heating demand is low, homeowners may wonder why their floors are cold," he says. "To achieve floor warming, our radiant thermostats have the option of adding a floor sensor so that the floor can be maintained at a desired temperature. Some rooms of a house, such as bathrooms, may not have enough radiant area to provide proper comfort. Supplemental heat can be added with baseboards or towel warmers."
The Future of Radiant
"Escalating energy prices are a driver for radiant," Rohr notes. "Part of the reason radiant is so popular in Europe is because they have had many decades of high energy prices, compared to what we have in the U.S. They also have the comfort expectations that radiant uniquely addresses and are more likely to be repeat customers of radiant."
As engineers and building owners learn more about how radiant systems work, and as the drive for energy-efficient and sustainable solutions continues to grow, Abellon anticipates seeing the use of radiant systems also grow.
Rohr adds that radiant heating is an excellent match for high-performance buildings of any shape or size.
"It is the ideal choice if your goal is net-zero energy construction or to have an invisible heating system that keeps you so comfortable that you forget where your thermostat is located," he says.
Radiant will continue to adapt and change with how homes and buildings are constructed, Marshall says. Technology will allow for new products which integrate into these new building materials easier and faster. Radiant is making its move to become the standard, rather than the exception, to how homes are heated.
The goal of a heating system is to maintain comfort in cold conditions and most of us (95%) have only experienced warmth from forced air systems, Marshall adds.
"As a result we simply don't know what being comfortable is," he notes. "Many of us have grown up with and have grown accustomed to those uncomfortable swings in temperature, blown dust and allergens, and having to wear slippers to keep our feet warm. Our biggest hurdle is to help homeowners (current and future) know there is a better way to be comfortable.
"Spend time walking through a system with the homeowner," he continues. "Help explain what everything is and how the system functions. Listen to their concerns and address them. Like most things new, learning is the best way to overcome those fears."