Many contractors in California are frustrated by continued resistance to the use of PEX piping. Despite a recent favorable court ruling, use of PEX in the state could still be up in the air. A look at both sides of the issue.
While the use of PEX spreads like a range fire in Las Vegas, the non-metallic piping is still being met with resistance in California as a court battle plays out.
"About all that's done anymore around here is PEX pipe," said Robert Blazek, vice-president of the Las Vegas Division of Executive Plumbing, Heating and Air. "We have some really bad soil conditions out here and it just eats away at the copper, so everybody pretty much switched to PEX overhead. When you run copper under the ground, within a couple of years it is going to get eaten up. We've (Las Vegas area plumbers) pretty much switched over and we run everything above ground."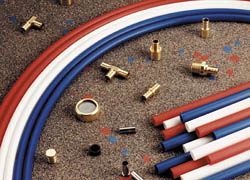 Al Conrady, owner of Aztec Plumbing in Las Vegas, agrees. "PEX is very popular," he said. "I don't think there's anybody - one or two builders maybe - using copper." Conrady has been using plastic pipe for 15 years, and he estimates that two people can plumb a three bedroom house with PEX in one day, where utilizing copper would take them three days. "We run almost all of ours overhead now. We do run some under the slab, but either way it's a lot quieter. You get hot water quicker. The pipe doesn't heat up like copper does. All around, it works a lot better. You don't have any fittings in it, so you get your volume a lot better. We do probably an average of between 800 to 1,000 houses a year. We've had no homeowner's complaints."
"There are no major builders that I know who are still using copper in Las Vegas," said Bill Brierley, a representative for Vanguard PEX. "They're using PEX in almost 100 percent of the 1,800 houses that are being plumbed every month in Clark County."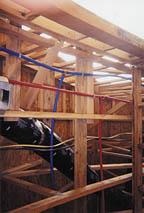 Brierley cites numerous benefits to using PEX over copper. "The PEX pipes are very resistant to chemicals. They are not affected by hot soils that will destroy them. They're not affected by water that's aggressive. They're much more chemically resistant to damage from external sources [whereas] copper pipe is subject to splitting when freezes takes place. When you're running a hose in the back yard and you've got a three-quarter main going through a two-story house overhead, you'll hear the water going through the (copper) pipe; PEX is dead silent. Installation requires no solvents or torches on the job site eliminating fumes and fire hazards."
Going to California?
Many contractors in California are frustrated by continuous resistance to PEX use. Tom Baker, owner-president of Dynamic Plumbing Systems in Riverside, said he has to check with local jurisdictions on each tract to see if he can use PEX. "Sometimes jobs get held up because all of a sudden you're putting it in and now the city won't accept it," said Baker. "It has not been consistent. A lot of times the builder says 'Let's forget it. Let's just go with copper and live with it. If there are problems down the road, we'll deal with it.'"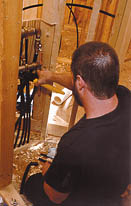 An abrupt change from PEX to copper is a headache, Baker said. Not only does Dynamic have to charge more for their work with copper, they have to redesign. "We have a bill of material that we have set up for each one of these jobs. So we will have to go back in and redesign it for copper. We roll it underneath the house and top it out. So, we'll have to re-change the way we plumb the houses again. It's a shame. My feeling is that it's needed, especially in some areas, and there's no reason why it shouldn't be used."
Baker said once PEX is cleared for use in California its demand will increase greatly. "Once they know it is as good or better (than copper), in some areas you're going to have more of a demand for it from the builders. Instead of us trying to talk them into it, they're going to say, 'Yes, I want it.' Copper is a great product, but there are places where it doesn't work well. You want to have that alternative and it's a shame that you have a political issue that is stopping it."
"I wish the legislators would get it worked out so we know which way to go," said Rob Kennedy, president of Kennco Plumbing in the City of Santa Clarita. "It's making it very difficult for us. Every jurisdiction in every locale varies as to whether they approve of it or not. Sometimes on one side of the street you can you use it, while on the other side you can't. We're big proponents of plastic piping here. I've lived in the Santa Clarita Valley all of my life and we've seen the hard water, what it does to metallic pipe."
Fighting Legal Battles
Superior Court Judge Dzintra Janavs recently ruled that the California Building Standards Commission (CBSC) acted in an arbitrary and capricious manner when it excluded PEX from the California Plumbing Code last May. In a Feb. 13 hearing, she ordered the product to be included in the code within 30 days.
Despite the favorable ruling, the use of PEX could still be up in the air for California.
According to Deputy Attorney General Ramon de la Guardia, the defendant CBSC and five other state agencies in the case have 60 days with which to file an appeal. He said the CBSC will discuss the possibility of an appeal in an executive session at their regular meeting on March 19.
"We're disappointed with the court's ruling," said de la Guardia. "The various agencies had different concerns. They have various responsibilities for different kinds of construction. And they had a report of possible environmental impacts and possible failure of PEX if it was used in construction. They didn't have time to really evaluate those things and they decided their responsibility and prudence dictated that they study the impact of PEX more. There were a lot of other concerns for other kinds of pipe that failed in California, like polybutylene, for one." Since the commission's decision in May, it was learned that there was litigation involving failed plastic piping in Arizona, which resulted in the release of benzene, a carcinogen, de la Guardia said.
Stan Nishimura, executive director of the CBSC, said their efforts to analyze PEX was met with a stone wall. "Back in June or July, we started the process to investigate the product. We needed participation from the PEX manufacturers to provide us with proprietary information and they would not provide us that information. Their position was that they didn't believe that the state could do that, so they did not offer us any assistance. During the litigation process we started digging around to find if there were any other court cases. That's when we came up with this other (Arizona) lawsuit. There was a commentary we received from the Pipes Trade Council, the Sierra Club, the Firefighters Association and several other people that expressed concern that there might be health related issues related to the product. We wanted more time to investigate the allegations."
Nishimura said that CBSC will discuss with the other five state agencies the possibility of an appeal.
Dick Church, executive director of the Plastic Pipe and Fittings Association (the plaintiff) said the controversy is the cause of leverage applied by unions who fear the loss of money due to the potential loss of work hours by their members. "The building standards commission acted in an arbitrary and capricious manner, which was caused by political pressure from the governor's office, which was in turn caused by political pressure on the governor from the plumber's union."
Why is PEX faster to install? "Copper for overhead piping primarily comes in 20 foot straight lengths and PEX is available in 1,000 foot coils, so they just unreel it," said Brierley. "And they don't have to put couplings in it or elbows. It's lighter and it's flexible. It is color coded to prevent cross-connection. It's just much, much easier to install."
Church said he can't think of a good reason why all plumbers wouldn't want the product. "[CBSC] has been claiming there are problems with PEX that will cause difficulties for users, but there's no real data to support the allegation," he said. "They've talked about potential failures, as was the case with polybutylene. There's been no indication that PEX would have those types of failures. They've even tried to suggest there were chemicals leaching from PEX into the drinking water, but the fact of the matter is PEX was evaluated according to NSF Standard 61 and it's very clean. PEX is approved for use every place else. California is quite unique in this regard."
"This article was originally posted on ww.reevesjournal.com."