It's no secret the skills gap in the trades is growing, and as workers continue to be hard to find, those who are already out in the field are looking for ways to do the job as efficiently as possible while still maintaining quality.
In radiant installations, in particular — where running and connecting many hundreds of feet of tubing is highly labor-intensive — manufacturers have been hard at work designing tools and systems to be as installer- and user-friendly as possible.
A growing problem
Chris Carrier, U.S. marketing director for Reliance Worldwide Corp., parent company of SharkBite, points out how significant the skills gap is in the U.S.
"The U.S. Bureau of Labor Statistics projects that a large number of plumbing and mechanical professionals will retire during the next 10 years," he says. "At the same time, the need for these skilled professionals is expected to grow nearly 12% by 2024, significantly outpacing the anticipated average 7% growth rate for the general workforce. This challenge is compounded by the low number of people entering the skilled trades, especially young people."
Carrier points to the shift from vocational schools to four-year institutions, the scarcity of apprenticeship programs, and a perceived lack of job security in the wake of the Great Recession as the reasons the trades aren't attracting new workers, even though housing starts are up and remodeling is a growing market.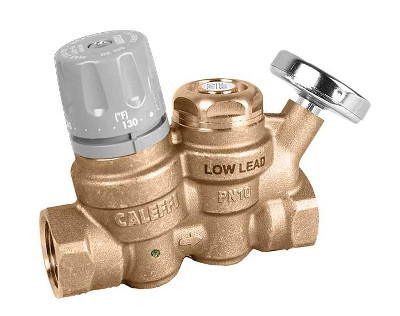 Caleffi's 116 Series ThermoSetter is a thermal balancing valve with direct temperature adjustment. It features dynamic self-balancing technology for domestic hot water recirc.
Kevin Freidt, director of product management and technical support for Caleffi North America, agrees contractors are being forced to work harder and smarter and are under increasing pressure to finish jobs on time and on budget. The results, he adds, are not always good.
"High pressure leads to stressed workers, and quality of work suffers," Freidt says. "In many cases, inexperienced workers must be utilized which delays projects. Proper training is almost non-existent. Also, companies are forced to increase their pay scales to recruit and to keep good employees."
This shortage and the resulting pressure is leading contractors across the nation to strive to acquire, develop, and maintain new team members, says Corey Dickert, vice president of product management for Milwaukee Tool.
"The learning curve has to be much shorter because new professionals are being forced into higher liability work much earlier in their careers," he says. "Contractors are confronting these challenges through a two-pronged approach. They are increasing their knowledge and becoming more competitive with the acquisition and retention of talent, and they are looking for products and technologies that make it easier to train employees faster."
Not only are contractors thinking and performing their jobs differently, however — manufacturers are also facing pressure to think outside the box, says Kate Olinger, senior manager, Uponor single-family segment.
"A shortage of qualified installers in the plumbing and HVAC industry has driven manufacturers to think differently when it comes to product and system offerings," she says. "Manufacturers now must emphasize ease of use foremost when considering the marketability of a product."
Manufacturers respond
Manufacturers understand that contractors need to work more efficiently than ever in order to stay on time and on budget and are responding accordingly, says Rob Trefz, director of marketing and business development for RIDGID.
"One way that contractors have improved efficiency and cut project time is by using press technology," Trefz says. "Press technology can reduce project install time drastically when compared with other joining methods."
The tools that hydronic installers use are getting more and more intuitive so that it is easier to learn proper use and operation, he adds.
"Many of the tools are being made with the entry level worker in mind. An example of this is the bolt sensor technology on some press tools. Some tools have diagnostic capabilities built in. If it is not functioning properly, has a low battery charge, or is getting close to a service interval, the tool will notify the operator."
SharkBite strives to improve installation conditions and reduce time needed to complete the job, Carrier says.
"The SharkBite radiant heating manifold takes the hassle out of getting a tool into the tight connection area around the manifold and reduces time to connect loops. They are easier to connect than the traditional connection methods, and the pipe can be removed from the manifold ports if needed. SharkBite also offers boiler feed valves and thermostatic mixing valves with SharkBite push-to-connect ends to improve installation efficiency."
Caleffi is also working on making products easier and quicker to install, start up and integrate into a larger system, Freidt says.
"Over the past few years, Caleffi has introduced manual balancing valves and thermal balancing valves that can be quickly set without the need for additional balancing tools and time-consuming procedures," he says. "We have developed products using press-fittings technology, a significant time-saver. Other manufacturers are doing the same."
Dickert also says pipe-joining technologies are an area in which the proper tool can save a significant amount of time during an installation.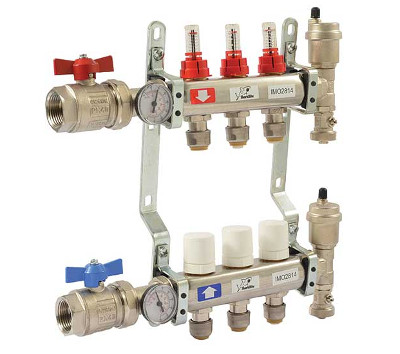 The SharkBite Radiant Heating Manifold optimizes distribution of heating fluid throughout closed loop heating system circuits. The stainless steel manifold is built for durability and corrosion resistance, and it ensures flow to each circuit is regulated precisely while also controlling shut-off and allowing the venting of air from the system.
"Milwaukee Tool is collaborating with users and pipe-joining manufacturers alike to invest in technologies and tool design that will set this industry up for success in the future," he says. "We have a wide variety of power tools, hand tools and accessories that cater to radiant/hydronic professionals. Most notable for this audience are the ProPEX Expansion tools and FORCE LOGIC Press Tools that are driving a shift from older joining methods, ONE-KEY drill/drivers and impacts that can be programmed for specific/repeatable applications, and Thermal Imagers that can give hydronic contractors the ability to see problem areas without demolition of an entire work area."
Installing the radiant tubing is also becoming much easier, says Casey Swanson, senior manager, Uponor commercial segment.
"Uponor's Radiant Rollout Mats are a custom-designed network of Wirsbo hePEX oxygen-barrier tubing in configurations from 40 feet to 220 feet in length and 4-½ to 6 feet in width, with 6-inch, 9-inch or 12-inch on-center tubing spacing. The mats arrive on the jobsite in large rolls, and installers simply stake down the header of the mats and unroll them in one simple motion. Installers have reported a 60% savings in installation time."
"Uponor also offers a knobbed mat system called Fast Trak that increases installation efficiencies in residential radiant floor heating applications from days to just hours," Olinger adds. "Installers simply place the preformed mats on the subfloor and 'walk' the tubing into place between the knobs. This eliminates the need for added products and tools, such as staples and staple guns, and it also makes on-center spacing easier as the knobs are evenly spaced in 2-inch increments."
Designing with techs in mind
In order to provide the products that installers want and need, manufacturers are learning to listen closely to the men and women in the field.
"For us, they are our biggest source of inspiration," Dickert says. "We begin with a dialogue about what challenges the user faces daily, and what problems need solving. Whether that be looking at new technologies or tools that improve consistency and productivity or software for managing inventory and schedules, everyone is looking for ways to be more efficient."
"Products that save time and money naturally become 'go-to' products in the field," Freidt says. "As the word spreads and manufacturers hear the feedback, they will design more products with the attributes that customers are talking about."
Stan Sveen, senior manager, Uponor light commercial segment, says professionals want something fast and easy to learn that is also reliable and high-performing.
"That's a delicate balance," he says. "With the shortage of skilled labor, as well as high turnover rates for employees, contractors need products that employees can learn quickly and easily. And, they also need reliable, high-performing solutions that will allow them to keep their trusted reputation."
What's coming to radiant
Improving installability will continue to be a goal in hydronic radiant design in the near future.
"All manufacturers will need to put higher emphasis on making things easier to install/operate than was done in the past," Freidt says. "Manufacturers that figure this out best will be positioned to win."
Technology will continue to play a major role in tool design moving forward, Dickert says, and manufacturers will likely also continue to collaborate to meet demand.
"We believe you will see products and service collaboration across manufacturers and across operating systems to drive these efficiencies throughout all functions of a business," he says. "We need to work together to promote our industry."
Sveen says prefabricated solutions will continue to drive industry trends to save labor and increase consistencies on the jobsite.
"The Radiant Rollout Mat from Uponor is a perfect example of this trend. Because it ships complete to the jobsite, it saves up to 60% on labor and time. We anticipate there will be more innovations like this in the future."
Keeping up with the pace of change isn't going to be easy, Dickert says, but it will be worth it.
"We are all partners on this journey, and the best problem solvers will be the ones that travel it the smoothest. The feedback and lines of communication between contractors and companies that have a mindset for innovation and listening will make everyone better."