Tools are more compact, efficient, powerful and connected than ever before, and it's changing the way some tradespeople are doing their jobs. Yet it's the end users themselves who are driving the trends shaping these changes.
One of the biggest trends, according to Corey Dickert, vice president of product management for Milwaukee Tools, is the shift from corded to cordless.
"Lithium-ion, along with advancements in motor technology and electronics, has allowed manufacturers to pack a massive amount of power and performance into a more compact structure," Dickert says. "For instance, our M18 FUEL Band Saw cuts faster than our Deep Cut Band Saw, which was a benchmark for corded performance. Along with this shift to cordless, contractors are also seeking out battery systems that are compatible with the breadth and depth of work they need to do so they don't need to continually buy into new lines of tools to get the performance and reliability they need to do their jobs."
Theron Sherrod, product manager, cordless tools, Robert Bosch Tool Corp., alsopoints to increased battery life as a major trend, as is the shift toward compact cordless tools.
"Bosch is committed to increasing tool power and performance while at the same time reducing size and improving ergonomic design," Sherrod says.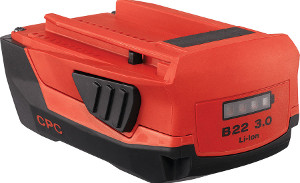 Hilti's B22 lightweight, fast-charging batteries are designed to fit cordless tools and are designed for demanding applications.
John Schmidt, Hilti's business unit manager — power tools and accessories, says manufacturers are working to make tools smaller and lighter as well as easier to use. He adds that lighting is also a growing portion of the tools market, in general.
"Customers have been very vocal regarding the need for improved lighting in tools as they are telling us they are working in more confined spaces where lighting access can be a challenge," Schmidt says. "Based on customer feedback, we continue to add and improve lighting on our tools."
Improving tool safety is also a major trend, says Mike Peiffer, product manager, DeWalt Tools.
"There is a bigger push from governing bodies and tool manufacturers for safer tools for contractors," Peiffer says, adding that DeWalt's tools offer "full Table 1-compliant options for new OSHA regulations for concrete and dust containment."
Advancements in cutting products — specifically those used to cut hard metals such as cast iron or stainless steel — is also a growing trend, says Brian Morrison, senior product manager for Stanley Black and Decker, the parent company of both hilmor and Lenox tools.
"Utilizing cemented carbide products, such as the Lenox Lazer CTTM Reciprocating Saw Blade, saves both time and money," Morrison adds.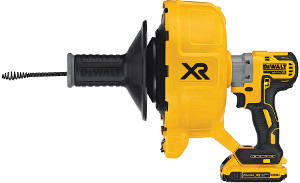 DeWalt's 20V MAX XR Brushless Drain Snake comes equipped with a 5/16-inch-by-25-foot Black Oxide Drain Cable with Bulb Head, and the removable inner drum can accept up to 3/8-inch-by-35-foot cable for pipes up to 3 inches.
 "The top three trends we're seeing at Ridgid is the switch from corded tools to battery-powered tools, users wanting connectivity, and a continued shift toward brushless motors," says Rob Dulabon, product manager for Ridgid. "Connectivity, in particular, is a big trend. Our new RP 241 Pressing Tool is an upgrade of an earlier model that is battery-operated and now includes Bluetooth connectivity and Ridgid Link, an app that tracks crimps, battery life, tool usage and last-seen location."
In general, says Matt Puzio, manager of tool technology at Victaulic, anything that helps technicians save time and labor on the job site is a trend that will continue to grow.
"These techs depend on their tools to function all day, every day — an unexpected issue will have an impact on productivity," Puzio says. "Our users are also looking for ways to prove to owners and engineers that the products they installed have been done correctly, and they are looking for a way to track or log plumbing components digitally for further confidence that the system they are installing will maintain its integrity."
Keeping track
Over the past few years, many tool manufacturers have expanded or introduced tool-tracking systems that allow users to not only know what power tools they have in their inventory, but also where those tools are or where they were last seen, how long until they need to be serviced, and whether anything needs to be adjusted or repaired within the tool itself.
"Cloud-based technology and the IoT have made access to information and interconnectivity absolutely essential," Dickert says. "We've implemented the Integrated Tool Tracking feature on Milwaukee Tools' One-Key platform so users can identify when and where their tools were last seen. Plumbers, especially residential, will often visit many jobsites in the span of a day; Integrated Tool Tracking allows them insight into where they may have left a tool."
"Tracking tools is a huge asset for contractors on the jobsite," Peiffer says. "Our Tool Connect software as well as our compatible 20V MAX* Tag and Connector, which provide the ability to retrofit tracking for existing tools, give us the ability to track assets on the site."
In North America, nearly $1 billion in assets are lost annually in addition to the many labor hours lost looking for the assets, Schmidt says.
"An asset-management system brings value to the industry by increasing labor productivity, driving accountability to employees, improving tool utilization, streamlining maintenance and helping provide employee safety," he adds. "Hilti sees the trend continuing as more and more customers are wanting to know what and how many assets they have, who is responsible for the asset and what the condition of the asset is."
Dulabon anticipates tool tracking will continue to grow as capabilities continue to move beyond location to more sophisticated tool diagnostics.
"Tracking can help to minimize downtime at a job site by allowing users to optimize tool performance, know about upcoming maintenance needs, and allow tool lockout to deter theft."
Puzio also says the ability to predict component failure and reduce downtime is driving tool-tracking and diagnostic technology.
"We are finding that Victaulic's customers want to be more informed about their processes and how their business is operating," he says. "They are interested in any data that can be used to get a clear understanding of efficiency, quality, performance and safety."
"Bosch is responding to the trend toward digitization in the trades by working to offer professionals a complete system, from products through to inventory management, which can be customized based on application," Sherrod says. "Users of connected power tools from Bosch will be able to personalize their tools, set up a custom configuration and save settings for future work."
Power up
Of course, what good are improved diagnostics and tracking capabilities — as well as increased power, overall — if the batteries on the tools themselves run out of juice an hour into the workday? Manufacturers recognize this desire for powerful tools that get the job done and are creating a new breed of batteries to meet that desire.
"Milwaukee Tools' main focus now is developing battery technology for the 'power-hungry' tools so they can deliver more runtime under heavier loads," Dickert says. "This is where our new High Demand 9.0Ah pack comes in — this pack doubles the runtime of our 5.0 batteries at a higher output and at a substantially cooler temperature. And this is just the beginning — cordless technology will continue to rapidly push the potential in categories never previously thought of as viable cordless options."          
As the technology in batteries continues to improve, Hilti is working to deliver application-driven innovation, Schmidt says.
"Hilti's new B 22/3.0 advanced compact battery provides the power of an industrial-class battery with a weight, size and shape that is closer to a compact-class battery," he adds. "With our new advanced compact batteries, customers are now able to perform applications that previously could only be accomplished with cordless tools that required larger industrial class batteries."
Power tool users nowadays expect cordless tools to perform with the same power, speed and impact of a corded tool, Sherrod says, which is driving battery innovation.
"Listening to and understanding this feedback from pros means higher-amp-hour batteries in addition to an ergonomic design for balanced and comfortable tool use," he says. "The charger also plays an important role because pros expect quick charging." 
All major manufacturers of power tools are pushing to provide longer runtime for their users, Peiffer says.
"DeWalt is no different," he adds. "We offer options that range from compact sizes all the way to our FLEXVOLT System, which we are continuing to expand. DeWalt is relentlessly pursuing the cordless jobsite."
Designing for comfort
Along with wireless innovations and advancements in battery life, there is a significant push happening to ensure tools are not only more powerful and smarter than ever before, but easier to use and less likely to cause injury with sustained and repetitive use. This increasing focus on ergonomic design means manufacturers are perhaps working more closely than ever before with the men and women who use their products on the job.
"Ergonomics is no longer an industry buzzword, and Milwaukee's improved tool designs are attributed with helping to reduce thousands of injuries across the globe," Dickert says. "Safety and ergonomics has always played an important role in our design process, but recently, through the use of our investment into objectively measuring ergonomics, we are quantifying the level of exposure to common injuries such as carpal tunnel syndrome and designing tools to reduce the risk through electromyography."
Ridgid's engineers and product development team are constantly trying to find new ways to enhance the ergonomics of Ridgid's products, Dulabon says.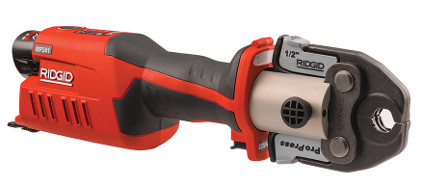 Ridgid's RP 241 Pressing Tool is 25% smaller and 10% lighter than its predecessor. It is ergonomically designed to help the user easily work overhead and in tight spaces.
"From product inception to launch, user feedback is a key part of tool design. Engineers take into consideration how tool users intuitively use a tool and what that should mean for weight balancing and placement of tool components to enhance ergonomics and minimize fatigue. For example, the PEX-One 12V Battery PEX Tool has a lightweight inline design with a fastening hand strap to make working overhead easier."
Victaulic also takes ergonomics into consideration when designing or re-designing a product, Puzio says, adding that they "go one step further and evaluate how a customer will unpack, maintain and store a tool in the form of a risk assessment."
"DeWalt spends extensive time in development making sure that the tools performs to the specifications but that it's also comfortable to use," Peiffer says. "Focuses include weight to performance, balance, and feel over extended periods of use."
Bosch incorporates the tool characteristics that users request or attributes that can be helpful to users, Sherrod says. Examples include grip size, tool size and dimension.
"But ergonomics doesn't end there," he adds. "We include elements like lights on tools, ease of use for attachments, the protection of Kickback Control — unexpected torque — and other features that offer a sense of health and safety to the user."
Hilti designs products with the end user — and ergonomics — in mind, Schmidt says.
"With our direct customer interactions, we can gain insight from our customers to design tools based on their feedback. Depending on their trade and applications, we look to provide lighter weight tools, more compact tools that have the correct balance and feel."
"Tradesmen are commonly lugging a wide range of tools to the worksite and completing repetitive and tiring movements when installing or repairing equipment," says Lesley Atkinson, manager of brand marketing for hilmor. "hilmor has retooled its product offering to help alleviate some of the strain."
A group effort
Tool design is so user-driven lately that manufacturers are making a point to work closely with plumbers, pipefitters, heating and cooling technicians and a wide variety of other tradespeople throughout the design process to learn what they like, what they don't like, and what they really want in their tools.
"The Ridgid engineers and product development team regularly talk to professionals who visit our training center to better understand their pain points and what they'd like to see in tools," Dulabon says. "We also work with end users on tool testing throughout the design process. One recent innovation that came from user feedback can be seen in the PowerClear Drain Cleaner that includes a clear cover for users to view how much cable is remaining. We had received feedback on earlier models that users didn't know how much cable was left when they were putting it down a drain, and the clear cover eliminates that frustration."
Before putting pen to paper on a design, Puzio says Victaulic takes the time to engage its customers.
"The voice of the customer resonates with our engineering team, and that very feedback is what drives a new tool design, in many cases," Puzio adds.
"Hilti interacts directly with its customers daily, which gives us the opportunity to talk to our customers to determine their needs," Schmidt says. "We also conduct customer focus groups across North America to gain feedback."
Bosch is dedicated to the user in the field and "spends time with trade professionals learning about the tools they want and the corresponding training — and how best to deliver those solutions," Sherrod says. 
"Each year, Stanley Black and Decker's team spends countless hours on job sites with users observing and asking them what we can do to make their jobs easier," Morrison says. "In 2015, for instance, we met with more than 2,400 users leading to many of the great innovations we have brought to the market over the past 24 months."
"At Milwaukee Tool, we start with a thorough evaluation of the job at hand and learn from our users about their experiences — the frustrations, needs, previous limitations — and we set out to completely rethink a solution," Dickert says. "Our goal? To solve the fundamental challenges users face day in and day out."
DeWalt is constantly spending time on the job site with users of its tools to better understand their needs and design tools to fit those needs, Dulabon says, adding that the push for better-performing tools from all manufacturers "only serves to benefit the user" in the end.
Manufacturers' eagerness to incorporate user feedback in every phase of the design process will only continue to drive power tool innovation, which is already fundamentally changing how plumbers and tradespeople use these tools on the job site and beyond.