The plumbing, heating and cooling industry has been undergoing a great deal of change over the past few years. This change has been influenced by technology, the Internet of Things, regulations, customer preference and education, and more. But a few trends stand out from the rest.
Combi boilers
Combination boiler/water heaters, or combi boilers, are rapidly becoming popular due to their compact size, dual purpose and overall efficiency.
"[There are] more people steering away from standard boilers and buying combi boilers," Bosch Thermotechnology North America Director of Product Management Dan Moffroid agrees. "A standard boiler heats the space but requires a secondary appliance to deliver domestic hot water. The combi system eliminates the need for a secondary appliance and delivers space heating and hot water to the meet the customer's comfort requirements in one system."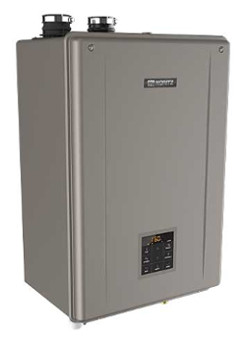 Two Navien NHB boilers serve a multi-family building complex. Photo credit: Navien
 "Since you only need one appliance with a combi to provide heat and domestic hot water [DHW], you can substantially reduce the space required in new construction and the replacement market," Navien Product Development Manager Eric Ashley explains. "Navien's combi units, the NCB-E series, are known for delivering up to 120 Mbtu/h for space heating and 4.5 gpm of domestic hot water in a compact package while being vented with 2-inch PVC."
"Noritz's new residential combination boiler, the NRCB, meets EnergyStar most-efficient standards and earns Air-Conditioning, Heating and Refrigeration Institute [AHRI] certification," Noritz Vice President of Sales and Marketing Jason Fleming says. "The NRCB also offers versatility with the simultaneous ability to provide space and domestic water heating without using an indirect tank."
"Sales of combi boilers are increasing year after year in North America because they eliminate the need for a separate water heater, saving space and money," Adey Professional Heating Solutions Director of U.S. Business Development Tom Tonkins agrees. "Combi boilers are very popular in Europe and have been in use for more than a decade — in fact, in the U.K., they are the most common type of boiler installed in homes.
"As consumers look for ways to save money and improve energy efficiency, combi boilers have become a good choice for small- to medium-size family homes," Tonkins adds.
Connected controls
The Internet of Things has had a significant influence on the boiler market. Many units now come with Wi-Fi capability, onboard diagnostics and the ability to control the unit from anywhere with an internet connection.
"One of the biggest trends in boiler products is the growth of connected controls," Moffroid says. "Boilers made with connected controls are Wi-Fi-accessible and allow the user to control their boiler anywhere that Wi-Fi is available. Customers have the ability to control the comfort of their home from an app on their phone.
"Bosch is constantly monitoring trends to stay up to date in the market. From this research, we have manufactured boilers and controls that comply with smart homes. One of Bosch's connected controls, the CT100, connects to our boilers and allows users to control their heating system and adjust the temperature of their home from their phone."
Improvements in installability
Gone are the days of the cast iron behemoth boilers and here to stay are smaller units that can be transported, hung and installed by a single person.
"Navien is seeing a stronger shift to wall-hung modulating/condensing technology," Ashley says. "All boiler products offered by Navien since our entry into the market are wall-hung, modulating and condensing, featuring dual stainless steel heat exchangers. … As space becomes more and more valuable in a residence, the trend of switching to a wall-hung combi is a no-brainer."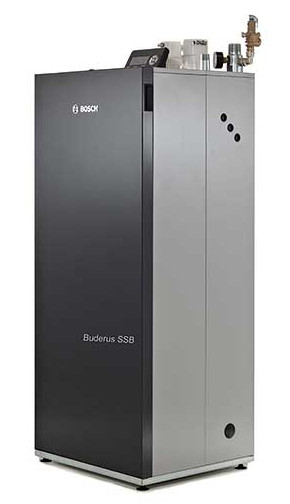 Two Navien NHB boilers serve a multi-family building complex. Photo credit: Navien
"Large institutions will be looking for hybrid systems and moving from steam to high-temperature hot water for central systems, and there will be a larger demand for smaller footprints and a more compact system," American Boiler Manufacturers Association (ABMA) President and CEO Scott Lynch says.
The much more compact size of newer units inherently makes them easier to install, but manufacturers are also taking additional steps to make installation as easy as possible.
"Plug-and-play is an ongoing trend," Moffroid says. "Manufacturers are looking to make the installation process more effective and efficient for the installer. Simplifying the installation will allow the installer to get their job done faster so they can move onto the next one.
"Bosch aims to make the installer's job easier by simplifying the system. Bosch put a low-loss header integrated into the Greenstar floor-mounted model, which streamlines the installation process by greatly reducing the time necessary for piping the system."
Higher efficiency
A not-so-new but still persistent trend is efficiency.
"The drive to engineer more efficient products to exceed state energy requirements continues to direct the industry's efforts in 2017," Fleming says. "In addition, there is a growing emphasis on versatility — products need to be able to effectively meet the needs of a variety of applications. Customers are looking for one-product solutions that meet all of their needs."
 "If you're installing new boilers, or even replacing old ones, it's likely that the consumer you're doing the installation for has purchased a high-efficiency boiler," Tonkins says. "High-efficiency hydronic heating systems offer reduced energy costs and lower carbon emissions and are now the norm. You've just got to be aware of what it takes to keep these systems operating at peak efficiency. Otherwise, the savings customers expect can rapidly fade. It's all about maintaining total system health in order to maintain those high efficiencies."
Better water quality
Going hand-in-hand with efficiency, as Tonkins states, is water quality, which can have a detrimental effect on both the efficiency and lifespan of hydronic systems.
"There will be more of a focus on packaged solutions that include water treatment and blow-down systems," Lynch says. 
"Smaller boilers with narrower waterways can easily become blocked if installed on old pipework systems," Tonkins says. "The main problem is a combination of magnetite and scale in the system causing blockages to circulators and heat exchangers, coating the inners surface of iron piping. It is the most common cause of equipment failure. Installers have to think about this issue at the time of installation, and take steps to maintain the health of the system to prevent buildup over time. The benefit to the contractor is that he can offer his customers an annual service contract to check the health of the hydronic heating system."
Products like Adey's MagnaClean filter protect hydronic systems by removing the damaging magnetite.
"Along with an inhibitor formula, it is an insurance policy on your hydronic heating system," Tonkins says. "Magnetic filtration starts working the minute it's installed to remove virtually all of the circulating magnetite, and it does so independent of particle size."
Up next for boilers
Boiler manufacturers agree technology will continue to play an increasingly more important role in shaping boiler products in the near future.
"New technology and innovative thought will lead to better performance, quicker installations, seamless comfort in installation and service," Ashley predicts. "Wireless technology integration like Navien's NaviLink Wi-Fi controller will continue to evolve with new innovative features allowing for a more comfortable life."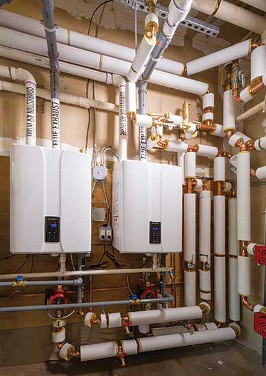 The residential NRCB allows for simultaneous domestic water and space heating. Photo credit: Noritz
Fleming agrees: "With the increasing demand for Internet of Things technology, we expect to see improvements in wireless control of many appliances from your smart phone. We continue to see interest from the consumer and installer to find better ways to keep information available quickly and easily."
"This presents an opportunity for manufacturers to differentiate themselves in the market to meet the customer's wants and needs in a boiler product," Moffroid says. "Bosch is preparing their products to be compatible with a variety of smart home systems, making it an easy choice for end users and installers."
Other upcoming trends will include "increased modularization, minimizing site work; growth in connectivity demands; and comfort heating moving to hot water," Lynch predicts.
Tonkins says boiler prices will continue to drop and combi boilers will continue to gain market share. He also cautions that more attention must be paid to hydronic system water quality.
"Unfortunately, we'll see system failure rates continue to rise if the water quality is not maintained correctly," he says. "Residential high-efficiency hydronic systems absolutely require water quality to be maintained. Otherwise, the narrower waterways can become clogged with debris and sludge if they are installed on systems with iron pipework. This leads to component failure at worst, or a considerable drop in efficiency at best. We've seen boilers lose up to 6% efficiency in less than a month due to poor water quality."
What contractors should know
There are three main things contractors should do in order to stay on top of changing trends in the boiler industry, Moffroid says: "Listening to the industry and being open to the changes that end users are wanting, engaging with manufacturers by giving feedback and sharing experiences, and participating in continuous training in order to gain new skills and knowledge on new products and techniques."
Ashley agrees training is the key to keeping on top of the latest boiler product technologies and best practices.
"Navien offers Academy and in-the-field training throughout North America," he says.
Contractors also need to be able to listen to their customers' needs and wants and be flexible, as customers expect the contractor network to move as fast as technology, Fleming says.
"The best solution may not always be the one they are used to doing. The ability to keep up with trends and product improvements — in short, to embrace continuing education — is crucial to success. Do not be afraid of change."